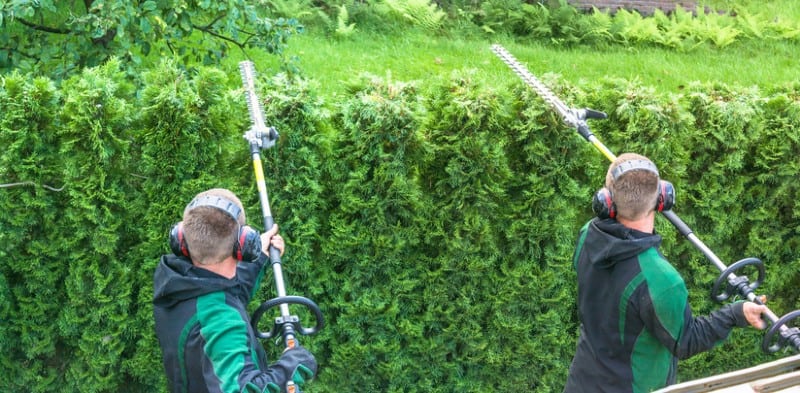 Top 5 Best Long Reach Hedge Trimmers – Reviews and Buyers Guide
Top 5 Best Long Reach Hedge Trimmers – Reviews and Buyers Guide
If you have tried cutting tall hedges with an ordinary hedge trimmer, you probably know that reaching those taller hedges involves getting a a good set of ladders or a platform. The problem is that this can be dangerous, plus not everyone is comfortable using ladders. That means when you need to trim hard-to-reach areas, you either call a professional gardener to do the job or purchase a long reach hedge trimmer which is much safer and long term will save you money. If the second part sounds a good idea, we have some top picks that you may want to consider.
The best long reach hedge trimmer must be lightweight, have a good run-time and fast recharge time for cordless models and most importantly, provide enough extension to tackle tall hedges. Some great options have adjustable heads that make it easy to cut in different angles so you can also read the top of of the hedge.
While we have reviewed what we consider to be the top 5 hedge trimmers currently on the market, there is one that stood out of the rest, the Bosch Universal Cordless Telescopic Hedgecutter. This tool is incredibly easy to manoeuvre due to its ergonomic, balanced and lightweight profile and is a fantastic model. It comes complete with an 18V Li-Ion battery and charger to get you started right away. Its also worth mentioning that you can buy it without battery and charger if you have other compatible 18v Bosch power tool which will save you a small fortune.
We have also has a buyers guide packed with information on how to choose the best extended reach hedge trimmer. So let's get started.
BEST PICK
We think this is probably the best model overall although the other models are also excellent, this hedge trimmer offers a 2.6m maximum reach which is perfect for taller hedges and has a double sided blade for effective cutting. A great feature is the anti-blocking mechanism that prevents jamming when cutting thick branches which is a common problem, however, it has a cutting capacity of 16mm, 14-15mm to be on the safe side but the cutting gap is 16mm.
This model is perfect for home use and included everything you need out the box, if we had to recommend just one model, this would have to be it, plus it comes with 3 years warranty if you register online.
Mini Buyers Guide
A summary of factors to consider when considering investing in a new long reach hedge trimmer
The first thing you'll want to look at is obviously the reach, because every model has its own length and and they don't all have the same reach. On average, expect around 2.4 to 2.6m pole extension but that extra 20-30cm might be what you need if you have a slightly taller hedge.
Secondly, pay attention to the blade in terms of size, teeth spacing and probably the blade material. Shorter blades are good for small hedges and precision trimming, while longer ones are perfect for large and wide hedges.
Another important thing to consider is the weight of the hedge trimmer. A heavy tool will weigh you down when trimming for long time periods and with long reach tools this is even more true, you don't want them to be to top heavy. These tools weigh anywhere from 2.5kg to around 4kg on the heavy side.
Other additions such as adjustable head which makes cutting at angles easier, especially the top of hedges, anti-jamming systems which can improve the experience dramatically and separate accessories such as special cutters for thick branches make great bonus for this thicker branches.
RUNNER-UP
An amazing product at an unbelievable price, this VonHaus model ticks in all the right boxes. A multi-angle adjustable head gives maximum control on where to trim, while you benefit from a 2.44m reach, not as long as the Bosch model but still adequate for most hedges. Its 20V battery offers an impressive 50 minutes run-time along with quick recharging in just an hour. The blade is 41cm with a spacing of 14mm, again slightly smaller than the Bosch model but still good enough for most hedges, making it perfect for trimming small to medium-sized hedges. It also much more affordable than, overall an excellent budget friendly model from a brand we have come to trust, not forgetting it comes with 2 years warranty.
---
Top 5 Long Reach Hedge Trimmer Reviews
---
OUR BEST PICK
Bosch Universal 18v Cordless Telescopic Hedgecutter
Pros
If you're familiar with the garden tools, then you already know that Bosch is a company that needs no introduction and they usually produce really good tools both for the professional and amateur industry, we have only ever seen a handful of tools that didn't impress or we wouldn't buy ourselves. They are famous for making perfectly balanced and designed hedge trimmers and this Bosch 18v Cordless Telescopic Hedgecutter is no exception. The first thing that stands out is the build quality, followed by exceptional performance, especially for a cordless model.
This long reach hedge cutter is actually part of Bosch's 18v range where one battery serves all the 18V Bosch tools. What this basically means is that if you already have compatible tools you can just buy the bare tool which is much cheaper, if you don't and you buy this hedge trimmer with the battery, you can just order a hedge trimmer, leaf blower, drill, what every you need as just the bare tool, and quite often its around half the price if you buy just the bare tool without another battery or charger.
The cutter itself is controlled by an innovative Syneon Chip that smartly regulates the energy required for every project, helping the battery to be optimally utilised as possible which saves battery power and probably helps increase the run time as power it not wasted. The fast-charging battery takes one hour from flat to full which is insanely quick and a single charge can cover up to an impressive 200 square metres of hedge which will easily cut most medium sizes hedges with one charge with time to spare.
One feature we do like is that the hedge trimmer also benefits from a special anti-blocking system that prevents jamming particularly when cutting thick branches. This means that it jams much less, its not perfect but we are yet to see a hedge trimmer that never jams.
In terms of reach, the telescopic handle adjusts from 2m to 2.6m to let you trim hard-to-reach branches without necessarily using a ladder which is obviously much safer and easier. Add that to its blade length of 43cm which is one of the longest out of the models we compared and it has a tooth spacing of 16mm which again is wider than most other models so will cut through those thicker branches.
There is a blade protection system that ensures safe cutting along walls and pathways which is another good feature. It additionally protects the blade against impacts with obstacles, ensuring that it last longer.
Overall this Bosch telescopic hedge trimmer is ideal for both home gardeners and maybe even lighter professional gardeners for small or large gardens. Then there is the cordless advantage that provides extra range than many electric hedge trimmers. This tool is also quiet and easy to operate when compared to petrol alternatives.
Overall, you will never go wrong with this hedge trimmer as far as reaching inaccessible greenery is concerned. Some may find it expensive but we are convinced it's well worth the money. If this is a little more expensive than you wanted to budget our next product by VonHaus is a more affordable option worth considering.
Compare the best prices from available sellers below
---
VonHaus Cordless Pole Hedge Trimmer
Pros
Perhaps you think it's hard to find an affordable hedge trimmer that will get the job done fast and help you maintain that perfect hedge. Well, the VonHaus Cordless Pole Hedge Trimmer will do exactly that and it's one of the best, what we would describe as an affordable model.
This long reach hedge trimmer is perfect for trimming hedges and cutting branches that are at not to tall but too tall to cut with a standard hedge trimmer. It comes with a telescopic pole that makes reaching the tops of those tall hedges much easier. At maximum extension, this trimming tool can reach 2.4 metres.
Furthermore, this VonHaus can be angled across -45 to 90 degrees for precise horizontal and vertical cutting, giving a perfect clean finish to the task and making perfect for trimming the tops of hedges. This means you can shape and contour hedges, bushes and trees without using a step ladder which is obviously the whole point of this tool. The tool effortlessly cuts through branches up to 14mm thick. This could be better but it certainly good enough for most hedges, and for the price we don't think you will find a better model.
Other carefully though out design features include the soft grip handle and shoulder strap is that they not only make the hedge trimmer comfortable to use but also safer to operate. The idea is that if you are well balanced holding the tool, there are minimal chances of it dropping. And if the worst happens, the two-stage safety trigger will activate to stop the power until you start it again.
Supplied with this tool is a 20v 1.5Ah Lithium-Ion battery that is actually interchangeable with all VonHaus 20v Max G Range tools which we discusses earlier. The battery charges in about 60 minutes which is as fast as any other hedge trimmer and provides a run time of around 40-50 minutes which we think is more than enough for most hedges, even the slightly larger ones.
While some people may deem its 3.78kg weight as heavy, the cutting performance and versatility of head are worth compromising for. It even comes with a 2-year warranty. The bottom line is that this VonHaus 20V hedge trimmer is the best you can buy for the price and we have yet to find a better budget model.
Compare the best prices from available sellers below
---
Gtech HT20 Cordless Hedge Trimmer
Pros
Reach further, work smarter. That's the message that comes with this Gtech HT20 Cordless Hedge Trimmer. This tool is perfectly designed to trim hedges and cut high branches with minimal strain. The machine is well-balanced and lightweight at just 2.3kg its got to be one of the lightest models out there which allows you to manoeuvre across the hedge without feeling anchored down.
Powered by a high-torque, belt-driven 18V motor, this tool offers a decent run time of around 45 minutes, allowing you to tackle a variety of jobs around the garden. Better still, the head is adjustable through a 135-degree spectrum, giving you maximum control of how and where to cut, again this is good for the top of hedges. The precision blades of this hedge trimmer are able to cut through branches up to 15mm thick which is fairly good. Any hedges above 10ft which is around 3 meters can be tackled by the separately sold HT20 extension tube, this will add an extra 50cm to the already existing reach. The only downside is that its not included in the price, however if your hedge is less that 10ft the standard reach should be fine.
An obvious benefit that comes with this hedge trimmer is the cordless freedom. Without cables to worry about cutting through or accidentally tripping over, you will love the ability to tend even the farthest plants in your garden. That being said all the models we included in this review are cordless so this is not really an advantage over the rest in this review.
The supplied 18v Lithium-Ion battery can be charged while on or detached from the hedge trimmer, meaning you don't need to keep the tool near an indoor power socket. This 18v battery is also interchangeable with the Gtech ST20 Grass Trimmer and other Gtech garden tools. The only downside is that the battery takes up to 4 hours to fully charge and that's a long time to wait if you have an unfinished hedge to cover. We not really sure why it takes so long to charge as even the cheaper models can recharge in 60 minutes.
If you want the ability to cut some seriously thick branches, Gtech offers an optional branch cutter attachment that cuts through stems up to 60mm thick. It is also easy to swap the standard cutter for the branch cutter, making it such a worthwhile investment.
Gtech also considered user safety for this tool's design and they included two safety buttons to hinder accidental starting, however this is pretty standard on tools now. For this cordless hedge trimmer to start, you must press both safety buttons plus the standard power trigger and only a conscious mind can follow this procedure.
All things considered, the Gtech HT20 Long Reach Hedge Trimmer is a great option if you need a lightweight, easy-to-use and versatile tool that offers multiple options for trimming your garden, especially if you can purchase together with the optional accessories. Gtech have produced some really good tools and have not been around too long being a fairly new company, however there tools are certainly very well built and worth considering, they should need to improve the charge time as 4 hours for modern batteries seems a little to long.
Compare the best prices from available sellers below
---
Ryobi ONE+ 18V RPT184520 Cordless Pole Hedge Trimmer
Pros
The Ryobi ONE+ 18V Cordless Pole Hedge Trimmer offers powerful cutting performance owing to its premium 18v motor. Ryobi is well know for there quality tools and this model is up there with the very best models for quality and performance. Equipped with 45cm laser-cut blades, this tool delivers a clean cut and is capable of cutting thick branches up to 18mm which is where this model stands out from most others. This makes it a better choice if you have an overgrown hedge to cut where the branches may be a little thicker.
Another standout feature is its 135° articulating cutting head with 4 adjustable positions. This helps to achieve curved cuts and neat edges on tall hedges. And with a maximum reach of 2.9m when used with its extension shaft, you can trim even the tallest hedges in your garden without the help of a step ladder. The shaft can also be detached later for compact storage in sheds and garages or for convenient transportation.
We also like the ergonomic design of this tool and the supplied harness takes the weight of your arms for increased comfort, while making it easy to manoeuvre for prolonged periods of time. Its diamond ground blades not only ensure clean and precise cuts but are also the most durable blade type for hedge trimmers.
One of the other points we evaluate is safety and this tool also excels in the safety department with features such as hand protector, blade tip protector and quick stop brake. There is even a dual trigger switch that ensures the tool can't start without following the proper procedure.
The starter kit comes with an 18v 2.0Ah battery plus a 60 minute fast charger. As part of the ONE+ range, this battery is compatible with all ONE+ Ryobi tools. The product is also covered by a 3 year warranty for peace of mind.
If your hedge is taller than average or if you just want a hedge trimmer that provides an unmatched reach, this Ryobi ONE+ 18v cordless pole hedge trimmer is an excellent choice and well worth considering.
Compare the best prices from available sellers below
---
Terratek Long Reach Cordless Hedge Trimmer
Pros
Another model you can buy on a budget is this Terratek Long Reach Cordless Hedge Trimmer and its a great alternative to the Vonhaus model, that being said we do think we would go for the Vonhaus model before this though. It has a telescopic handle that is perfect for clipping tall, hard-to-reach hedges as well as awkwardly-sited shrubs. This allows you to give them a good trim without having to strain your back or bend down. The hedge trimmer makes clean and uniform cuts on branches up to 14mm thick so may struggle a little with thicker branches but more than adequate for maintaining a hedge.
Its 18v motor delivers superior performance that enables you to take on any hedge with a lot of ease. It is powered by a 20v Lithium-Ion battery, which stabilises to 18v for trouble-free continuous operation and delivers up to 45 minutes of run time from one full charge which is as gone as any other model, even the more expensive ones. The trade off is that the battery may take more than two hours to re-charge, so hopefully the wait won't kill morale of getting back to unfinished work.
The most impressive feature, however, is the adjustable cutting head with a 120° 5 position pivoting spectrum. This makes it incredibly easy to trim hedges at the top as well as bottom areas without straining your back, again this is a good feature but all the models had to have this feature to be included in this review. Just angle it accordingly and you will be able to trim around those tricky areas of your hedge. In addition, the tool weighs just over 3kg and that falls under the manageable weight of hedge trimmers, not the lighest which is another trade-off but certainly not heavy.
Dual action 45cm hardened steel blades will deliver clean cuts in each cut. They also benefit from aluminium blade support while combination of steel and aluminium guarantees a long life-span. Moreover, this hedge trimmer comes with a 2-year warranty which is fantastic for a budget friendly model.
Last but not least, this Terratek is easy and safe to operate thanks to a one-handed power trigger plus a safety switch that prevents random starting. Also the lack of cables means maximum movement around your garden. Overall this is a fantastic model and a great alternative to the Vonhaus model.
Compare the best prices from available sellers below
---
Long Reach Hedge Trimmer Buyers Guide
How to choose the best long reach hedge trimmer
If you are looking to buy the best extended reach hedge trimmer, it helps to dive into research to make sure you find a suitable product for your needs. There are also many low-quality products that will want to steer clear of - read through the following key elements to help you narrow down your options.
Reach and extension
Since you've decided to buy a long reach hedge trimmer, it's obvious you are after a tool that can help you trim the tops of tall hedges or hard-to-reach spots. That means getting a hedge trimmer with enough pole length to get the blade where you want it. This is important to consider because these tools differ in extension lengths. For instance, the Ryobi ONE+ 18V model provides up to 2.9m reach whereas the budget Erratek long reach cordless hedge trimmer can only extend up to 2.4m. Keep in mind that a longer trimmer may trade off its reach with additional weight compared to a shorter pole. That being said some of the more expensive premium models are just a s lightweight as the shorter budget model, simply because they use quality light weight materials budget models can't afford to use.
Blade length
Most hedge trimmers feature dual-action blades with teeth on both sides of the blade. This makes it a breeze to trim hedges though you need to watch the blade's location as both sides are able to cut. The size of the blade is another thing to look at, with most hedge cutters ranging from 42cm to 45cm in length. These will be able to make large, uniform cuts over your hedge.
Cutting capacity
This is determined by the spacing between the teeth on the blades. A larger spacing means a wider cutting capacity as the teeth are less likely to be jammed in overgrown hedges. A regularly maintained hedge can be properly trimmed by a blade with 14mm - 18mm capacity, while overgrown hedges with thicker branches will require a larger capacity of over 20mm.
Weight
Long reach hedge trimmers vary in weight depending on the size and features. A long extension pole coupled with a long cutting blade and battery all add to the weight of the tool. Heavier models are around 4kg or more, with lighter ones such as the Gtech HT20 Hedge Trimmer coming in at around 2.5kg. If you have a large hedges to cover, get a lightweight hedge trimmer. A slightly heavy model with a shoulder strap should be fine too.
Adjustable head
At least every model we have listed in this post is adjustable in some manner. This is important because it allows you to position the blade in various angles to cut tall and oddly shaped hedges without you having to bend awkwardly. Being comfortable when using a hedge trimmer is paramount and an adjustable head allows you to be in a proper position for easier and safe operation.
Battery run-time
The models we've reviewed above are all cordless and that means they have limited running time. You just have to make sure the hedge trimmer that you buy offers enough time to cover your hedge even if you have to make multiple rounds. In most cases, a run time of around 45 to 60 minutes should be enough but you may need more for larger gardens. It's also a good idea to buy a an extra battery as a back up and that way you can double the run-time.
Recharge time
As we've just mentioned, the run-time of a cordless tool is limited so you'll need to check the recharge time as well. A battery that recharges in an hour or less is good investment as that means you won't be waiting for ages to resume work, effectively reducing the time it takes to complete a project. Some models can take up to 4 hours to charge, we found that if they charge in around 60 minutes the retailers will state this as a feature, if the take longer to charge they usually don't make this clear without looking into the specifications.
Warranty
A long reach hedge trimmer is a great addition to your landscaping arsenal, so you'll want it to start up reliably and remain dependable for years to come. Indeed, hedge trimmers are quite durable but having a warranty can make a huge impact in your peace of mind. Most models should at least include 2 years warranty.
---
Our Final Conclusion
Choosing the best extended reach hedge trimmer can make short work of tall, overgrown hedges and bushes. Any of the products listed above will suffice for most gardens, though you may be tempted to look elsewhere as well. Just carry the information in our buying guide to wherever the search takes you and you'll be sure to pick a decent tool for the job.
BEST PICK
We think this is probably the best model overall although the other models are also excellent, this hedge trimmer offers a 2.6m maximum reach which is perfect for taller hedges and has a double sided blade for effective cutting. A great feature is the anti-blocking mechanism that prevents jamming when cutting thick branches which is a common problem, however, it has a cutting capacity of 16mm, 14-15mm to be on the safe side but the cutting gap is 16mm.
This model is perfect for home use and included everything you need out the box, if we had to recommend just one model, this would have to be it, plus it comes with 3 years warranty if you register online.
---
Other reviews you may find useful:
---
Our site is reader supported, this means we may earn a small commission from Amazon and other affiliates when you buy through links on our site.