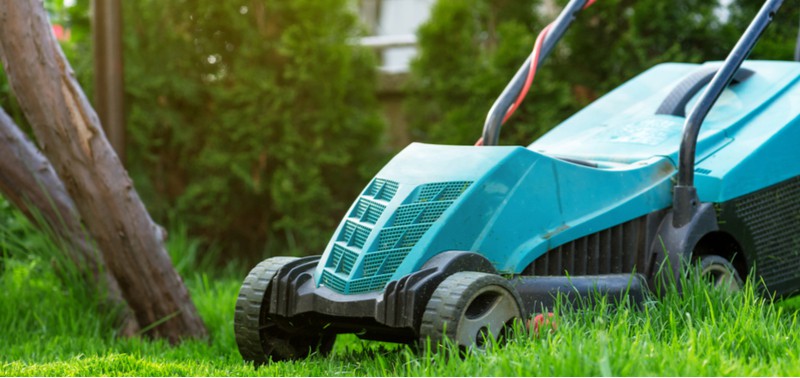 Best Cordless Lawn mower – Top 5 Models Compared & Reviews
Best Cordless Lawn mower – Top 5 Models Compared & Reviews
Last updated on October 20th, 2021
There's no doubt that a careful attention to a garden will leave it looking picturesque throughout the year. Basically, every form of maintenance you'll do on your garden will have a knock-on effect the following season. For instance, poor lawn maintenance in winter and spring will lead to problems in summer. That means you need to think about your actions and it starts with investing in a good lawn mower.
In this post, we look at the best cordless lawn mowers currently on the market today. We speak cordless because these type of mowers are here to stay. When compared to the traditional petrol mowers or the newer electric corded models, cordless mowers have meaningful advantages over their rivals. The most obvious one is the freedom to mow anywhere, without cords getting in the way or harmful gases polluting your surroundings. Cordless lawn mowers also tend to be lightweight, quiet and easy to store. With that in mind, investing in battery-powered mower isn't a bad idea at all.
Want to cut a long story short? The Aerotek Cordless Lawnmower 40V is the real deal. With its 40V battery, this mower is very powerful and boasts cutting speeds of 3400rpm. Its 40cm cutting width is more suiting to medium sized lawns or what will be classed as an average UK garden. You will benefit from multiple cutting height heights starting from 25mm to 75mm, while a 50L grass box ensures less trips to your main garden bin. In any case, it comes with a mulching attachment, meaning you may not need the grass box at all. 
 Go through the rest of this post to compare many other models and learn how to
BEST PICK
The Aerotek Cordless Lawnmower 40V 
This mower has some brilliant features that make it suitable for gardens ranging from small to in between medium and large. It gets rolling at the touch of a button and offers a decent mowing time of 35 minutes from one full charge. A supersized 50L collection box, single height adjustment lever, and 40cm cutting deck make this cordless mower a great pick for medium lawns.
---
Mini Buyers Guide
Key things to consider before buying a cordless lawn mower
If you want the convenience of an electric lawn mower without the hassle of extension cords, a cordless model is a great consideration. Improvements in battery technology makes them last much longer as well as benefit from reduced overall weight.
When it comes to buying one, you have to think of the size of your garden. The point is, some lawn mowers are good for smaller gardens while others only make sense if bought for larger lawns. Leading from this, look at the battery voltage and ampere per hour. Ideally, 18V and 20V batteries will offer enough power and runtime for smaller gardens of around 250m², while 36V and 40 batteries are adequate for larger lawns, about 450m² and above.
Many models feature variable cutting heights and you'll want to choose a decent range for your lawn. Closely related to that is cutting width, which typically ranges from 32cm to 50cm. A machine will a lower value will take longer to mow a certain area, while a wider width will get the job done much quicker.
You may also want to consider some extra features such as folding handles, grass combs, weight of the machine, and battery charging time.
RUNNER-UP
With a 44cm cutting width, this one is a great pick for large lawns. Complementing that is a 50L grass bag, 6 cutting heights ranging from 25mm to 75mm, a powerful 1300W brushless motor and an impressive supply of two 18V 5.0Ah Li-Ion batteries. The design includes an ergonomic, soft-grip handle that folds down for compact storage, while the product is covered by an industry-leading 5-year warranty.
---
Top 5 Cordless Lawn Mower Reviews
1. Aerotek Cordless Lawnmower 40V Lithium-Ion 4Ah Battery & Charger Included
View the latest price on Amazon.co.uk
Pros
Extra-wide 40cm cutting width for fast, efficient results. 
40V Lithium-Ion battery offers impressive 35 minutes running time. 
Includes mulching attachment, allowing you to fertilise the lawn while you mow.
The 40V battery can be used with other Aerotek tools.
Has a brushless motor, which is highly durable.
Great grass box capacity of 50 litres.
6 height adjustment options with a simple lever tht does the job.
Comes with folding handles, which makes for sapce-saving storage.
Lightweight and easy to move. 
This Aerotek Cordless Lawnmower 40V Lithium-Ion 4Ah lawnmower is ideal for medium to large sized lawns up to 400sq.m. The model utilises a 40V Li-Ion battery with 4Ah capacity, superior to many other batteries that come standard with cordless mowers. This one gives 35 minutes of running time, which is enough to do a large lawn in one go. The 4Ah battery also produces an impressive 3600 rpm to help cut thicker, longer grass more effectively. 
It arrives partly assembled and that means you'll need to get some other parts together before first time use. It's a five-minute job, however, with the instruction manual being very easy to follow. A great feature of this mower is the 40cm cutting width. Its quite large that every pass will be really wide, reducing time, effort and power. Even when cutting around edges, the deck will move nicely and cut with precision. 
Height adjustment is another thing we really like with this mower. You have a decent range of six heights from 25mm and 75mm and the best part is that they are a doddle to change. It basically takes a a movement of the lever to do the trick. The ability to change the cutting height is important because different seasons will need your grass t be cut at a certain height. 
Grass box capacity doesn't get better than the 50L collection box of this Aerotek lawnmower. This will save a lot of time and effort as you'll not need to empty it too often. Btter still, there is an indicator to show when the box is full and even if you won't check, the machine itself will automatically turn off when the box is full, letting you it's time to empty. 
This practical lawnmower is quite lightweight, compact and ease to store. Quick release handles fold down nicely for space-saving storage, however, due to the width of the deck, it has a relatively large footprint. 
Starting the machine is really easy and safe. Simply engage a lock-out button and apply the Operator Presence Control (OPC) lever. This only takes a few seconds but ensures no one can accidentally start the mower and run the risk of injury. And the moment you take pressure off the OPC lever, the motor will stop immediately for safety. 
The Aerotek 40V also features mulching option, allowing the machine to discharge finely cut grass back onto the lawn as essential nutrients. Mulching also saves time on emptying the collection box and it reduces the need to fertilise your lawn more often. 
The box includes the lawnmower, 1 x 40V Li-Ion battery, 1 x charger, assembly instructions and a 2-year warranty card. 
---
2. Bosch Rotak 370 LI Ergoflex Cordless Lawnmower with Two 36 V Lithium-Ion Batteries
View the latest price on Amazon.co.uk
Pros
Large 43cm cutting width for faster completion of jobs. 
6 height of cut levels ranging from 20mm to 70mm, perfect for all seasons. 
Supplied with 2 x 36V Lithium-Ion batteries.
Large 40L grass box ensures more time mowing andless time emptying.
Quick-click system for straightforward assembly.
Ergonomic Ergoflex handles ensure better body posture and reduced muscle strain.
Enahnced cutting performance thanks to a hard wearing steel blade and unique airflow technology.
Innovative grass combs combined with smooth-running wheels allow easy cuting along edges and flowerbeds. 
The Bosch Rotak 370 LI Ergoflex Cordless Lawnmower is a fantastic offering from a leading manufacturer of garden tools and equipment. This model is powered by a 36V Lithium-Ion battery combined with an electric motor, which together powers the mower through lawns of up to 400sq.m.
Furthermore, it comes with two batteries, meaning you can have a fully charged battery on standby should the other run flat before you complete the job. A full charged battery offers 30 – 40 operational time depending on the size and lawn condition. Bosch also offers what they call "Efficient Energy Management", which they claim can extend running time by 15 per cent. 
Home assembly is required and it's only a matter of 10 minutes to get the machine rolling, and no tools are needed. The supplied manual is quite brief on instructions and relies on pictures to help you. This can be a challenge if you have never assembled a mower before. 
The cordless lawn mower is fitted with a 43cm metal blade, which is razor sharp to give a clean cut and excellent finish to your lawn. The metal blades can also be sharpened when needed, unlike plastic ones. Moreover, these are hard wearing and durable. 
With 6 cutting height adjustments from 20 to 70mm, you can confidently combat the changing season and regularly enhance the look of your lawn. Adjustment is done using a lever situated at the central side of the lawn mower. A built-in comb helps prevent scalping, especially when tackling uneven patches or if cutting on the lowest setting. There's even a roller attachment to help achieve those classic stripes on your lawn. 
When it comes to grass box capacity, the 40L offering on this mower is sufficient enough to let you mow longer and empty out less frequently. The box is well-designed and a breeze to remove. The handle is ergonomic, adjustable and versatile, allowing for proper body posture and minimal muscle strain. 
A nice addition to this product is the removable safety key. This deactivates the mower to help prevent accidental starting. The lawn mower also has a small footprint and the fact that the handles fold down make for compact storage. Last but not least, the Bosch Rotak 370 LI comes with a 2-year warranty, but can be extended to three if registered online. 
---
3. Murray 883266 Lithium-Ion 44cm Lawn Mower IQ18WM44
View the latest price on Amazon.co.uk
Pros
Suitable for large lawns up to 640m².
Outfitted with a powerful 1.3kW motor that benefits from brushless technology.
Supplied with two Briggs & Stratton® 18V 5.0Ah Lithium-Ion Batteries and dual charger.
Large grass bag – 50L; more mowing and less emptying.
High performance blade, which delivers a clean, quality cut.
Great cutting width – 44cm.
6 height of cuts ranging from 25mm to 75mm.
Soft-grip handles that fold down for easy storage.
5-year product warranty plus 3-year warranty for batteries and charger.
The Murray 883266 Lithium-Ion 44cm Lawn Mower IQ18WM44 is specifically made for large gardens up to 640sq.m. Equipped with a powerful 1300W brushless motor, this can mow through thick grass effortlessly while benefiting from longer life, low noise and first-class performance.
The model comes with two Briggs & Stratton® 18V 5.0Ah Lithium-Ion Batteries, which are known for unbeatable performance and durability. A charger is also included. You can expect to mow continuously for 36 minutes from one single charge. Better still, these batteries can be used across the entire range of Murray's 18V range.
Height of cut varies from 25mm to 75mm and there is a simple lever for making the adjustments. The cutting diameter is an impressive 44cm, which is really large to clear areas much faster than smaller blades. You will need to push this mower to do the job, but the razor sharp blade and massive power output helps ensure little effort from you.
Murray also equipped this lawn mower with a 50L grass bag to accommodate large amounts of grass. It means it'll take long to fill up, thus you can cover great distances before needing to empty the bag. The hard top fabric bag easily detaches from the main body for emptying. And with soft-grip handles, this mower will be comfortable to push on the lawn. The handles also fold down to allow compact storage.
For peace of mind, the product is covered by a 5-year limited warranty while the batteries and charger are warranted for 3 years. We totally have no doubt over the quality of this cordless lawn mower and neither should you. An excellent choice for large lawns.
---
4. Greenworks 40V Cordless Lawn Mower 41cm (16″) with 2x 2Ah batteries and charger
View the latest price on Amazon.co.uk
Pros
Supplied with 2 x 40V, 2Ah Li-Ion batteries.
5 adjustable cutting heights starting from 25mm to 80mm.
41cm cutting width, which is perfect for medium sized lawns.
2-in-1 functionality – collect and mulch.
Large 50L grass box, giving you more time mowing and reducing time for emptying.
Foldable handlebar for convenient storage.
Brushless motor technology for longer lifespan and durability.
The Greenworks 40V Cordless Lawn Mower 41cm is one of the best-selling cordless lawn mowers in the UK. The 40V mower offers plenty of power and runtime, making it an excellent choice for medium sized lawns. It comes with 2 x 2Ah batteries that offer 25 minutes runtime each, and there is an option to upgrade to 4Ah batteries and benefit from 51 minutes of running time, especially for tackling larger lawns.
As it stands, this this mower can comfortably cut lawns of up to 300m². The cutting width of 41cm promotes wider ground coverage for quicker completion of jobs. Mowing is smooth and precise, producing a neat finish at every cutting height, starting from 25mm to 80mm. This is a pretty good range, allowing you to cut short and long grass to the right height for a healthier lawn.
In addition, there is a mulching option that allows you to deposit finer grass clippings as natural fertiliser on your lawn. And if you don't want to mulch the grass, there is a massive 50L grass box for collecting the grass for later disposal.
The design includes a foldable handlebar that makes it easy to store the machine. This Greenworks 40V is also one of the most lightweight cordless mowers at around 17.1kg. All things considered, this lawn mower is as high performing as it is attractive.
---
5. WORX WG779E.2 36V Cordless 34cm Lawn Mower (Dual battery x2 20V Batteries)
View the latest price on Amazon.co.uk
Pros
Utilises 2 x 20V Li-ion batteries for better runtime and power.
Perfect for smaller lawns due to 34cm cutting width.
Adjustable cutting height from 20mm to 70mm.
Uses innovative Intellect cutting technology for optimal speed and power performance.
Well-designed deck for cutting closer to the fence.
Includes a rear roller for creating a stripey lawn.
Lightweight, compact and maneuverable.
Pretty much affordable.
The WORX WG779E.2 36V Cordless 34cm Lawn Mower is a compact machine that's perfect for smaller lawns. Despite being on the smaller side, the WG779E.2 is full of power, using 2 x 20V 2Ah batteries simultaneously.
These batteries can be removed from the mower for charging and storage. Depending on conditions, the mower can cut continuously for 20 to 30 minutes, with longer runtime being for smaller lawns with flat terrain and less dense grass. Furthermore, the machine features eco mode, which can be really useful when you don't need too much power, like if your lawn has been cut recently. If you're dealing with long and wet grass, however, you can always select turbo mode for maximum power.
A cutting width of 34cm doesn't seem as large as with the other lawn mowers in this post, but is more than enough for lawns of up to 200m². This one may struggle to last on medium sized gardens, however, having spare batteries can eliminate this issue.
A great feature of this mower is the Intellecut technology, which helps maintain optimal power usage. It auto adjusts the speed of the machine to suit various conditions, such as increasing the power and cutting speed for longer and tougher growth. WORX have also designed the deck to help with cutting closer to edges and reduce the need for trimming.
There are 6 height of cut levels in the form of 20mm to 70mm and this helps you maintain grass depending on the season. The grass box is only 30 litres but that's enough for a mower of its size. For easy removal and transport, the box has a top handle. The practicality of this mower doesn't end there as the machine is pretty lightweight at just 12kg.
Love them stripes on the lawn? Well, this WORX WG779E.2 comes with a rear roller that creates those classic stripes on any lawn. Expect an easy time operating this machine, with no cables to worry about.
---
Buyers Guide
Thinking of buying a cordless lawn mower but not sure what features and specs to consider? With plenty of options to choose from, deciding the best battery powered mower for your garden needs some research. Go through the buyer's guide below for some tips on how to select a cordless mower.
Benefits of a cordless model 
Convenient operation – with a cordless mower, there is no worrying about where the cord is but rather cut your lawn without one entirely. A cordless mower offers total freedom and you can mow in whatever manner you want.
Easy to operate – compared to worrying about oil or pulling a cord, the only thing you need to do to start is press a button and squeeze a handle.
Lightweight construction – many cordless models have a 10 to 20kg weight difference from petrol models for example. Although it may not sound like much, the implication will start to show after a few minute of pushing the mower.
Easy storage – with no petrol to think about nor cords to wrap around the handle twenty times, many of the cordless models only require you to fold down the handle and store in the shed.
Quiet operation – battery-operated lawn mowers are very quiet and that means you can mow early in the morning or late evening without disturbing your neighbours.
Eco-friendly – without emitting harmful gases into the air, cordless mowers are some of the safest machines to use in the current environment conscious society.
That said, let's look at the factors to consider when buying a cordless lawn mower.
Factors to consider when choosing a cordless lawn mower
Lawn size and condition
Cordless lawn mowers are generally suited to small and medium sized lawns. That's because they run on batteries, which will drain at some point. If you have a large garden, about over 400m², you will need to be careful of your selection otherwise you might have to take breaks half-way through to recharge the battery. Leading from this, charging time is another thing you'll need to think about. If you have to take a break, look for a model that charges quickly.
It's also important to note the condition of your lawn. For instance, even lawns require less power from a lawn mower, meaning the battery will last longer. Similarly, short grass is easier to cut than dense growth, and won't drain the battery as fast. If you have a large lawn, uneven lawn and the grass is constantly thick, long or wet, keep in mind you'll need a mower with a powerful battery. Alternatively, get a secondary battery.
Cutting width and adjustable height
Wider cutting widths are suitable for larger lawns as they require fewer passes to complete a given area. This also means the battery is less likely to die before you finish mowing. For medium to large sized gardens, you will want to go with a mower with a cutting width of about 39 – 42cm.
Small and medium sized lawns should be okay with a cutting width of around 32 – 39cm. Just keep in mind that the smaller the cutting width, the more cutting you will need to do. This could imply that the battery dies before you complete the job.
When it comes to cutting heights, you can expect a decent range to use. Many will offer adjustable cutting heights starting from 20 to 80mm. The lower settings are good for keeping the lawn well-manicured, while the higher settings are perfect for cutting lots of length. In short, it's good to have several options, so consider a mower that offers a nice range.
The right battery
There is more to the battery than just run time. Battery power and ampere per hour will have an impact on the overall mowing power and speed. A weak battery will struggle in difficult conditions such as slopes or thick grass.
Battery voltages come in the form of 18V, 20V, 36, and 40V. The lower voltages provide a decent amount of power and runtime, though only sufficient for smaller gardens. 36V and 40V options are ideal for the standard UK lawn.
Ampere hour varies between models too. A 2Ah battery is the most common as seen from the models above. It offers a good runtime and fast recharge, while many cordless mowers come with two batteries so you can switch between. Larger and more powerful mowers may come with a 4Ah battery, which offers double the capacity of a 2Ah battery.
Go for a 40V 4Ah battery if your lawn is on the larger size and probably if it has uneven terrain and dense overgrowth. Smaller lawns with flat terrain will use an 18V or 20V 2Ah battery without any issue.
Our Final Conclusion
Cordless lawnmowers have come a long way and they aren't going away any time soon. They are convenient, easy to use, and virtually maintaince-free, giving all the good reasons to own one. We hope this guide has made it easy for you to find the best lawn mower for your garden.
---