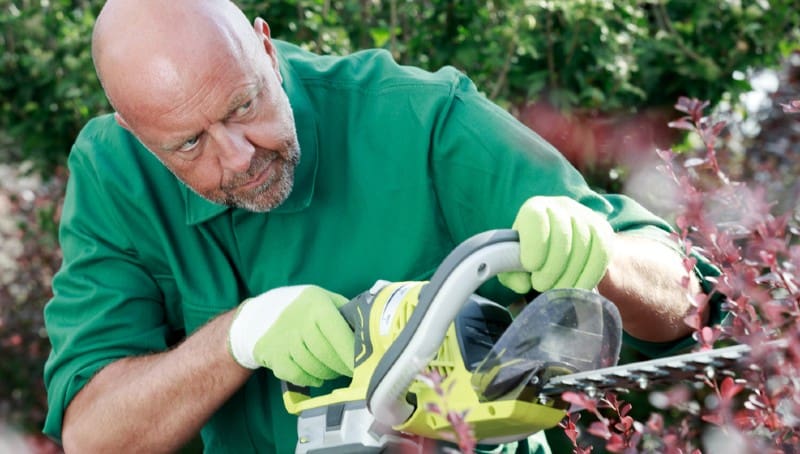 5 Best Cordless Hedge Trimmer Reviews and Buyers Guide
5 Best Cordless Hedge Trimmer Reviews and Buyers Guide
A well-maintained hedge can transform a shabby outdoor space into a majestically groomed part of your home. To achieve that, you need a good quality hedge trimmer, one type that has become very popular are the cordless models which use the newer lithium batteries, unlike the older model, these have longer run times and much faster charge times, to give you an idea, many older models would take around 5-6 hours to charge, the models we include in our review can recharge the battery in around 60 minutes.
But which is the best cordless hedge trimmer for your garden? Well, that depends on the kind of hedges in your garden, probably the size of your hedge and whether you need a model for professional daily use or just home use every couple of weeks. If you've ever used a corded model or high maintenance petrol trimmer, then you will find out what a blessing a cordless hedge trimmer can be.
That said, we have prepared a comprehensive review of how the best of this maintenance equipment should look like. You will also discover the key things to consider before before spending your cash on any cordless hedge cutter.
Before we get to the details and for those in a rush, that is, below is our top recommendation - Bosch AHS 50-20 LI Cordless Hedge Cutter. This model stands out because of its technologically advanced features such as Syneon Chip, Anti-Blocking System and Quick-Cut technology, not forgetting the reliability of Bosch and value for money they offer. For instance, the Syneon Chip ensures the tool expends the right amount of power at any given time and depending on the task, this ensures its much more efficient and save on power at the same time, thus increasing the run time. Scroll down to the in-depth review section to learn more benefits of each feature as well as those of our other top picks.
BEST PICK
This Bosch weighs only 2.5kg and at that weight it is one of the lightest hedge trimmers we have reviewed. It can tackle branches of up to 25mm, perfect for larger hedges, old shrubs and even brambles. Quick-Cut technology ensures sharp and fast cuts especially because the blade oscillates at unmatched speeds of 2600rpm. We also really like the anti-Blocking system which reduced the chances of the blade jamming up, what it actually does is reverse the blade if it does not cut through the first time and cut again, while the diamond-cut and laser-cut blades ensure sharp, accurate cuts. This tool is certainly worth every penny for its range of convenient and user-friendly features.
Mini Buyers Guide
Key considerations when choosing a cordless hedge trimmer
First of all, nothing beats the freedom that comes with a cordless tool. There are no trailing cables behind you which we hate, worrying about accidentally cutting a cable while working or even refueling the trimmer. Nothing but trimming your hedge all around your garden.
While you can reach virtually any area of your hedge as you're not restricted by cords, the only real problem could have is how long you can work for, because at some point the battery will run low. Therefore, battery run time is a huge factor to consider but most good models with easily trim a small or medium sizes hedge no problem. How long the battery takes to charge is another thing because you will want to get back to unfinished business sooner than later but with most charging in around 60 minutes, this is not a big issues anymore either.
And don't forget the blade length - the longer it is, the faster it will cut hedges, but longer is not always better, especially for smaller hedges as it ads needless weight. Also, a long blade may be much heavier as mentioned and more unwieldy to manoeuvre. The width of the teeth gaps will also indicate the size of branches that it will be able to cut through with 25mm being what would expect which is perfect for most types of hedges. The hedge trimmer itself should have an ergonomic structure for easy handling and obviously be of good quality and reliable which means a good warranty for extra peace of mind. For example, Bosch other a 2 year warranty as standard which is extended to 3 years by registering online, many manufactures offer the same deal so don't forget to register your tool online to get that extra years warranty.
RUNNER-UP
Probably our best rated hedge trimmer, this Makita has everything every gardener desires. These include an anti-vibration body with 5 layers of shock-absorbing cushions, rubberised soft grip, longer 52cm blade, and electric brake for added safety. Moreover, this hedge trimmer is pretty quiet and the blade is highly durable, thanks to a stain-free surface coating. The handle has been designed to offer extra reach while being comfortable to manoeuvre. For sure you will love every aspect of this product.
Combined with a decent battery, probably 5 amp, this will keep going and going and will cut very larger hedges. The quality is just unmatched and for those looking for a more professional tool, this would be the best choice. We like that he blade is a little longer, while still being agile enough for those smaller jobs too.
---
Top 5 Cordless Hedge Trimmer Reviews
---
BEST PICK
Bosch AHS 50-20 LI Cordless Hedge Cutter
Pros
Bosch is one brand that is known for excellent power tools and the Bosch AHS 50-20 LI Cordless Hedge Cutter is definitely a good offering. It comes with an 18V Lithium-Ion battery that combines with their innovative Syneon Chip technology to provide smartly controlled power for every project. This technique helps to make the most of the battery charge which helps increase running times. Better still, the supplied battery works with any 18V cordless power tool from Bosch, meaning it can be a huge backup plan for an existing tool or if you want to purchase the leaf blower, strimmer, drills etc, you can just by the bare tool which is often much cheaper and share the batteries between tools.
Another technological advancement of this tool is the 'Quick-Cut' feature, which enables the operator to cut vast hedge areas effortlessly with just one pass by keeping blades open for longer. In theory, this means you can finish the job in no time without having to waste time going over the same section repeatedly. We don't actually no how much time this might save because it's really hard to gage but we will take Bosch word for it, its certainly going to help some.
A standout attribute of this hedge trimmer is the multi-functional front handle that offers users easy handling in any position, now this is a feature we really like, its simple but its amazing how many models don't incorporate this simple design, especially on cheaper budget models. Additionally, the ergonomic design of this tool also reduces the load on your body whilst working. A hand protector also ensures safe cutting along walls and at ground level.
Some tough branches may refuse to be cut through on first attempt, anyone who has cut overgrown hedges that have not been trimmed for a few years will know what we mean, you try to cut through those thicker woody branches only to have the blade jam consistently. While some hedge trimmers will not be up to the job, Bosch's unique 'Anti-Blocking System' should allow the tool to change the rotating direction of the blades for continued cutting till it completes the cut. This, however, applies to branches with a diameter of not more than 25mm and you can expect clean cuts each time owing to its laser-cut blades.
The overall design is also something to brag about. This hedge trimmer is lightweight at just 2.5kg, something that makes it easy to use. You are certain not to feel much strain upon the back and arms, while the cordless nature gives you maximum freedom of movement. The handles feature a soft-grip material though some users may find the trigger a bit stiff for extended use so thats something worth thinking about.
All in all, this Bosch AHS 50-20 hedge trimmer is certainly one of the best particularly for trimming medium sized hedges and for home use. If you have a larger hedge, we would probably recommend going with something will a little more power, The Bosch model is great, but you wouldn't want to overdo it. If you have have a smaller or medium sizes hedge then this is perfect for home use and is packed with great features for an excellent price, plus if you register online, you get 3 years warranty for extra peace of mind.
Compare the best prices from available sellers below
---
RUNNER-UP - Perfect for larger hedges or professionals
Makita DUH523Z Cordless LXT Lithium-Ion Hedge Trimmer
Pros
The Makita DUH523Z Cordless LXT Lithium-Ion Hedge Trimmer is a an excellent tool from a reputable manufacturer, to be honest we are a little biased as we love Makita tools, they are always just so good and this model us no different. It's one trimmer that is capable of tackling heavy duty jobs, be it cutting woody overgrown hegdes, shrubs or simply maintaining a neat hedge.
The first thing we like about this tool is its replaceable blade. The blade can be detached from the main head and replaced if needed. This is a huge upgrade over other range of Makita hedge trimmers without a blade changing mechanism. This probably want matter for most home users are you will probably never wear the blade down enough, however for professional gardeners who use it daily for most of the year, it should save you money long term. Best of all its also easy to change as you don't need to open up the housing.
The blade itself is 52cm long which is slightly longer than our best pick, however with a tooth spacing of 15mm, this is slightly smaller than our 'best pick', however, it is more suitable for heavy-duty trimming jobs. Elsewhere, dual blade action enhances efficiency and cutting capacity of the trimmer.
Now this tool can be purchased as body only or together with a battery for around £170 if you shop around with Amazon being a good place to start. This battery charges in under 60 minutes, with some of the smaller capacity batteries it around 35 minutes, which is a lot better than some other batteries that charge for an hour or longer. Lightweight and shock-absorbing, the newer 18V LXT Li-ion battery has a great deal of capacity during its lifetime as well as very little depletion of power during use or when stored.
The Makita battery charger which does need to be purchased separately but is another cool component if you have not had any of the 18V LXT range before. It has three active controls, one of them being the intelligent charging that takes only 22 minutes to fully charge the battery, while preventing it from overcharging and damage. This charger also has a cooling fan to prevent overheating. With not memory effect, the battery can even be charged before it is completely discharged, now this is the case will all lithium batteries but older Ni-cad batteries this would no the case. We only mention this as some tools still use the older Ni-cad batteries and would always recommend avoiding this now.
In addition, the hedge trimmer has a battery protector designed to automatically shut off the power if the battery runs very low. Before that happens, the trimmer's battery charge lamp would give a warning when the charge is near depletion. This feature also helps preserves the lifespan of the tool too.
Finally the body also benefits from anti-vibration cushions, which absorb vibrations coming from the blade, while a rubberised handle allows for a comfortable and firm grip. The blade also has a protective surface to prevent risk of rust, they achieve this by using a non-electrolysed nickel plating and some lever wizardry which promotes a longer lasting blade.
All things considered, this Makita DUH523Z hedge trimmer really excels in many departments, especially when it comes to battery performance and durability. If you are looking for a reliable hedge trimmer with some high-quality features, this one should be on top of your list. For larger hedges or professional use this is far more suitable that our 'best pick', however it will obviously require more investment but the extra cost is far outweighed by the extra performance and reliability.
Compare the best prices from available sellers below
---
Perfect for larger hedges
Ryobi 18v OHT1855R ONE+ Cordless Hedge Trimmer with HedgeSweep
Pros
There are plenty of hedge trimmers on the market but if your after a compact, well-built and high performing tool for medium to larger hedges, the Ryobi OHT1855R ONE+ Cordless Hedge Trimmer with its simple but effective HedgeSweep is truly a great option. its more suitable for domestic home use but when an impressive model.
This model is part of the Ryobi's One+ System, which comprises of more than 70 home and garden tools that can be powered by the One+ 18V Lithium-Ion battery which comes in many capacity, for smaller hedges the 2.5Ah battery would be adequate but for larger hedges you can go as high as 4-5Ah battery, however these batteries are slightly heavier so this is something to think about. Simply put if you have one of Ryobi's tools, one battery is enough to power a whole range of products.
And so this hedge trimmer is sold as body only, leaving you the room to purchase with or without a battery depending on your needs.
Out of the box, the hedge trimmer is pretty lightweight at 2.8kg and thus manageable for overhead applications and trimming hedges at awkward angles, don't forget a 2.5Ah battery will take the total weigh to around 3.3kg or 3.6kg with the larger 5Ah battery which is when you may start to feel the extra weight, which still isn't bad all thing considered.
It comes with a 55cm diamond ground blade that is perfect for medium and larger sized hedges. The blade tip has a saw cutting function that makes it easy to slice through tough branches too.
A dual-trigger design combined with a front loop handle ensures maximum safety and comfort. One feature we really like is that the handle rotates through a simple button to five different positions, allowing you to trim easily especially in difficult positions, we have seen this feature on many petrol models but not very often on cordless models so it nice to see they have incorporated this feature.
One feature that's worth mentioning is the HedgeSweep attachment. This simple feature is confusing to use at first but once you understand how it slides into the blade to allow clearing of trimmings as you cut the hedge, we bet you'll never do without it.
In conclusion, the Ryobi OHT1855R ONE+ Cordless Hedge Trimmer is an impressive product and an amazing price point. It guarantees quality and efficient cutting performance and is well worth considering, specially if you have a larger hedge to contend with regularly.
Compare the best prices from available sellers below
---
Perfect for professional gardeners and landscapers
DEWALT DCM563P1-GB 18V XR Cordless Hedge Trimmer
Pros
This DeWalt Cordless Hedge Trimmer is a very impressive tool and delivers the power you need for tough trimming projects without the inconvenience of fuel or cables, this model is probably the best choice for professionals even beating Makita as it has a longer blade and wider cutting gap and comes with a 5Ah battery and quick charge included. This tool is marketed as the professional-grade option and indeed, it has the features to suggest so.
To begin with, the hedge trimmer is compact and lightweight for its size, yet robust enough to withstand the abuse that comes with trimming tough and large hedges on a daily basis. Its blade is 55cm long which is longer than any other model our our list and has a wide 19mm cutting which although is not the widest, will cut through most branches with ease. Finally the dual action laser cutting reduces jamming and help prolong the equipment's life which is especially important for professional use.
One thing stands out in this hedge trimmer and that is the wrap around aux handle. It offers a comfortable and firm grip for better control of the tool and is well balanced and obviously well though out. The primary handle is also ergonomic and padded for a good hold of it.
The body is well-designed to to withstand the usually daily abuse and knocks and bumps, while the tool runs off a powerful 18V 5.0Ah battery which is included. With this battery, you get up to 75 minutes of running time which is quite sufficient for most large hedges and its recharges in around an hour.
But the thing that drives a professional standard of work is the DEWALT XR Lithium-Ion technology. This provides plenty of power, longer running time and industrial durability. You can expect to tackle both soft and thick branches effortlessly as anyone who do it professional will no, you come across all different types of hedges. This hedge trimmer is slightly on the higher and of the price but the kind of quality you expect of a DEWALT product is worth paying for.
Don't forget it also includes 3 years warranty but you need to register online to get the full 3 years.
Compare the best prices from available sellers below
---
Best budget cordless hedge trimmer
VonHaus Cordless Hedge Trimmer
Pros
This VonHaus 20v Cordless Hedge Trimmer is a great choice for medium and large gardens but on a budget. This quality trimmer promises superior performance all-round along with a number of safety features that guarantee peace of mind for users. We will start off by saying that this model is great for home use, cutting your hedges every couple of week but for heavy use, it's simply not up to the job. However for home users, its perfect as its a good balance of quality and affordability.
The hedge trimmer is equipped with 51cm dual action precision blades with teeth spacing of 14mm. These strong blades are built to cut through branches of up to 15mm thick so not the thickest of branches why we recommend it more for maintaining a neatly trimmed hedge and not for tackling overgrown hedges. Better still, the blade oscillates at a speed of 1400rpm, which is super-fast for more efficient cutting so it scores a few more points here. In addition, a clever anti-vibration system enhances accuracy of cuts and the fact that the blades are made from hardened steel means it slides through branches like a sharp knife through butter.
Important to mention is that this tool is made with ease of use in mind. An ergonomic design coupled with a soft grip handle makes it comfortable to use even during prolonged use. Its lightweight body at just 2.8kg is an added bonus makes it one of the lightest models, meaning you can have enjoy almost strain-free working, not to mention the cordless freedom that lets you take every corner of the garden. The anti-vibration structure is another thing that ensures operational control.
Safety is a top priority, which is why this hedge trimmer has a protective hand shield in addition to the "Dead Man's" safety switch on the handle to prevent accidental starting. We do point this out but all models should have this feature anyway as safety is a top priority. The 20v model comes with an acceptable 1.5Ah Li-Ion battery which is on the smaller size but it does charge within an hour. Once full, the trimmer benefits from 50 minutes of uninterrupted cutting, so you can really keep going with any trimming. Remember that the thicker the branches the fast i will use up the power and reduce the run time but for maintaining a hedge every couple of weeks you can expect to get around 50 minutes.
A blade cover is included to ensure that important part is protected against wear and tear. Also supplied is a charger for the battery. This tool is among the lightest hedge trimmers weighing in at 2.6kg and certainly one of the more affordable options to consider.
Compare the best prices from available sellers below
---
Buyers Guide
How to buy the best cordless trimmer for your needs
Gardens are different in many aspects and so are cordless hedge trimmers. Even the prices of hedge trimmers vary greatly with the cheapest models starting at around £70-100 and professional standard models going for just under £200. But budget is not as important as the features below:
Battery type
Today's cordless hedge trimmers are powered by Lithium-Ion batteries, unlike traditional Nickel-Cadmium batteries. Li-Ion batteries are lightweight, fast-charging and retain their charge longer, thus guaranteeing longer run times. They also do not suffer memory effect, something that makes them not to lose their charge when stored, while they can still be charged even without running flat which wasn't possible with the older battery types. Be sure to purchase a cordless hedge trimmer that uses a Lithium-ion battery, there was a time when they were very expensive but they are now very affordable.
Note that some brands like Ryobi and DEWALT have designed batteries that can be used interchangeably with a wide range of their power tools. That means you can save some money by foregoing to purchase a battery with your hedge trimmer if you already own, for instance, Ryobi's ONE+ battery that you must have bought with a different tool, be it a lawnmower or garden strimmer.
Run time
So far the hedge trimmers we have reviewed above have impressive run times ranging from 50 minutes to 75 minutes. Ideally, you will want the longest running trimmer but if you only have small hedge to tend to then even 40 minutes may be more than enough. The DEWALT DCM563P1-GB 18V XR Cordless Hedge Trimmer with 75 minutes of run time is a great choice for medium to large gardens, while something like the VonHaus 20V Cordless Hedge Trimmer/Cutter is perfect for medium sized gardens thanks to continuous run time of 50 minutes if your on a budget.
Charging time
This can be as short as 30 minutes to more than 60 minutes depending on the model and battery capacity. How long the battery takes to charge depends on the capacity and quality. For our reviews, the Makita DUH523Z Cordless LXT Lithium-Ion Hedge Trimmer has the fastest charging time of just 22 minutes on its special smart mode with one of the lower capaity batteries.
Blade size
Make sure to check the blade size of the trimmer you want to buy because it is the most essential part of the tool.
Longer blades of around 55cm are good for larger hedges, since you can clip are bigger area with one sweep. A small hedge that you need to trim close to your house will be better worked by a blade that cuts up to around 45cm long. Also remember that smaller blades are the best for more intricate and precise shaping.
Think about the spacing between the teeth too. It usually ranges from 15mm to 22mm, with a larger spacing guaranteeing sure cuts in thicker branches.
The blade material is another thing. Go for diamond ground and laser cut blades as these are the most durable and sharpest at the same time.
Ease of use
Basically it is about how comfortable the hedge trimmer will be to use. That comes down to the weight and ergonomics. Anything above 3.5kg will be cumbersome and fatiguing, and will leave you feeling a little tired. Our top picks are as light as 2.5kg and they feature auxiliary handles for better balance when working.
Additional features
This is where each model scores differently. Some hedge trimmers have a two-trigger switch for safe starting and an automatic brake to stop blades instantly. Anti-jamming mechanisms that prevent stalling caused by caught branches and hand guards that offer extra protection when cutting are also good additions. Ryobi's HedgeSweep attachment, in particular, does an awesome job of clearing the trimmings while cutting a hedge, saving time of having to pull the hedge trimming off the top of the hedge.
---
Our Final Conclusion
The models we have listed in this post would make a great option for most domestic trimming jobs with a couple of them being much better suited for professional use. All you have to do is go through the list of key considerations to choosing the best hedge trimmer and you can land yourself a tool to make your hedge the envy of your neighbours. We hope you enjoyed reading this post and have found our research helpful.
BEST PICK
This Bosch weighs only 2.5kg and at that weight it is one of the lightest hedge trimmers we have reviewed. It can tackle branches of up to 25mm, perfect for larger hedges, old shrubs and even brambles. Quick-Cut technology ensures sharp and fast cuts especially because the blade oscillates at unmatched speeds of 2600rpm. We also really like the anti-Blocking system which reduced the chances of the blade jamming up, what it actually does is reverse the blade if it does not cut through the first time and cut again, while the diamond-cut and laser-cut blades ensure sharp, accurate cuts. This tool is certainly worth every penny for its range of convenient and user-friendly features.
---
Other reviews you may find useful:
---
Our site is reader supported, this means we may earn a small commission from Amazon and other affiliates when you buy through links on our site.