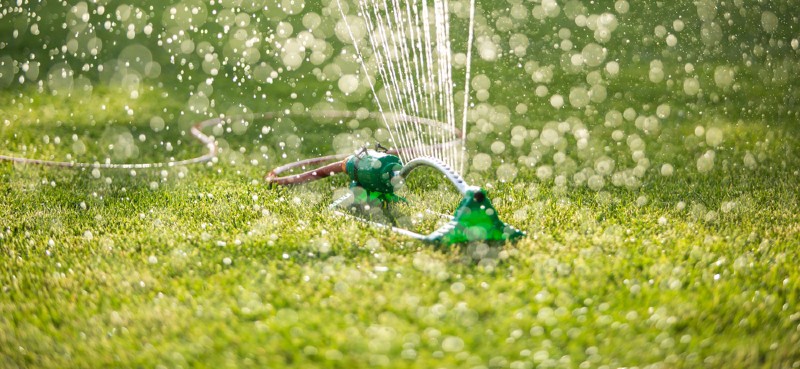 Best Lawn Sprinklers – Top 5 Water-Efficient Sprinklers Reviewed
Best Lawn Sprinklers – Top 5 Water-Efficient Sprinklers Reviewed
Your garden needs not to stay parched if you can help it. During the Summer, especially if we have several weeks of no rain and warm weather, dry patches may form making your lawn look off. It can be even more essential to water your lawn if you have recently laid a new lawn or seeded areas of your lawn in an effort to improve the lawn. That is why sprinklers are a blessing, they can even be attached to water timers so you can water at specific times of the day and for set periods of time. And don't forget that sprinklers are excellent was watering newly planted flower beds. Whether you want a pulsating or oscillating sprinkler, the truth remains that the best lawn sprinkler can be difficult to find, cheaper models are often to light and can easily flip, some models are just cheap and won't last and some even have issues with the nozzles blocking up.
In this post, we present some notable products in the market and further below you will find a buyers guide with tips to purchasing the best garden sprinkler. By the time you are done reading this review, you would most likely have found a sprinkler worth investing your money in and the one that is right for you.
After a few days of research and comparisons involving 20 different lawn sprinklers, our favourite garden sprinkler had to be the Costwise Group Pro Oscillating Bar Sprinkler. The votes are in and our much research, we agreed that it has a stable metal base compared to the rest which instantly resolved the issues with sprinkler overturning which is more common that you might think. It also delivers optimal performance whether in low or high water pressure making it perfect for most gardeners. With a metallic base and 16 adjustable nozzles to work with, this sprinkler will easily cover a small-medium lawn with ease and is designed to last offering excellent value for money.
BEST PICK
Covering an area of approximately 385m, this high-quality sprinkler comes with 16-easy to clean nozzles and includes a handy tool for doing so. Additionally, the sprinkler features a metal base which is crucial in keeping the sprinkler in an upright position. Unlike some other flimsy models, this sprinkler is very stable and it works even with low-pressure water. The device is compatible with most hose connectors including Hozelock, plus it is easy to use with plenty of control.
Mini Buyers Guide
How to choose a garden sprinkler
Buying a sprinkler is not as complicated as say, shopping for the latest cordless lawn mower. However there are a few factors to consider but they are nonetheless important.
First, what is the size of your lawn/garden? Once you answer this question, you can figure out if you want a stationary sprinkler, an oscillating sprinkler, a rotary sprinkler or even a pulsating sprinkler. it all comes down to coverage and the shape you want to cover, ie a large circle area covering flower beds or a rectangular shaped lawn.
One also has to consider the range and angle of water delivery. You may want a model that offers both long and short range watering abilities to attain to different size areas. Also, it is important to confirm if the sprinkler will work with high water pressure as well as low water pressure, those with high water pressure want need to worry but those with low water pressure will need a sprinkler which works under lower pressure.
Now, that's not all as we have expounded on these and other factors in the buyers guide after the detailed reviews below where we look at 5 of our top recommendations.
RUNNER-UP
This sprinkler has some great features to work with. For example, you can set the pulse sprinkler to move between 25-360 degrees. This feature is convenient when you only want to water a certain area of the lawn. Additionally, this sprinkler is able to cover a large area of approximately 490m2 with adequate pressure, you can also connect more sprinklers to this model with sections of pipes joining the sprinklers together if you have an extra-large lawn. Backed with a 5- year warranty, you expect this model to deliver long years of service. It is easy to operate, has metal inserts for stability and furthermore the build quality is very good, overall it is worth every penny.
---
Top 5 Lawn Sprinkler Reviews
---
BEST PICK
Costwise Group Pro Oscillating Bar Sprinkler
Pros
The Costwise Group Pro Oscillating Bar Sprinkler features a metal base whose function is to stabilise the sprinkler. Unlike the plastic sprinklers that tend to flip around when the water pressure is high, this sprinkler is very stable. What we will say is this sprinkler has been manufactured to a very high standard and is well though out with plenty of adjustable features, it even works well when used with water supplies that don't have the best water pressure.
Able to cover an area of 385m, this oscillating sprinkler nozzle position can be adjusted to make it easy to use in both smaller and larger gardens.
Taking only a few minutes to set up, this oscillating sprinkler comes with its own hose connector. The inlet filter installed performs a good job preventing the nozzles from blocking in the first place which is a feature most models don't have. The filter removes debris from the water that may cause blockages over time. The nozzles themselves are easy to clean and it even comes with a reliable cleaning tool which is very handy. You can even turn some of the nozzles off, for example three on each side and you also have the option to control the pressure with a small knob that control the inlet water flow.
Appropriate for smaller and large lawns/gardens, this sprinkler is compatible with Hozelock hose connectors which is a question many people will probably have and for good reason, therefore, there is no need for purchasing additional connectors if you already have a standard setup with a hoze. Purchased at an affordable price, this sprinkler will perform well even with low water pressure which is one of the features that helped it win our 'Best Pick' spot. Durable and strong, you will get adequate value for your money and this model is well worth considering.
Compare the best prices from available sellers below
---
RUNNER-UP
Gardena 8135-20 Premium Full or Part Circle Pulse Sprinkler
Pros
Covering a maximum area of 490m2, this Gardena 8135-20 Premium Full or Part Circle Pulse Sprinkler is simple to operate and as it directs the water above from a good height, its perfect for watering over flower beds as well as lawns which is one of the reasons it was chosen as our Runner-up along with its excellent build quality and performance of course.
The sprinkler system can be set to water the sector of the garden between 25-360 degrees which is easy to set using using the small metal clip with determines how far it can turn. This allows you to only water the section of the lawn that you want without having to waste water on other areas.
For stability when water is coursing through the sprinkler, the base of the sprinkler consist of quality plastic with metallic metal inserts. The metal weighs the base down therefore creating a stable platform for the sprinkler to disperse water without flipping which was our main concern at first, however you will find it is actually very stable.
Additionally, you can connect several sprinklers in a row if you have end caps and the Gardena system connector. Connecting additional sprinklers will cover large lawns in a shorter time compared to moving around single sprinklers, the issue with this of course if you need good pressure for more than one to work at the same time, however if you have good pressure and a large lawn, this can be an excellent setup.
To ensure that your money does not go to waste, the sprinkler is created from durable materials and although the base is plastic, its made from one of the best plastics when it comes to sprinklers. Quality materials last much longer therefore, removing the need to purchase replacement models regularly. We can't stress how good the build quality is, that being said we have used Gardena products before and they are more of a premium range but you pay a little more for them.
The high precision brass nozzles and metal hammer components of this sprinkler will not fail you either, no cheap plastic parts in this sprinkler. Finally it is backed by a 5-year warranty so that alone should say something about the sprinkler. Compatible with most hose connectors, this model is well worth considering and worth every penny for anyone looking for a model to cover large areas and more importantly flower beds as well as lawns.
Compare the best prices from available sellers below
---
Quantum Garden Z23 White Line Oscillating Sprinkler
Pros
Introducing the Quantum Garden Z23 White Line Oscillating Sprinkler that features 16 easy to clean nozzles. The first thing we will point out is that is not a replacement for our best pick, the quality is not in the same league, plastic base instead of metal for example, and does not have the same adjustable features.
However for the price it's an excellent sprayer. Covering an area of 312m2, this oscillating sprinkler can be used on both small and medium sized lawns with ease and gets the job done with enough adjustability to set the range. Depending on your water pressure, the coverage might differ so just bare this in mind, this is also the case with all sprinklers. What we do like is that you can use the orange sliding tab to allow range adjustment. This permits you to control how far you want the water to reach in a very simple way.
This simple sprinkler, although a little light has a stable base therefore, it is not likely to move once set in position which is something we look at in a good sprinkler. The construction of the material is strong enough to last and should be more than good enough to last a few seasons, against its not the best quality but its half the price of some models.
Finally for maintenance purposes, this model just like our best pick comes with its own nozzle cleaning pin which will come in handy. There are instructions provided that will guide you on how to clean the nozzles using the pin but it's pretty straight forward. Overall, this model is more affordable compared to the rest and is a very good sprinkler, its just not quite as well made as some of the other sprinklers, if you have a new lawn or have reseeded areas and just need a sprinkler to use for a few weeks, this is get the job done at an affordable price.
Compare the best prices from available sellers below
---
Oasis Ahead Lawn Sprinkler K-200
Pros
The Oasis Ahead Lawn Sprinkler K-200 will cater to all your watering needs and is another premium sprinkler we would highly recommend. This pulsating sprinkler can be adjusted to suit the angle of water direction required from 0-360 degrees so its super flexable. Conveniently, there is a shut-off valve installed so when you feel like the lawn has been watered adequately you can turn it off at the sprinkler, this is more handy if you need to move it around a large lawn as its save you turning it on and off at the tap.
It does not matter if you have a small or large garden which means it a good choice for most people. This sprinkler range caters to both long range and short range watering activities which is a good feature and just means it's more useful overall. If your water pressure is right, this sprinkler will be able to easily cover 4000-6000ft2.
Manufactured from heavy duty plastic, this sprinkler is durable and can withstand the outdoors without much damage. The rubber grips and weighted base ensures the model stays in position and is very stable.
For those who need more than one sprinkler for adequate coverage, this model can be connected to other sprinklers just like the Gardena range of sprinklers. Something that is worth noting is that it does come with an extra sprinkler head.
One point well worth noting is that it does come with a 60-money back guarantee offered by Oasis, so its is not suitable or not as good as you though it should be, simply send it back for a refund. Additionally, there is also a 2-year warranty offered to cover any defects with the product.
Overall this is another excellent sprinkler, much better quality than the cheaper models available and one that is designed to last many years. Again this is a good choice for not just watering lawns but also large flower beds.
Compare the best prices from available sellers below
---
Gardena 2082-20 Classic Oscillating Sprinkler Polo 220
Pros
The Gardena Classic Oscillating Sprinkler Polo 220 is another affordable model you can purchase for your lawn but this time from a brand that is known for its quality products. This specific sprinkler was created to water square and rectangular lawns providing a seamless motion, best of all its one of the more affordable options and its probably worth more money.
Able to cover an area of between 90-220m2, this sprinkler performs optimally without causing puddles and is perfect for watering lawns evening.
This model is as simple as they come which is probably how they have kept the price more affordable and is made of durable materials and is backed by a 5 year warranty.
The overall structure of the sprinkler contains a stainless steel mesh that is able to prevent debris from clogging the nozzles. Additionally, a cleaning needle is provided to clear any dirt that may have surpassed the filter. This, in turn, ensures it always waters evenly giving a very good coverage.
On top of no maintenance needed for this sprinkler, this model comes with an adjustable range from 7-17m. The maximum sprinkler width is around 13 meters which will be able to cover your lawn seamlessly.
Simple and affordable, this German-made sprinkler comes with a 5- year warranty. The warranty attests to the high quality of the product and more the price it almost sounds too good to be true, except it is.
Compare the best prices from available sellers below
---
Buyers Guide
With the number of sprinklers in the market, we believe that everyone can fetch the best lawn sprinkler. This is, of course, keeping in mind your watering needs and the size of your budget. What you need to understand are the features that you want your sprinkler to have. Before we get to explaining what these features are responsible for. Let us look at why you need sprinklers in the first place:
Advantages of sprinklers
They come in different types ensuring that all types of lawns and flower beds can be catered to.
Instead of watering the lawn manually with a hose, one can just set up the sprinkler and let it do its job saving you money and water more evenly.
Most sprinklers are created to work with both low and high water pressure. Your garden does not need to dry out despite your water situation.
Makes a good activity of kids/pets to enjoy playing in when the sun is blistering hot, which we admit is not very often in the UK.
Can be setup with with cool technological features like digital timers where you can set when you want the sprinklers to come on making water hands free which is great if your going to be away for a few days.
They are compatible with standard hose connectors such as Hozelock thus, using them is a breeze.
Choosing the best lawn and garden sprinkler
Type of sprinkler
True to their nature, sprinklers come in many designs and possess different features. If you are looking for the best garden sprinkler then you might want to pay attention to the different kinds available in the market.
Oscillating sprinklers usually take the form of nozzles poked along a tube length. These kinds of sprinklers dispense water by moving back and forth like a pendulum. Perfect for small-medium sized gardens, these sprinklers can be set to water along pathways with ease.
Pulsating sprinklers work by releasing long streams of water when a weighted mechanism hits the anvil. These types of sprinklers are perfect for those who need sprinklers that can perform both short and long watering activities but are not as precise or gentle as oscillating sprinklers. Both small and large sized gardens can benefit from the services of pulsating sprinklers.
Stationary sprinklers work as the name suggests, in a stationary position. Being the simplest and the most affordable, these sprinklers are appropriate for small gardens. They release water through holes on the surface of the unit and they work generally well with low water pressure. If you have a small area to water, they will be the models to go for.
Rotary sprinklers feature various arms dispensing water in order to cover a wide area. These sprinklers are perfect for circular lawns or large lawns that need gentle watering. All you need to do is set the range of the water circulation and let it do its job.
Area to be covered
It is important to understand the size of the area to be watered. Like you have seen, all of the sprinklers come with specifications of the area they can cover.
If you have a small lawn or garden then the best lawn sprinkler should be able to cover that area without wasting water or missing some areas. Check the specifications provided and compare it with the measurements of your lawn before purchasing one or more sprinklers.
Water pressure considerations
Not all sprinklers are able to work with low water pressure. If your area of residence suffers from low water pressure, select a model that can work with low water pressure. Not many products disclose this information, but you can always check previous customer reviews to get a picture of how the sprinkler generally performs. If it works with both low and high pressure then you have a good model. We have tried to point out in our reviews which models are good with lower water pressure to help you find the best model for this situation.
Durability
Sprinklers spend most of their time outdoors exposed to the sunlight. Therefore, the materials used need to be of quality whether it is plastic or metal. There are many plastic based sprinklers out there, however, make sure that the plastic is not flimsy and will be effected by UV rays from the sun, this means quality plastics need to be used. The metal bits of the sprinkler should be made of a material that does not rust like steel or fortified aluminium. The better the quality of material, the more likely the sprinkler will last longer.Sprinklers take a lot of abuse and are notorious for not lasting very long.
Ease of use
There are features that make interacting with a sprinkler friendlier. For example, a stable base is always welcome. That is why you find even plastic models have metallic inserts to keep the sprinkler stable. If you don't want a flailing sprinkler, make sure the base is at least weighted down but we found metal bases are the best.
It is rather unavoidable that nozzles get clogged due to their exposure to the elements. That is why units like the Costwise Group Pro Oscillating Bar Sprinkler come with their own cleaning pin. Following the instructions provided by the manufacturer, you can easily keep your nozzles open ready to disperse water.
Price of the sprinkler
How many sprinklers do you need? You need to consider the price of the sprinkler before making a purchase. If you need several sprinklers then there is a chance to receive a discount after a certain number of sprinklers. If you need only one sprinkler then it is possible to buy an affordable model that caters to all your needs. Some are below £20 and others go beyond £40-50 but we found that a budget of around £30 could get you a high quality sprinkler. Depending on your pocket, purchase a unit whose quality is not compromised.
Compatibility with hose connectors
What is the point of getting a sprinkler that is unable to connect to your hose? That is why you should look for sprinklers that are compatible with the hose you have at home. If you already bought the sprinkler and it doesn't match the hose size, then adapters are always welcome. The good news is that most sprinklers fit standard sized hose connectors such as those by Hozelock.
Adjustable features - angles and ranges
A model that lets you select if you only want to water a section of the lawn or the whole lawn is a plus. There are instances that certain plants require more water than others. Instead of flooding the rest of the lawn you can select how far you want the water to go. Whether it is short or long range, you as the user will have the final say.
Warranty or money-back guarantee
These are at times cherries on top of the icing. If you happen not to like the product, the money-back guarantee allows you to get your money back without hassle. They are not uncommon but they are hard to come by. Some models come with a 60 money back guarantee. Warranties are there to cover any faults that develop with the sprinkler. Depending on the terms and conditions of the warranty, you may get the sprinkler replaced or repaired. Not many models state the warranty, probably because its only 12 months but some models comes with 2 to 5 years warranty such as those manufactured by Gardena.
---
Our Final Conclusion
Overall, you are not restricted to the type of sprinkler you can buy. You have the freedom to choose right down to the specific features you need. There are many great sprinklers in the market, therefore, have some fun with it. While the Costwise Group Pro Oscillating Bar Sprinkler is our best pick, we cannot help but point out the Oasis Ahead Lawn Sprinkler K-200. For someone who needs 0-360 degree water dispersion motion, or 4000-6000ft2 of coverage, this pulsating model will serve you well. You can always take up-their 60- day money back guarantee if you are displeased.
That brings us to the end of this review, we hope that the best garden sprinkler is not beyond your reach.
BEST PICK
Covering an area of approximately 385m, this high-quality sprinkler comes with 16-easy to clean nozzles and includes a handy tool for doing so. Additionally, the sprinkler features a metal base which is crucial in keeping the sprinkler in an upright position. Unlike some other flimsy models, this sprinkler is very stable and it works even with low-pressure water. The device is compatible with most hose connectors including Hozelock, plus it is easy to use with plenty of control.
---
Other reviews you may find useful:
---
Our site is reader supported, this means we may earn a small commission from Amazon and other affiliates when you buy through links on our site.