Hydrangea aborescens Annabelle – growing guide
Hydrangea aborescens Annabelle – growing guide
Our site is reader supported, this means we may earn a small commission from Amazon and other affiliates when you buy through links on our site.
The Hydrangea Annabelle has beautiful white flower heads reminiscent of snowballs. Many gardens cultivate the Annabelle hydrangea because it is a hardy plant that will last for years and it is very simple to maintain and looks amazing when in flower.
Plant profile
The hydrangea Annabelle is part of the aborescens species. It is commonly known as the smooth hydrangea or the wild hydrangea. It is a hardy shrub originating in North America. It is a bush that generally grows very thick and very wide making it a good choice for using as hedging or screening too.

It can reach up to two meters in height.
The flowers you receive are big, white with a diameter spanning between 15 and 30 cm.
The blooming period last between July and September.
The flowers produced are sterile, decorative flowers. And the leaves are a beautiful green color.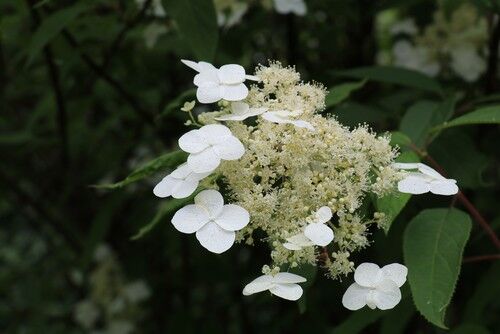 The hydrangea Annabelle is a complimentary plant for all manner of gardens especially with the large white flowers that last for a very long time. The circular bunches of flowers juxtapose the oval-shaped leaves quite well. This plant tends to grow very strongly upward and outward so it is perfect for hedges. The flowers will last for many months and change from a light green color to a creamy white color giving a spectacular show over a long period. Even as they wither they do not necessarily need to be cut off but overall, proper care for the plant and its flowers will help longevity.
Location
The hydrangea Annabelle prefers semi-shaded locations. It is best to grow your plant close to trees or your house wall so that it can enjoy some shade throughout the day, particularly shade in the late afternoon as most hydrangeas prefer. The plant will endure just fine in somewhat sunny places but it does grow more effectively if you have afternoon shade and morning sun. This is one of the few hydrangeas that is suitable for undergrowth planting for any trees you have in your garden. The reason you want to avoid planting in an area where the plant is deeply shaded or exposed to afternoon heat is that both extremes will interfere with flower formation and overall plant growth. Too much sun will burn the leaves and the inadequate sun will harm the water absorption in the roots and cause decay. As the flower heads get bigger they become much heavier so the wind can break them if your plant is not grown in a sheltered location. To that end figure out where the winds blow most prevalently in your area and try to grow the plants against a wall or a fence that doesn't get direct wind.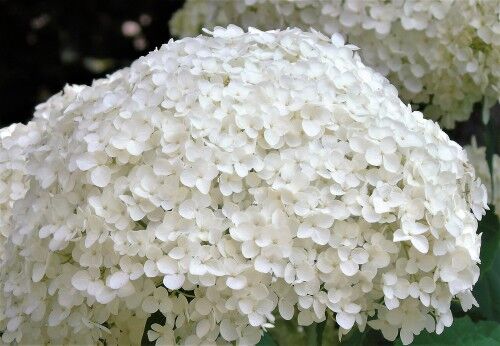 In terms of location, you should also be aware of the amount of spacing between different plants. This plant grows outward and upward and it can get very wide. Obviously, if you plan to use it as a hedge this becomes less of an issue but you still have to be cognizant of the amount of air flow through the plants. So when you plant them be considerate of how old the plant is at the time you are putting it in your yard and how wide it will grow over the course of its lifetime. If you plant them too close together while you might see erratically get a faster hedge, it will impede air circulation very quickly which can lead to things like mildew and fungus so this is something just to be aware of as it seems to effects some while not being an issue for others.
Soil
Hydrangea Annabelle favours very loose, nutrient-rich soil. It is best to have a lot of minerals and compost in the soil. Now, in regular gardens typically the soil you have will be sufficient but if it is particularly sandy or heavy you can mix it with hummus or with compost to lighten it. It's important to check the pH for this plant not because you could change the color but because a neutral too lightly acidic pH value is best for plant development. If it is too far in one direction or the other it simply may not perform as well.
Planting
This particular variety can be planted throughout the entire year so long as you're location does not have any frost. It's recommended that you plant in the early spring so that you can get blossoms that same year for the first time. If you plant it any other time of the year you might have to wait a whole year before you get any flowers and they usually don't start to put root out until spring.

If you are going to use your hydrangea as a hedge, the individual plants should be distanced approximately 35 to 50 cm apart.
If you want to plant them in a group you can give a bit more space between 80 cm and 150 centimeters.
Hydrangea Annabelles do not appreciate being overly watered so you need to make sure that the soil is properly are rated before you plant them. With properly aerated soil it's easier for the roots to penetrate through the soil and to establish themselves. Before you put any hydrangeas in the ground make sure that you were moving any visible weeds and if you purchased your hydrangea from a nursery or garden store remove any visible weeds that you see on the flat root ball as well. When you first plant your hydrangea make sure that you water it generously.
Watering
Normal to slightly wet garden locations are best for this particular plant because it does require a lot of water, but it does not want to get too wet. Regularly check on the water levels of the soil to make sure that they do not get too damp and start to rot.
Image by Babs Müller from Pixabay