Best hydrangeas to making a hedge
Best hydrangeas to making a hedge
Our site is reader supported, this means we may earn a small commission from Amazon and other affiliates when you buy through links on our site.
Hydrangeas are flowering deciduous shrubs better appreciated by many gardeners because of the copious flowers produced in a variety of colors. There are deciduous and evergreen species available but the most widely cultivated are the deciduous varieties. The flower heads on hydrangeas are colorful, large in size, and provide a striking appearance. Because hydrangeas are so large in their adult form the freestanding specimens are great for hedges and they look amazing over summer.

The flower heads of hydrangeas come in two different types of flowers. On the outside of the flower heads, you see the beautiful showy flowers and on the inside, you might find inconspicuous flowers. The varieties of hydrangea that are typically planted for hedges have the larger flowers on the outside. These flower heads will grow into large round shapes or long cone shapes. Hydrangea hedges will typically not grow incredibly tall but they are perfectly suited to providing privacy and a colorful appearance.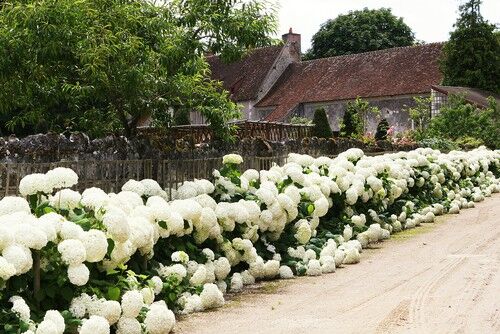 Flowering hydrangea Hedges
The simple answer to the question can you use hydrangeas to form a hedge, is yes. There are over 70 hydrangea species around the world, 25 of which grow only in China. Hedges today made of flowering hydrangeas are quite common because hydrangeas are so easy to cultivate and the flowers are beautiful. More importantly, the growth is very modest, with most hydrangeas never getting too far out of control and instead of growing outward making really great bushes that are not too tall and therefore perfect for supplying privacy.
Varieties of hedging hydrangeas
You can lightly prune your hydrangeas during the springtime but with almost all hydrangeas this is simply not necessary. Hydrangeas have a modest growth rate and will not typically overgrow. If you have a Climbing Hydrangea, however, this is the one exception. A Climbing Hydrangea, as the name suggests, climbs. It climbs quite a bit. If this is the variety you choose for your hedge you should make sure to place the hydrangea along a very sturdy wall or fence structure because as the plant grows the roots and branches will thicken and become quite heavy. The larger the plant, the heavier it is and the more support it will need to properly climb. If you choose any other variety you can grow it in the sun with partial shade or full shade based upon the species you choose.

Sale
Hydrangea paniculata 'Vanille Fraise' 15cm Pot Size
HARDY
DECIDUOUS
Grown with care by the Amazon Plant Specialist
Please unpack as soon as possible after delivery
Plant size varies according to the time of year. We always dispatch the largest plant available on the nursery.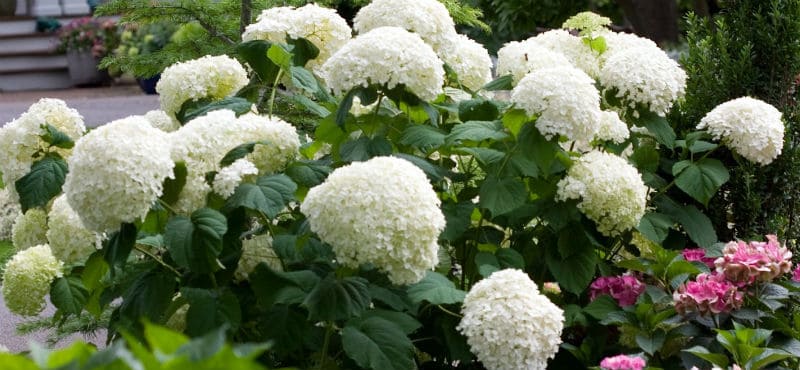 Regardless of species, it is important to choose moist, fertile soil especially if you are planting a brand new hydrangea. It's also advised that you add organic matter to your soil to encourage better growth. If you opt for a flowering hydrangea to create your hedge you will get flowers typically from the beginning of Spring through autumn. In terms of shape, the Annabelle hydrangea produces white flowers similar to the blue or purple hydrangeas of the Bodensee, part of the Bigleaf family. Annabelles are slightly tougher than other varieties because they can tolerate summer drought as well as cold. The big leaf varieties are attractive to many growers because of the fact that you can change the color of the blooms you get into varying degrees of blues and pinks and purples based on the acidity of the soil. Of course, not everyone wants to have to change the colors of their blooms so they opted for white plants for hydrangea hedging.
No products found.
Colorful hydrangea hedges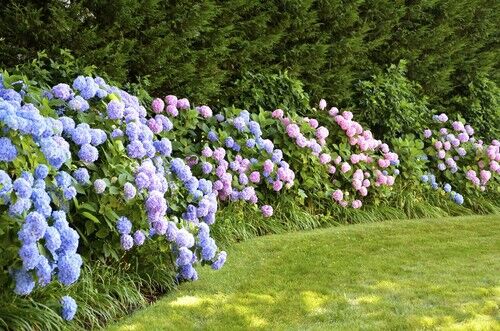 If you want hydrangea hedges that are much more attractive, brighter in color, there are many different species and varieties out there with a different color characteristic. The big leaf varieties are, again, one of the most popular simply because you can change the color you get but no matter what color you are after, there is no hedging plant that will better meet your desires than the hydrangea. You can choose hydrangea varieties that produce flower heads you like most. You can select varieties that produce large circular blooms. If you don't want that shape you can always opt for the cone-shaped blooms or you can find a variety that produces a beautiful combination of large exterior blooms with smaller beautiful blooms inside the exterior circle. In fact, you can always produce a mixed hedge to provide a more kaleidoscopic appearance by combining different colors.

No products found.
Last update on 2023-12-05 / Affiliate links / Images from Amazon Product Advertising API