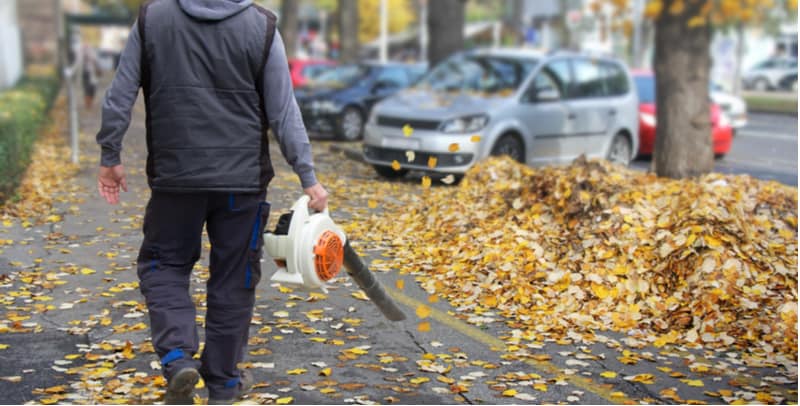 Best Petrol Leaf Blowers
Best Petrol Leaf Blowers
Last updated on October 20th, 2021
Our site is reader supported, this means we may earn a small commission from Amazon and other affiliates when you buy through links on our site.
Autumn is a magical time of the year where the old is shed to make room for new growth. The different shades of falling leaves are scenic at a certain point before it starts to get messy. Instead of dry/wet leaves littering your property and covering your lawn with unattractive carpeting, you can always use a leaf blower to clear the mess. A leaf blower will have the mess cleared by half the time you would have used working with a rake and brush.
We recently reviewed the cordless leaf blowers but in this review, we have decided to look at the petrol leaf blower alternatives comparing quality, performance and of course affordability. We shall guide you in your search for the best petrol leaf blower. You may be looking for a model that offers one function such as simple blowing or you may be in search of a 3-in-1 model, one that doubles as a leaf shedder and vacuum. We have compiled detailed reviews and a buying guide that will make this selection process simpler.
First things first, let us look at our best pick for this review and the runner up model. We will reveal the criteria we used to select these products and what they have to offer you as a future user. Go through the mini buying guide to get an inkling of what is covered in the buying guide which you will find after the reviews of our top picks.
Our top pick has to be the Stihl BG86CE Ergo Start Petrol Blower, which boasts a powerful 27.2cc 2-stroke engine to power all your leaf blowing needs. It is ergonomic to use and the truth is, it's quite expensive but if your after a top quality leaf blower then this is it. If your after a more affordable option then our runner-up model by Makita is a good alternative which we also review further down.
BEST PICK
Stihl BG86CE Ergo Start Petrol Blower
This an offering from a popular brand that is trusted and respected all over the world so it's probably no surprise that it's one of there models that has won our 'Best Pick' spot. Known for its premium quality and unwavering reliability, you can never go wrong with their products and were yet to use a Stihl tool that disappointed. This petrol leaf blower features a 27.2cc 2-stroke engine and comes with anti-vibration features and enough power to move both dry and wet leaves from your garden with ease. It is comfortable to use, not to heavy but still made to the usual high standard we have come to expect from Stihl and it has won over satisfied customers who have left some of the best reviews you can find online on various retailers websites. If you are looking for a powerful leaf blower that would serve you for years to come, the Stihl BG86CE Ergo Start Petrol Blower wins hands down. It's also worth mentioning that it can be converted to a leaf vacuum but purchasing the additional leaf vacuum kit which will allow you to convert the leaf blower to a vacuum shredder, giving you excellent versatility and adaptability.
---
Mini Buyers Guide
Choosing the best petrol leaf blower in a nutshell
As a customer navigating the marketplace, the last thing you want is to spend money on a product that doesn't match your needs. Petrol leaf blowers are versatile tools and easy to work with as they are not tied down with cords or the running times associated with lithium cordless models, all you need is a fuel can of petrol and you're good to go for hours.
If you are looking for a reliable model, you need to select one of appropriate size and weight. You don't want to work in an awkward position simply because the leaf blower is too heavy or simply too large for the task you purchased it for.
Additionally, how much power do you need to get the work done? Look at the leaf blower's energy output to determine whether it is powerful enough. After that, there are small considerations like adjustable features, doubling as a vacuum, a good warranty and operating noise levels to be considered. A little tip here, what usually makes a good petrol leaf blower is the quality of the engine, some cheaper models are not the easiest to start and the quality of the materials used such as strong plastics. Look at the buying guide after our reviews for a broader explanation of what to consider when choosing a petrol lead blower.
RUNNER-UP
Makita Petrol Leaf Blower and vacuum
This petrol leaf blower is much better suited for the home user for a couple of reasons, firstly because it's a 4 stroke engine, it's easier to fuel with no mixing petrol with oil to worry about, secondly, it can be purchased with the vacuum attachment and the whole setup is much more affordable that the Stihl leaf blower making it more budget friendly. It offers two functions under one structure for an affordable price. It should offer you years of service and powerful performance. Additionally, the 24.5cc 4-stroke engine operates quietly compared to most other 2 stroke models. Finally because it's Makita the build quality is extremely good, the only downside is that its a bit of a fuss to fit the vacuum bag, however, this seems to the the case with most models that convert to a vacuum, even Stihl bag is a little awkward to insert and twist on.
---
Top 5 Petrol Leaf Blower  Reviews
Looking for a reliable petrol blower? Why not peruse these detailed reviews and find the best petrol leaf vacuum.
OUR BEST PICK
1. Stihl BG86CE Ergo Start Petrol Blower
View the latest price on Amazon.co.uk
Pros
Powerful and reliable enough for daily professional use non stop.
A powerful 27.2cc 2-stroke engine that is easy to start thanks to the ErgoStart technology that gets the work done.
Has a soft-grip handle and a four-spring anti-vibration system for the user's comfort.
Possesses an HD2 filter to protect the engine from unwanted debris.
Offers a throttle lock to make it easier to use for longer periods of time.
Features anti-vibration design to reduce the fatigue experienced by the user.
2 Year warranty for peace of mind for domestic use, reduced to 1 year for professional use.
The Stihl BG86CE Ergo Start Petrol Blower uses a 2-stroke engine that is air-cooled to provide a powerful leaf blower function plus it also doubles as a vacuum with the correct leaf vacuum kit. Because it is a 2-stroke engine, you will have to mix the petrol with oil at the right ratio which will be something professionals will probably be use to. By doing this, you prevent the engine from seizing up and causing irreparable damage so it's important this is done correctly. Its not a big issue but this is where models with 4 stroke engines are often a better choice for domestic use where this is not needed. This 27.2cc model also uses a stratified charge and therefore, it reduces the amount of fuel used by the engine. This, in the long run, reduces the amount of money used on fuel and the emissions produced making it better for professional use and just improving the overall efficiency which is super important for professionals who might be using it for longer periods of time on a daily basis through autumn and winter.
It is easy to start thanks to the manual fuel pump that reduces the number of strokes needed to start the engine. Additionally, this petrol blower comes with an HD2 filter. This easy to clean filter repels unwanted debris from infiltrating the engine and causing blockages, again this is a feature which just ensures easy starting everytime.
The petrol leaf blower is fitted with a comfortable soft-grip handle to help you balance the weight of the leaf blower as you manoeuvre the area you are clearing. Positioned on the handle is a throttle lock fitted with a stop switch. This allows you to turn the engine off/on in-between work sessions with ease but also locks the trigger on making it a little easier to use for longer periods of time as you don't need to manually hold the trigger.
At around 5kgs, its not the lightest leaf blower but then there is always a tradeoff for quality which is usually weight, that being said, most will find this leaf blower is very manoeuvrable and easy to use. You can work without experiencing too much exhaustion thanks to its anti-vibration design which used 4 springs to absorb vibrations. We would recommend this model for those who don't mind using a bit of money to gain a powerful premium petrol leaf blower and need a very reliable model for daily use. Probably the best choice for professionals. Don't forget this most includes 2 years warranty for domestic use but goes down to 1 year for professional use. Still for professional its up there with the very best leaf blowers.
Read next: Best cordless leaf blowers to buy
---
RUNNER-UP
2. Makita Petrol Leaf Blower and vacuum
View the latest price on Amazon.co.uk
Pros
A mid range model for domestic and lighter professional use
Provides both leaf blowing and vacuuming functions which sheds the leaves which makes it easier for them to compost down. (Can be purchased with or without the vacuum kit)
Lightweight and easy too manoeuvre.
Powered by a powerful 24.5cc 4-stroke petrol engine that produces a powerful airflow of 125mph and requires no petrol and oil mixing like 2 strokes engines do.
Provides a comfortable handle for use and very well balanced.
Operates more silently than most 2-stroke engines with less rattle making them better suited to domestic noise sensative areas.
Offers good value for money and includes 1 years warranty for peace of mind.
The Makita Petrol Leaf Blower which can convert to a leaf vacuum is a lightweight model weighing only 4.4kgs so its slightly lighter than our 'best pick'. What we really like about this model is that it comes with a 24.5cc 4-stroke OVH engine with a 0.52 litre fuel capacity. What this means is that its a good choice for home domestic use as it much easier to fuel as you don't need to worry about mixing the petrol with oil like you do on most other models which are usually incorporate 2 stroke engines that require a certain ratio of petrol and oil to be mixed together, something that is daunting for the less experienced which is usually home users.
It is also lightweight as mentioned and powerful enough to provide an airflow of 145mph, in basic terms this means it will move all leaves, even wet and other debris such as hedge and grass slipping making it a good choice for home users.
This model can be used for two functions, vacuuming and leaf blowing. If you want to use the vacuum function you need to purchase the appropriate accessories that include a collection bag to collect the debris. You can purchase this with the vacuum kid but sometimes you need to purchase it separately so its best to check. Our link below on Amazon should include the vacuum kit but do double check if ordering one through out link.
Although it is already lightweight and easily manoeuvrable, the padded handle just makes the whole model feel comfortable to use. The padded handle provides a soft-grip and firm grip throughout the working process, nothing special here, what is important is that it is well balanced which most will agree it is.
The leaf blower comes accompanied by a 1-year warranty to handle any customer complaints on the quality of the product, being Makita you should experience any issues as all there tools are very well made and super reliable and still offer excellent value for money. For those who require a lightweight but powerful two-function leaf blower that is easy to use and fuel, this model would be a popular choice. For domestic home use, we would recommend this model every time.
---
BEST BACKPACK PETROL LEAF BLOWER
3. Mcculloch GB355BP Petrol Backpack Leaf Blower
View the latest price on Amazon.co.uk
Pros
Perfect for clearing larger areas of leaves, twigs, grass clipping and other debris.
Comes with a powerful 46cc 2-stroke engine with high airspeeds of 355kph (220mph).
Has adjustable padded handles to provide the user with comfort.
Offers variable trigger speeds and cruise control for easy operation for longer periods of time.
It's trigger grip position is adjustable to suit the user's preference.
Comes with a 1- year warranty for full peace of mind.
Offers good value for money for the qualityt and power provided.
Experience the powerful Mcculloch GB355BP Petrol Backpack Leaf Blower that comes in a compact manoeuvrable design, this is the only backpack version on our list and if you need raw power and have a large area to clear, this is for you. Measuring 80 x 18 x 28 cm, this 9.16kg it's fairly heavy even for a petrol leaf blower but when placed on your back it shouldn't feel too bad as your arms are not supporting the weight. Overall it offers easy management of the model's weight and makes movement easy plus the backpack possesses adjustable padded handles to suit the user's height and arm length and comfort level preferences.
The 46cc engine that produces a high wind speeds of 355kph, thats 220mph in Uk terms. This is more than enough power to remove mulch, dead leaves, dry or wet and other loose dirt from large areas where something with a little more power is needed. Additionally, it features variable trigger speeds and cruise control to make blowing large areas easier. You can select how much airspeed you need to blow the debris in question away. Depending on your level of comfort, the trigger position is also adjustable to suit easy movements which is a big plus.
This 2-stroke engine blower is both affordable and perfect for heavy/light work. It comes with a 1- year warranty for added peace of mind which brings it in line with most other petrol leaf blowers.
---
4. McCulloch GBV345 Petrol Leaf Blower and Vacuum
View the latest price on Amazon.co.uk
Pros
An affordable model for blowing or shedding and vacuuming leaves and debris.
Comes with a powerful 25cc 2-stroke engine to support air speeds of up to 345kph, around 220mph.
Features adjustable cruise control for fan speed regulation so you can match the power needed to the job at hand.
Has anti-vibration features to reduce fatigue.
Weighs just 4.4kg, making it quite comfortable to use and well balanced. 
Comes with soft grip handles and a strap for enhanced comfort.
Features a 45-litre collection bag to gather debris.
Has an impressive mulching ratio of 16.1.
1 year warranty included.
The McCulloch GBV345 Petrol Leaf Blower and Vacuum gives you three functions for those looking for one which converts to a leaf vacuum and is probably the best model within its price range. It is a lightweight model that weighs approximately 4.4kgs, therefore, moving location to location will be easy and it's no two heavy.
The soft-start model possesses a 25cc 2-stroke engine that provides ample power to facilitate mulching, vacuuming and leaf blowing but being two stroke you will need to mix the correct oil and petrol together which is made easier with the mixing bottle provided. Boasting of air speeds of up to 345kph, that's 220mph in Uk terms, this model also comes with adjustable cruise control. This means you have the option to regulate fan speeds depending on the activity you are handling.
To make sure that the user is comfortable, this petrol leaf blower comes with soft grip handles as you would expect to reduce muscle strain on your hands as well as anti-vibration features.
We would recommend it to those who need a 3-in-1 petrol leaf blowers for light-medium work at a more affordable price. This product comes with all the needed attachments and a 1-year warranty and we honestly thing you would struggle to find a better model at the price.
---
5. Parker PBV-2600 26cc 3 in 1 Petrol Leaf Blower
View the latest price on Amazon.co.uk
Pros
Budget friendly leaf blower which also converts to a shedder and vacuum.
Features a 26cc 2-stroke engine with a 1HP / 0.70kW output.
Provides variable speed control.
Comes with a debris collection bag and everything needed to convert to vaccum.
Has an ergonomic soft-grip handle for comfortable handling.
1-year warranty for peace of mind.
The Parker PBV-2600 26cc 3 in 1 Petrol Leaf Blower is one whose prices are fair on your pocket and the quality is manageable, its no Makita or DeWalt but its half the price and some making it a good choice for home users for casual use. The 26cc 2-stroke engine model gives an energy output of approximately 1HP / 0.70kW so its has plenty of power.
It is a lightweight model weighing about 4kgs which makes it easy to move around and is even lighter than the more expensive models but this is where the advantages stop as the build quality is what you would expect for a budget friendly model, acceptable but could be better but this is why its such a good price, plus the engine is maybe not quiet as easy to start. 
Additionally, it offers variable speed control which is essential when dealing with different levels of debris and a useful feature. The soft-grip handle fitted provides comfort and constant grip while working. 
Accompanied by a collection bag, this leaf blower comes with a 1-year warranty. You will find it most befitting for light-medium domestic work but don't expect to much from this model, it gets the job done and comes at an amazing price.
---
Petrol leaf Blower Buyers Guide
As indicated in the mini buying guide presented above, finding the best petrol leaf blower is not rocket science. Once you figure out the features that you need and how much you are willing to spend, the rest comes quite easy. 
Factors to consider when buying a petrol leaf blower
2 stroke vs 4-stroke engines
Petrol leaf blowers operate using either 2-stroke or 4-stroke engine. People prefer one over the other for various reasons boiling it down to a personal choice. Typically, 4-stroke engines are heavier but they consume less fuel compared to 2-stroke engines plus no petorl and oil mixing is needed.
Furthermore, 2- stroke engines are more powerful but 4-stroke engines are more durable. If you need a petrol leaf blower that operates a bit silently then select one with a 4-stroke engine. Depending on what your main focus point is, select wisely.
Combined functions
Do you need a model that only satisfies only leaf blowing functions, or would you appreciate more functions? Selecting a leaf blower that acts like a mulcher and a vacuum would be appropriate if you have more landscaping needs.
For example, the McCulloch GBV345 Petrol Leaf Blower/Vacuum is an affordable model that offers 3-in-1 functions. If you only need to keep pesky leaves off your lawn then a model with only the leaf blowing function would do.
Anti-vibration features
Anti-vibration features reduce the fatigue/exhaustion a user may experience using the leaf blower over time. Too much vibration stresses the muscles, tendons and over time cause damage to the nervous system. It is always advisable to work with machines that have anti-vibration features.
Weight and balance
How heavy the leaf blower is will affect how long you are able to work with it before you need a break. If you do not have the muscle power to handle a large and heavy model then you can settle for a smaller model that will be lighter.
If you cannot compromise for a smaller size the select leaf blowers that come in backpacks like the Mcculloch GB355BP Petrol Backpack Leaf Blower. That kind of design allows the user to balance the weight of the leaf blower and move around with ease.
Variable speed
The amount of airspeed needed to move a small pile of dead leaves will not be the same speed required to move a huge pile of leaves. Instead of settling for a one-speed model, you can always pick one that offers adjustable trigger speeds. That way, you can be able interchange between speeds and have a bit of fun.
User comfort
To promote a comfortable working environment, the features present in the leaf blower have to be well-made and well-positioned. Features such as soft-grip handles may not seem like a big deal but they prevent the hands from getting tired quickly. The positioning of the trigger/cruise control on the handle should be within reach so as to promote easy operation.
For heavier tools with backpacks, adjustable padded handles are always a welcomed sight. The padded handles reduce the strain felt by the shoulders and back muscles.
Straps are also common even with lightweight leaf blowers. The straps help the user balance and manoeuvre the weight of the tool around.
Easily attachable and detachable nozzles make storage easy as they take up less space. They also make it easy to interchange between nozzle heads saving you time and the need for extensive tools.
The best petrol leaf vacuum will definitely come with its own collection bag to make your life a bit easier. Having to make extra unwanted purchases always brings up some level of frustration.
Noise level
Just because you are tending to your property does not mean that the whole neighbourhood has to be aware of it. If you have a newborn baby in the house and you have thin walls, you may want to consider models that run quietly. The less noise produced, the less the environment is disturbed.
Look at the decibel (dB) level in every leaf blower you see before purchase. The higher the decibel level, the louder the model is likely to be.
Product warranty
Not every leaf blower brand will offer you a warranty but it is always safer to work with a model that has one. The models presented in this review have an average of offering a 1-year warranty. Always read customer reviews to find out if the warranties provided are worth the trouble. There are some brands that give warranties with terrible terms and conditions.
---
Our Final Conclusion
It could be leaves or small twigs invading your deck, regardless, you can sleep easy knowing that you have the best petrol leaf blower to clear the mess. Remember to store your petrol leaf blower in the right position so as to prevent any fuel/oil leakages. If you can purchase a storage case it will make transportation and proper storage possible. Now that you have found a reliable model to work with, our job is done. It is time to get to work clearing that mess.
---