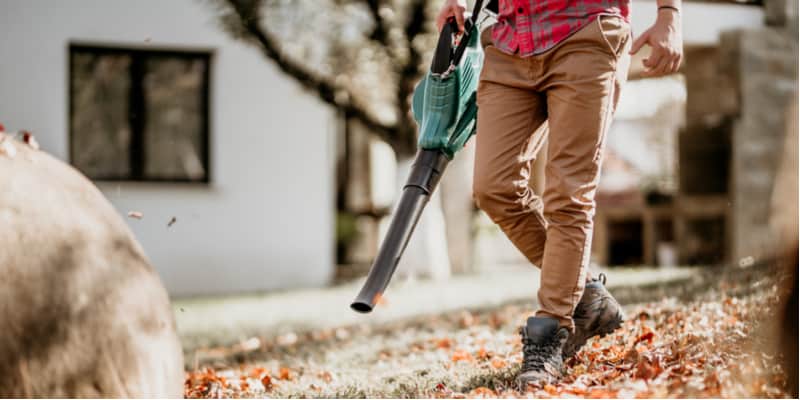 Best Cordless Leaf Blower – 5 Top Models and Reviews
Best Cordless Leaf Blower – 5 Top Models and Reviews
Cordless leaf blowers are simple and convenient. They are not as noisy as the petrol models and you can move them from one location to the next with ease. You can use them for both big and small jobs depending on their output power and size. If you have been looking for the best cordless leaf blower, you have come to the right place. We will show you how to navigate the market and some of the important factors too look out for.
We spent hours of research looking over product details and comparing features alongside specifications to find quality cordless leaf blowers in the market. We have gone a further step to select the best pick which we think is the best model for most people and the runner up model as a great alternative. Read through the following sections to see why these products made it to the top selection after comparing over 20 models from the biggest brands. You may be swayed to select one of them as your favourite or not, nonetheless, there are more products reviewed below to help you decide. The choice is completely yours to make.
Our best pick is the Makita DUB182Z 18V Cordless Li-ion Blower, which also happens to be Amazon's choice as of the time of writing which shows we made the right choice. Its variable speed will give you optimum speed control, with the highest speed offering 12 minutes on continuous operation which means it more suited for home use or professional when only needed for shorter quick clearing jobs. This tool is quite ergonomic and compact at just around 20 inches long and weighing only 1.7kg for reduced user fatigue. Most importantly, it's equipped with Protection Computer Controls to protect against overloading, overheating and over-discharging. This really an excellently made tool that's worth every penny but remember you will need to add a battery and charger if you don'y already have compatible Makita tools. We also recommend using the larger 4Ah battery for longer running times.
BEST PICK
This tool has durable construction and is easy to operate. It has received generous reviews online indicating that it is a favourite with people and we would have to agree. Under one model you get to enjoy two functions as it also converts to a vacuum but you need to invest in the dust bag but its available at a pretty affordable price. You can see the dust collect bag here on Amazon. Finally it has 3 power setting from a good blast of air to blow your socks off speed. Overall its an excellent cordless leaf blower with a build quality which is simply unmatched by most other models.
Mini Buyers Guide
A few things to consider when buying a cordless leaf blower
The amount of power you need to get the job done is an obvious consideration with multi speeds being a big plus and the price tag are some of the factors you need to consider before making a purchase. Don't forget when shopping around some come with the battery and charger while others don't and some might include a 2Ah battery while another retailer might have a 4Ah capacity battery. The higher the Ah rating the longer it will run before needing to be recharged so this is a very important consideration is you want to maximise running times.
An appropriate leaf blower gets the job done without tiring the user or overloading the motor which usually comes down to weight and build quality. If you have light leaf blowing activities such as clearing dry leaves and grass clipping around the average size garden or blowing wood chips and sawdust in a work environment most 18v models would be up to the job and have more than enough power.
Additionally, one has to consider user-friendly features such as soft-grip handles that play an important role in the user's comfort especially if you plan o using it for longer periods of time but remember you need spare batteries too. Features such as variable trigger speed cannot be overlooked if you are dealing with different intensities of debris. It is crucial to confirm that such features exist in the model you are about to purchase. Let us discuss other factors in the buying guide further below after our reviews which i'm sure you have come here to read.
RUNNER-UP
Accompanied by some of the best reviews we have seen online, this premium quality leaf blower is well worth considering. Its import to note this is a more compact smaller model but its variable speed makes it perfect for most jobs from clearing leaves to cleaning up worksite areas. As with most models it can be purchased as a bare tool or complete with battery and charger, in terms of running times, a 3Ah battery lasts around 30 minutes while the 4Ah battery last around 45 minutes. If you're looking for a compact model then this is well worth considering and the DeWalt brand speaks for itself.
---
Top 5 Cordless Leaf Blower Reviews
---
BEST PICK
Makita DUB182Z 18V Cordless Leaf Blower
Pros
The Makita DUB182Z 18v cordless leaf Blower weighs only 1.7kgs and therefore it is not designed to handle heavy work but it more than suitable for most home users clearing leaves and debris as well as professionals clearing areas on worksites. What we like is that it can be used as a vacuum or a leaf blower depending on your requirements but you will need to buy the appropriate vacuuming accessories which is basically the dust bag.
This tool requires 18v lithium-ion LXT batteries to support a maximum air volume of 2.3 m3/min and a maximum air velocity of 72 m/sec. You will find that it features 3 air volume settings that range from high-low, to give you an idea on low which gives a steady blast of air for more delicate jobs, medium which offers more power and then the high which is more suitable for clearing outdoor areas such as leaves from patios and lawns.
It's worth noting that with each power setting you can also use the trigger to increase the power a little more between the 3 power setting giving you a little more control and power for better control. You can interchange between the settings simply by adjusting the dial provided.
The rubberised soft-grip handles offer your hands comfort and adequate grip as you continue working for longer periods of time but if course you need the extra batteries to achieve this because as with all cordless tools running times it restricted by the battery capacity. Don't forget depending on the bundle you choose and where you buy it from you may be required to purchase a battery pack and a charger for this model separately which will push the price up a little. However when comparing prices, with a 4Ah battery and charger when compared to other big premium brands such as DeWalt, the price was very competitive.
Overall this model by Makita is an excellent choice for those looking for a compact and light weight cordless leaf blower with multi power setting and of course are looking for a quality premium tools designed to last, don't forget you also have the option to use as a vacuum which is well worth considering. In terms of warranty don't forget to register online to take advantage of the full 2 year warranty. The only real downside is that it want win any records for running times, the 5Ah battery will last around 20 minutes of continuous use on full power. That being said that more than enough for most gardens.
Compare the best prices from available sellers below
---
RUNNER-UP
DEWALT DCV100-XJ 18 V Li-Ion XR Compact Cordless Blower
Pros
The DEWALT DCV100-XJ 18v Li-Ion XR Compact Cordless Blower that is small but powerful enough to move debris such as wet leaves, light snow from paths, wood shaving from work areas and even drying off the car or garden furniture. You can even inflate airbeds using the inflator/deflator attachment, its basically does it all, a very versatile tool.
Depending on 18v lithium-ion batteries, this tool will offer you about 20-40 minutes of uninterrupted work, we would recommend using at least a 4Ah battery to get the most out of it, even better a 5Ah battery if your budget allows as this will give you around 40 minutes of use. The battery pack and the charger are not provided and so will have to be sourced independently. If you already have tools which use the compatible DEWALT XE slide batteries, you can use it on this model instead of purchasing another battery pack which will make it a good affordable choice. It is all part of the DEWALT brilliant plan of maximising energy resources which most brands have now started to doing, that is one battery for many different tools.
It weighs approximately 1.3kgs which means it one of the lightest models available which is a plus. The leaf blower is also able to support fan speeds of up to 18000 rpm and airspeeds of up to 80m/s which is what really matters as this indicates the raw power it can produce. This is an adequate force to collect all the debris in one place ready for disposal. The speed can be adjusted from slow too fast depending on how much power you need to move the debris, for wet leaves you will need full power all day long.
Designed for general clean-ups on worksites or general garden use, this model comes with rubberised soft grip handles that offer comfort as you work. Once you purchase this item, you will find deflator/inflator attachments great for blowing up air beds, swimming pools etc, a round nozzle, the main body, and a nozzle extension. Additionally, it offers 3 years warranty when you register online.
Overall its a great blower but it does have one little niggle, the air suction duct is on the left side of the blower so if you wear baggy trousers or have it to close to your right leg it sucks you pants against it so its best used with your left hand or be mindful and keep it at least 5cm from your leg. Not a big issue but something that may become apparent which you hadn't considered.
Compare the best prices from available sellers below
---
A great choice for home user clearing leaves
Bosch ALB 36 LI Cordless Leaf Blower with 36v 2.0 Ah Lithium-Ion Battery
Pros
Introducing the Bosch ALB 36 LI Cordless Leaf Blower that offers up to 25 minutes of uninterrupted work time when fully charged. It only takes 70 minutes for the battery to fully charge which is fast compared to some models in the market.
If your looking for a cordless leaf blower for just clearing up your patio or lawn of fallen leaves then this could possible be the best choice, first off its slightly longer than out 'Best Pick' which means is a little more suited for clearing areas outside of fallen leaves as the pipe is closer to the ground and slightly curved.
This lightweight model is designed to offer you power despite its meagre weight. Powered by 36 V 2.0 Ah Lithium-ion batteries, this unit is able to support a maximum airspeed of 250km/h. You can reduce the wind speed by engaging the variable speed control.
Fitted with a Syneon chip, that is suppose to balance power to job at hand and improve performance and make it more efficient. Bosch describe the Syneon chip as ensuring that there is harmony between the batteries, gearbox and motor to facilitate seamless operation. We don't fully understand how this can truly make a difference but power wise it certainly has boats loads of blowing power which is probably more down to the 36v battery which is much more powerful that the 18v alternatives.
The tool weighs approximately 2.4kgs so its not as light weight as the previous two models but its still light weight in leaf blower terms and comfortable to use.
It comes with a 2-year warranty that can be extended to 3 years if the product is registered online so don't forget to do this, the same goes for most brands too. Overall if you're looking for a powerful cordless leaf blower for home use for clearing up fallen leaves wet or dry its certainly up to the job. Price wise its a little expensive compared to other models but if you already have compatible tools you can purchase the bare tool which then makes it much more affordable.
Compare the best prices from available sellers below
---
Ryobi OBL1820S ONE+ 18V Cordless Blower with 4.0Ah battery and charger
Pros
The Ryobi OBL1820S ONE+ 18v Cordless Blower is simple and perfect for working on driveways and patios among other surfaces. This leaf blower has a strong motor that supports maximum airspeeds of 245kph. It can take care of light-medium jobs with the utmost ease. It is a lightweight model and weighs only 2kg with the 4Ah battery and therefore moving around with it should not be an issue and it's one of the lightest models on this list.
Additionally, this simple leaf blower offers about 30 minutes of running time with a 4Ah battery, a larger battery would last longer but it eats through power so we wouldn't recommend the smaller 2.5Ah batteries as its wouldn't last long at all. If you want to work seamlessly, you may need more than one battery pack to keep interchanging when one runs out as with all cordless leaf blowers.
To make it comfortable for the user's hands, this leaf blower is fitted with an ergonomic handle and most will feel its well balanced. We are sure that you will have a breeze operating this model to take care of light debris including wet leaves piling in your garden.
Overall its a powerful model with a decent running time when used with the 4Ah battery and is well worth considering as an alternative to the Bosch model for anyone looking for a slightly more affordable alternative but it probably want have quiet as much power and only has one speed. If you already have compatible Ryobi tools the bare tool is a steal.
Compare the best prices from available sellers below
---
Garden Gear Cordless Leaf Blower with Lithium-ion Battery Pack
Pros
For our final pick we wanted to find a good budget model for small gardens where long run times or fast charge times were not need. So we decided the Garden Gear Cordless Leaf Blower was a good choice. A 1.7kg cordless model is a lightweight tool that is easy to work with and to store. Thanks to its robust motor, this model is able to provide enough force to move debris from different surfaces and it does have more than enough power. It comes with a detachable nozzle to make storage easier which is handy because if you have a small garden you probably have a small shed or storage box.
This leaf blower comes with an ergonomic handle that offers enough room to work with your two hands. Its well designed and compatible with Garden Gear 20v cordless range, this model offers an average running time of only 15-20 minutes which is where its starts to loose points and why its much more affordable than any of the other models, however if you have a small garden this shouldn't be an issue.
It takes about 3-5 hours for the battery to fully charge which is another reason its not for everyone. Now back to the positives comments, It comes accompanied with a 2 year guarantee for peace of mind.
We would recommend this model for light-medium work for smaller gardens such as 10 minutes quickly clearing your garden and done. Overall its not a bad leaf blower and it does a great job, its just restricted by it short run time and longer charge times. For small gardens though and on a budget, it might be a great choice.
Compare the best prices from available sellers below
---
Buyers Guide
Just like the petrol or corded leaf blowers, cordless leaf blowers are easy to find and there are literally 20-30 models to choose from. They are easy to operate and they are not super expensive and the newer lithium-ion batteries mean they last long and charger quicker. To purchase the best cordless leaf blower entails considering more factors than the price asked for the product though. Before we look at some of these factors, let us look at some benefits associated with using a cordless leaf blower.
Benefits of a cordless leaf blower
No cords to deal with and, therefore, less restrictive in terms of movement.
They are lighter and easier to use compared to the petrol leaf blowers.
They are easy to start with no maintenance or power sockets to worry about.
Operate less noisily compared to the loud petrol models.
They do not require a lot of maintenance thanks to its simple design.
Battery packs used in cordless leaf blowers provide a decent running time if you have the higher Ah capacity batteries.
Because of their size, they are convenient to store as they don't take up much space.
They are effective in handling domestic jobs that do not require too much power to get done.
How to pick best cordless leaf blower
How much power do you need?
If you have a lot of debris to remove then you may want to settle for a leaf blower that has high power output. Choosing an underpowered leaf blower will not only stress you, but it also will not get the job done or take much longer to clear areas.
Manufacturers are keen to provide information on the power output of these models, therefore, it is hard to miss. In general a 36v leaf blower will more power compared to an 18v leaf blower. Look at the scale of work to be done and select a model that is powerful enough to get the job done. Most of the models we recommend have ample power so this want be a problem.
Battery run-time
A cordless leaf blower may take an hour or more to fully charge. Once the tool is fully charged you want to access enough running time to get the work done. If you are using a sub-standard leaf blower you may get a running time of 10 minutes. Unless you have a small area to cover, this is a very short time to work with.
A tool that offers more than 30 minutes of the running time is recommended. Think about purchasing extra battery packs just in case you have a large area to cover and you want to work without interruptions.
Variable speed settings
Variable air speed settings give you the user more control over your operation. You can select low speeds or high speeds depending on the type of debris to be cleared. Soggy leaves will require more power to move than dry old leaves. A good example of such a leaf blower is the Bosch ALB 36 LI Cordless Leaf Blower or the Makita DUB182Z 18V cordless leaf blower. Being able to use less power will usually extend the running time.
Weight and size
Most cordless leaf blowers are of manageable weights and sizes. If a model happens to be heavier than usual, you will find it attached to a strap or a bag pack but most cordless models are that light weight his is not an issue. Look for a model who's size is comfortable but the level of power is not compromised. You can select a lightweight model and find that it is underpowered for the job. Search for product details to have an idea of how heavy the model you are about to purchase is.
Multiple functions
Get the most out of the money you spend by getting a multi-functional leaf blower. You can cater to mulching, leaf blowing and vacuuming all from one model. Alternatively, if you simply want a leaf blower, select a model that is designed to offer only leaf-blowing services. Most cordless leaf blowers don't have the option to convert to a vacuum with the exception of the Makita DUB182Z 18V cordless leaf blower.
Price and warranty
When shopping for cordless leaf blowers you can find manufacturers that offer the battery pack and charger as part of the package. You can also run into manufacturers that sell these items separately from the main body. Always confirm whether the charger and battery are provided. If not, you should add the total cost of the battery and charger to the cost of the body. To give you an idea the battery and charger usually cost more, sometimes twice as much than the leaf blower itself. Many people get caught out with this only realising they need to buy the battery and charger once they have opened the box. This will help you decide whether you can afford the leaf blower or not.
Warranties are common when shopping for leaf blowers. The warranties vary from 1-5 years depending on the brand. Contact your supplier in the case that you are dissatisfied with the product. We would expect a leaf blower to come with at least 2-3 years warranty. Some cheaper models only include 1 year and this is when you have to ask yourself why?, the answer, it's probably not going to last.
Key tips when using a cordless leaf blower
Always clean the blower before storage to avoid any pile-up of dirt.
Avoid leaving the battery plugged in the charger when it is already full. You end up shortening your battery's life.
Always scan the area to remove any projectiles that may be blown away and cause damage to self/ or the property.
It is important to wear protective gear and clothing to avoid any accidents.
Avoid pointing the blower directly on fragile plants or people.
Use the blower at appropriate times to avoid disturbing your neighbours.
Dispose of old batteries carefully to avoid environmental pollution.
---
Our Final Conclusion
Tidying up your garden may not be the most appealing job but with the help of the best cordless leaf blower, you can have some fun with it. You can sit back after the job is done and marvel at the difference the leaf blower made to your experience. We have come to the end of our review, join us next time for more cordless leaf blower reviews.
BEST PICK
This tool has durable construction and is easy to operate. It has received generous reviews online indicating that it is a favourite with people and we would have to agree. Under one model you get to enjoy two functions as it also converts to a vacuum but you need to invest in the dust bag but its available at a pretty affordable price. You can see the dust collect bag here on Amazon. Finally it has 3 power setting from a good blast of air to blow your socks off speed. Overall its an excellent cordless leaf blower with a build quality which is simply unmatched by most other models.
---
Other reviews you may find useful:
---
Our site is reader supported, this means we may earn a small commission from Amazon and other affiliates when you buy through links on our site.