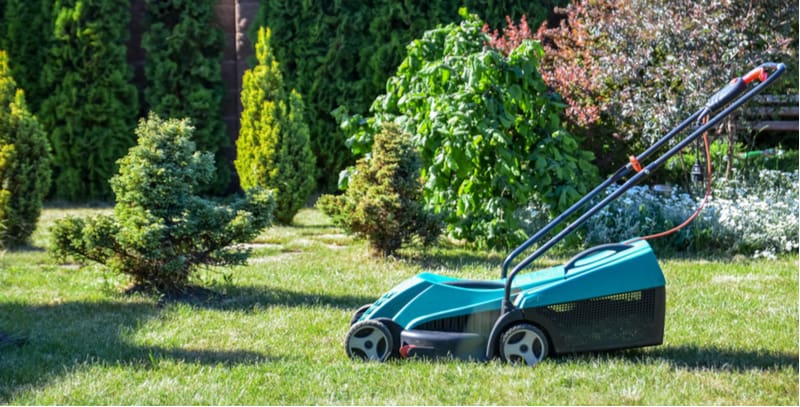 Top 6 Best Lawn Mowers for Small Gardens
Top 6 Best Lawn Mowers for Small Gardens
We have to be proud of the lawns we have whether they are adequately sized or the size of a matchbox. To be proud of our lawns means ensuring that they look their best at all times. Among the garden tools, we need to keep our lawns in good condition is the trusted lawnmower. In this case, we are not concentrating on the larger models, we are here for the small-sized models which are agile, compact but more importantly produce a premium cut.
Today, we are going to show you what makes the best lawnmower for small gardens. These small lawnmowers include petrol, corded electric and cordless models that are able to cater to all your lawn mowing needs. Because they are relatively simple machines, there are high chances that you could find a model that you like. If this is your first time shopping for one, then you will find useful information that will make selection simpler. During our research we focused on build quality which comes down to quality materials and workmanship, cutting performance and optional features such as lawn edge rakes which is just one feature that makes a model standout from the rest.
Finding a reliable model at an affordable price has become more difficult in recent years as there are no many cheap models now available. The standout model we think is the best for most people is the Bosch Rotak 32R Electric Rotary Lawnmower which has over 1700 reviews on Amazon alone. This lightweight lawnmower is perfect for small-medium sized gardens and it is backed by a 2-year warranty, it is a corded model which is why it is so affordable but they also do a cordless version too which also made it onto this round up.
BEST PICK
This model is affordable and caters efficiently for small-medium sized lawns and for the price I don't really think you will find a better lawnmower. This 1200w model comes with grass combs that facilitate cutting of grass around the edges if your lawn and right up to the edges against fences and walls. Additionally, it is a lightweight model of only 6.8kg making it easy to manoeuvre around with. It has a cutting width of 32cm which is about right for most small lawns and offers 3 cutting height between 20mm and 60mm so you can get the perfect finish. The only downside to this model is that it's a corded model. You can get a cordless model but this comes down to cost and your budget as its not what we would call affordable.
Mini Buyers Guide
Quick tips on how to choose
Have you asked yourself which factors you would consider in selecting the best lawn mower for small gardens? If you have, then you have to agree that one needs to consider the size of the area being covered. Most smaller lawnmowers with a cutting width of around 32cm and a 30 litre collection box are good for lawns up to around 150 square meters, if your lawns any larger we would advise looking for a mower with a wider cutting width. The problem with if you order a lawnmower online without seeing it is some of them are much smaller than you might of imagined.
After this you want to consider whether you're happy using a corded electric model which are much more budget friendly but you have the hassle of the cord being to short if your gardens longer, plus you have to take care that you don't accidentally cut through the power cable.
Cordless electric models are a great alternative but they are much more expensive, with a 2.5Ah battery we found you can easily cut a small lawn 4 times before needing to recharge the battery and most can be recharged in only 60 minutes too. Finally you have petrol models but they require more maintenance, changing air filters, checking spark plugs as well as refueling.
Also, remember to check for cutting height adjustment, the working width and of course the price you are willing to budget. As a quick reference, you can get a good corded mower for just under £100 but a cordless model will set you back £250-£300 and you can expect to pay around £200-£250 for a good little petrol mower. We will look at many more things to consider before buying a lawnmower later on in this comparison.
RUNNER-UP
A cordless version of our best pick, it has all the features of our corded model but with the freedom to mower without a power cable to contend with. Charging fully in only 70 minutes or to 80% in only 40 minutes, this model will offer you a decent running time of about an hour and is good for mowing lawns up to 150 m². For those who have small gardens and they need freedom from cords, this quality cordless lawnmower is out top recommended choice. The only downside is cost, it is not cheap but they are worth every penny.
---
Top 6 Lawnmowers for Small Gardens Reviews
---
BEST PICK
Bosch Rotak 32R Electric Rotary Lawnmower
Pros
The Bosch Rotak 32R Lawnmower is designed with small and medium sized lawns in mind and is probably one of the best corded models in terms of quality and cutting performance. This mower features a powerful 1200w motor and comes with a durable rotary metallic blade which gives a premium cut, its worth noting that some lawnmowers come with plastic blades to keep the price down but the cutting performance is usually not as good, plus there obviously not as robust. This model does feature the Bosch Powerdrive motor, Bosch say that it enables the lawnmower to cut long grass seamlessly which it does with the exception of long grass, as with most lawnmowers we advise only cutting the grass once it dry.
one of the main advantage is that this lawnmower only weighs 6.8kg making it a lightweight model. Both the young and the elderly should find it easier to manoeuvre around the garden with this lawnmower comfortably. The smooth handle is adequately designed to offer additional comfort and most people will find it a joy to use.
This lawnmower has three cutting height settings between 30mm and 60mm which can be adjusted using a red lever near the front wheel. This is the only feature we would say could be improved. First off its easy to do so its not a deal breaker, the problem is when you push the red level to raise the cutting height, you need to hold the mower steady with one hand or else you push the mower backwards, its not to difficult but just a little awkward.
No for some plus points, this lawn mower also features grass combs on the side of the lawnmower that sweeps the grass towards the blades which allows the mower to cut grass close to pathways and edges. All the grass that is collected is directed into the 31 litre collection box that can be easily emptied. The 32cm cutting width will not cover as much ground as a larger lawnmower but it will perform adequately for small-medium sized gardens up to around 150 square meters.
Overall its am excellent small lawnmower and it's easy to see why its proved so popular, on Amazon alone it has over 1700 reviews which are worth reading through. If your looking for a small corded lawnmower then we would recommend this model every-time. Don't forget it also includes 2 years warranty as standard but this can be extended to 3 years by registering online with MyBosch, it only takes a couple of minutes so its well worth doing for that extra peace of mind. Bosch also have an excellent returns process with is all online and easy to do. They simply collect any faulty items and aim to return them to you fixed within 5 working days.
If this lawnmower ticked all your boxes but you are on the look out for a cordless lawnmower, out next pick below could be a great alternative.
Compare the best prices from available sellers below
---
RUNNER-UP- BEST CORDLESS PICK
Bosch Rotak 32 Li Cordless Lawnmower (Includes 36v 2Ah battery and charger)
Pros
If you are looking to experience freedom from power cords then the Bosch Rotak 32 LI Cordless Lawnmower has got to be one of the best choices but it comes at a price. This cordless model is powered by a powerful 36v 2.0Ah lithium battery which gives around 60 minutes of running time, to give you an idea it will cut an average sized lawn around 3 times before needing recharging. The model we looked at includes the battery and charger so its not what we would call an affordable lawnmower, however its worth noting that if you already have Bosch garden tools such as hedge trimmers which are powered by 36v batteries you should be able to just buy the lawnmower as a bare tool without a battery and charger for much cheaper. Anyway back to the batteries, these batteries require 70 minutes to fully charge but if you don't have enough time, you can get 80% of the charge in 40 minutes and get back to mowing. With a full charge, you get about 1 hour of running time which is pretty good for a cordless lawnmower.
This cordless lawnmower for lawns that are up to 150m2 and it offers a 32cm working width. For small gardens, this working width is perfect and makes it easy to store the model when folded down. Also, you will find cutting height adjustment settings ranging from 30 to 60mm which are easy to change, however just like the corded models is a little awkward to raise as you have to hold the lawnmower with one hand and push the red lever with the other hand to stop the lawnmower being pushed backwards. Its not a big issue but we feel this could be improved.
Whether you are dealing with long or short grass, this machine will be able to tackle it with ease and its certainly has plenty of power which comes down to having a powerful 36v battery.
Just like our best pick, grass combs have been integrated into this model to facilitate cutting of grass along the edges of pathways and getting up close against fences, its not perfect but its much better than no grass combs but you will still need to get your strimmer out to tidy the edge of the lawn.
Finally this small lawnmower has a 31 litre collection box, its not huge but it certainly large enough for smaller lawns.
Operating at a noise level of 75dB, this lawnmower operates quietly compared to the petrol models which is something that some people are concerned about. This model is surprisingly quiet, certainly no issues with mowing in the morning. If I was tio give it a score out of 10 for noise, I would probably give it a 4-5.
Finally as with all Bosch tools, this model us covered by the 2 year warranty which can be extended to 3 years just by registering online. Overall if your after a good quality cordless lawnmower for a small garden then this is one of the best, I have recently upgraded to the larger Bosch 370 Li as I have what I would discribe as a medium sized garden, is the same lawnmower just slightly bigger.
Compare the best prices from available sellers below
---
Flymo Speedi-Mo 360C Electric Lawn Mower
Pros
The Flymo Speedi-Mo 360C Electric Lawn Mower is a powerful model running on a 1500w motor so it has plenty of power. Equipped with a rotary metal blade, this lawnmower is perfect for smaller and medium, at a push it could even mow large sized gardens if needed. It comes with a 12 meter power cord which is adequately long to cover sizeable gardens without the need for extension cords, in comparison, the Bosch mower comes with a 10 meter cable so you just get that little bit of extra reach with this model.
Offering a working width of 36cm, this lawnmower offers more coverage per run compared to the smaller models with 32cm cutting widths, with this in mind if you have a wider but shorter garden, this could be a good choice. In a short time, you will have your lawn neat and have enough time to attend to other tasks. To cut grass at the level it is, your lawnmower has to have cutting height adjustment settings. This model has 5 cutting height adjustment settings ranging from 20-60mm, the advantage of this is you can lower the cut in smaller stages top find that perfect height for your garden. You can easily adjust the cutting height setting by using the lever above the back wheel.
This model weighs 11.5kgs so its still fairly light weight despite being a slightly larger lawnmower. It is slightly bigger than the average model but it is easy to store. Something we do like is that this model comes with two handles, one at the front and one at the back to make lifting the model easier. The back handle can be folded to facilitate easy storage and its surprisingly compact once the handles are all folded down.
To collect all the grass that has been cut, this lawnmower is equipped with a 40 litre collection box, again this is bigger than most, once feature we do like is that it compacts the grass into the collection box which means you have to empty it less.
Overall its a great lawnmower for anyone looking for a model with a slightly wider cutting width. It comes with a 1 year warranty which is the only thing we would fault this model on. Most other models now include at least 2 years warranty and it would be nice to see Flymo increase there warranty inline with other brands.
Compare the best prices from available sellers below
---
Flymo 1200 R Lithium-Ion Robotic Lawnmower
Pros
Time to check out what lawnmowers might look like in the future by analysing the Flymo 1200 R Lithium-Ion Robotic Lawnmower. It looks like one of those hover floor vacuums but it is intended for your lawn and what a mower it is. This robotic model is easy to install, all you have to do is put up the boundary wire around the edge of your lawn and let it roam. The 3 dual-edge blades will cut and mulch the grass for you leaving back no grass cuttings to collect. The idea is that it cuts little and often so the clipping get returned to the lawn and help feed the lawn naturally. Because it can be programmed to mow daily or every other day, you won't have loads of grass clipping in your lawn.
Designed to cut lawns up to 400m2, which to be fair is a fairly large garden but most other models we compared where designed for larger gardens so this Flymo model makes a good choice for smaller gardens. It also offers a 25% incline feature so as to cater to different gardens or areas that might have slopes. To ensure that the lawnmower is operating at peak levels, its powered by a 18v 1.6 Ah li-ion battery. These batteries give the mower approximately 60 minutes of running time before it automatically returns to recharge at the charging station.
This lawnmower has a working width of 17cm which is not large but nonetheless adequate. The maximum cutting height offered by this model is 50mm while the minimum cutting height is set at 20mm. You can adjust these settings to suit the length of your grass using the knob located next to the display which is easier to adjust that most other mowers that use levers.
A handy feature it does have is a lift sensor and a very loud anti-theft alarm. You can even set a security pin code which avoids it being using if it was stolen. The idea is that as soon as somebody try's to lift the lawnmower the very loud alarm goes off, hopefully the would be theft puts it down and runs. As you can see its more of a deterrent but even if it was stolen they would not be able to choose it as it would need programming again and they wound't have the code.
In the delivery package, you receive 150m of boundary wire, a charging station, the robotic lawnmower itself, 200 boundary pegs to pin the wire down, an installation manual, a product registration card, and a quick start manual. All these features are accompanied by a 2 year warranty for full peace of mind.
Overall this model is fantastic and is probably one of the most popular and affordable models available right now. The only downside is there is quite a bit of work to get it setup and the perimeter wire installed and the base connected and plugged in. The advantage is that once it's all setup and working, it's virtually hands free although you will need to go round the edge of the lawn with a strimmer to tidy up the edges now and again.
Compare the best prices from available sellers below
---
Hyundai HYM430SP 139cc 4-stroke Petrol Lawn Mower
Pros
If you were looking for a powerful petrol lawnmower model without cord restrictions then the Hyundai HYM430SP 4-stroke Petrol Lawn Mower has got to be one of the best petrol lawnmowers for smaller lawns and its packed with features including being self-propelled. This self-propelled mower features a powerful 139cc OVH 4-stroke engine that produces low emissions, uses fuel economically and requires little maintenance. What we really like about 4 stroke engines is that the petrol and oil is separate so you don't need to mix the petrol and oil like you do with 2 stroke models, plus in general they easier to service and more reliable.
This model also has a contactless ignition system that just requires you to prime, pull and you are ready to start mowing. In simple terms its easy to start which is always been a problem with petrol engines but over the years they have got much better and this is a fine example of such an engine.
The lawnmower has a cutting with of 42cm so its a little wider than most electric alternatives but you will get work done relatively faster in small-medium sized gardens. The lever provided will help you adjust the 6 cutting height settings that range from 25mm-75mm which is easy to change and give you plenty of choice to how short you want your grass.
Safety cannot be overlooked especially if you have children around. This model features operation presence control (OPC) mechanisms which prevent the engine from running accidentally. Unless you have your hands positioned on the OPC, the lawnmower will not work. The handles are also well designed, the fold down nicely and the rubber finish on the handles ensures it comfortable to use.
At 28kg this lawnmower is heavy so bare this in mind, it not a problem for younger people but older people may struggle a little lifting it down steps etc, finally this lawnmower comes with a large 45 litre collection box, nothing special to note but it does come with an indicator to remind you that the collection box needs emptying which is super handy, hopefully not to often if you have a small lawn.
Overall this Hyundai HYM430SP 4-stroke Petrol Lawn Mower has got be be one of the best affordable lawnmowers currently available and in terms of small petrol models, we struggled to find a better model to recommend. Its also worth noting that this model comes with 3 years warranty for full peace of mind.
Compare the best prices from available sellers below
---
WEBB H30 30cm Hand Mower
Pros
The WEBB H30 Hand Mower is appropriate for small lawns that do not need a lot of power to mow and what an excellent job it does for a lawnmower that is as simple as they come, no cords, no recharging batteries, no petrol engines, just the lawnmower and some good old manual power.
The simple and affordable lawnmower features a 30cm cutting width which will get the job done for smaller gardens but it may take a while to manage larger lawns/gardens. It also possesses adjustable cutting height settings (10-40mm) so that you can cut different lengths of grass.
The 18 litre collection box will keep all the grass cuttings in the same location ready for disposal. Weighing 9.1kgs and measuring 53.5 x 39 x 27.5cm, this manual lawnmower comes with a 2 year warranty but there not really much that can go wrong with a manual lawnmower.
We looked at several push lawnmowers and this model is certainly one of the best, it all comes down down to build quality and WEBB has a good reputation, they do sell several push style mowers but this model although not the most expensive seems to be one of then best. If you're after an old fashion style push mower, this model is well worth considering. The only issue with this mower is that the handles do not fold down.
Compare the best prices from available sellers below
---
Buyers Guide
Most lawnmowers are powered by either electric which a power cable, rechargeable batteries , petrol or good old fashioned manual power as in the case of our last recommendation. Depending on your preference and the size of your lawn you can select either of the choices presented. To find the best lawnmowers for small gardens requires a keen eye so that you don't select low-quality models but if you stick with well known brands such Bosch, this is usually not a problem. Let us look at more factors that you would put into consideration before purchasing not just a lawnmower for small gardens but also just about any lawnmower:
Coverage
Always consider the amount of work to be done and the area to be covered. If there is heavy-duty work to attend to then petrol models are preferred. For light mowing, manual or cordless models work well. Pick a lawnmower that will do the work in the shortest amount of time possible so that you can get to other things.
Push or self-propelled
A self-propelled lawnmower is fun because there isn't much effort involved in the user's end but usually only heavy petrol models are self propelled. Push lawnmowers can offer a relaxing experience but there not always ideal if you have a lawn that is uneven and they are only really suitable for small lawns. This boils down to what you prefer as a person and if you can afford it. In most cases with most small lawnmowers, electric or cordless, there is not really a need for it to be self propelled but if you want to buy a petrol model its well worth considering.
Cutting height settings
You definitely need a lawnmower that has a few cutting height adjustment setting that are easy to adjust and have a good range of height setting. These features allow the blade to move closer or further away from the ground depending on the level of growth. Some have more settings to work with compared to others like the Hyundai HYM430SP 4-stroke Petrol Lawn Mower which would be ideal for long grass while still be perfect for short grass. Despite the number of settings available, the lawnmower should be able to cater to both long and short grass.
User comfort
For most cordless and corded models comfort is not usually a problem as they are so light weight and easy to move around. However with petrol models they can be heavy so user comfort needs to be considered. This means that the handles should be padded and offer a firm grip.
Cutting width
Working with a wide cutting width means you cover more ground per run. For lawnmowers intended to cater to small-medium sized gardens, the working with ranges from 30-40cm. For larger lawn, they need a wider working width to cover the area faster but this also needs to be combined with a suitable sized collection box.
Size of the grass collection box
There are models that come with a small collection box and others offer more room. If you want a seamless working experience, you need a large collection box so that you empty once you are done or at least only a few times. A smaller collection box will require you to empty it often depending on the size of your lawn, therefore, wasting valuable time. A model like the Hyundai HYM430SP 4-stroke Petrol Lawn Mower comes with a 45 litre collection box. Because you are dealing with a small lawn, it will take some time before the collection box fills. With smaller lawns the collection box size is not usually an issue, the problem arises with larger mowers that have smaller grass boxes.
User-friendly features
In many products, there are features that are not needed but they elevate the customer experience. In lawnmowers, there are models that come with battery level indicators and collection box indicators. These indicators remind the user that the battery needs to charge. In other models, you can get an indicator for the collection box to notify you that it needs emptying which can be handy.
Another thing is well-positioned buttons and levers. Well-positioned buttons/levers make it easier for the user to access them, therefore, reducing frustration. A common problem is the level to adjust the height being awkward to change.
Foldable handles make storage of the lawnmower easier as it takes up less space. Getting handles that can be folded without using tools makes for better user experience and easier to store.
Safety
To prevent accidents, safety features are required. For lawnmowers, it is a common thing to have lock-off switches. There are models like the Hyundai HYM430SP 4-stroke Petrol Lawn Mower that have operation presence control system. This means that if both hands are not on the handle, the lawnmower cannot move. Such safety systems are crucial to avoid accidents.
Warranty
Getting a lawnmower for the first time can be nerve-wracking. To ensure that you don't waste your money, get a model that offers a good warranty. In most cases, manufacturers offer 1-3 year warranties but we try to only recommend models with at least 2 years warranty with the exception of Flymo as they have such a good reputation.
---
Our Final Conclusion
Just because you have a small lawn that does not mean you cannot access the best lawnmower for small gardens. There are new models being released into the market every day and you can keep checking to find a model that suits your lawn. Remember to get value for your money by purchasing a high-quality model. It will last for years and it will offer good value for your money. If you are yet to be decided, you can always settle for our best pick. It will not disappoint.
BEST PICK
This model is affordable and caters efficiently for small-medium sized lawns and for the price I don't really think you will find a better lawnmower. This 1200w model comes with grass combs that facilitate cutting of grass around the edges if your lawn and right up to the edges against fences and walls. Additionally, it is a lightweight model of only 6.8kg making it easy to manoeuvre around with. It has a cutting width of 32cm which is about right for most small lawns and offers 3 cutting height between 20mm and 60mm so you can get the perfect finish. The only downside to this model is that it's a corded model. You can get a cordless model but this comes down to cost and your budget as its not what we would call affordable.
---
Other reviews you may find useful:
---
Our site is reader supported, this means we may earn a small commission from Amazon and other affiliates when you buy through links on our site.