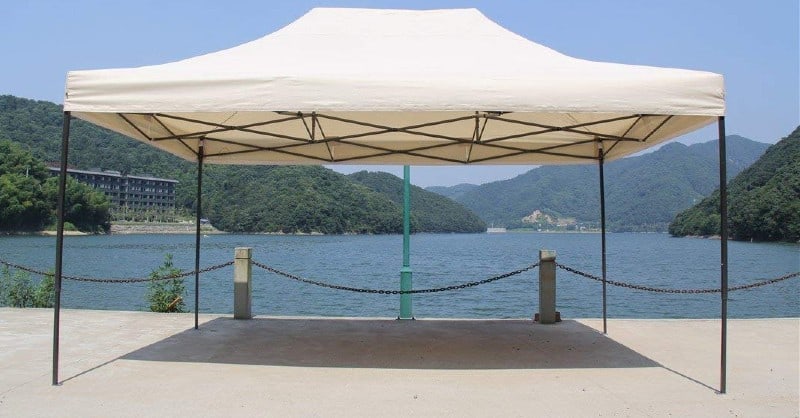 Best Gazebo Reviews – Top 6 models and Buyers Guide
Best Gazebo Reviews – Top 6 models and Buyers Guide
Last updated on October 20th, 2021
Our site is reader supported, this means we may earn a small commission from Amazon and other affiliates when you buy through links on our site.
Gazebos are a great way of experiencing the outdoors and spending time with your close ones. From kid's birthdays to simply providing a little shade in the garden, gazebos provide the perfect shelter from the sun and rain. Instead of investing in a permanent gazebo, you can always settle for the temporary model like the pop-up kind. Pop up gazebos are easy to set up and take down thanks to their design. You can set them up in less than five minutes and have the party going.
In this review, we have compiled all the information you need to know on pop up gazebos. We even went further and selected some of the best pop up gazebos in the market. These high-quality gazebos all have different features that you may appreciate. However, we cannot select which model is the best gazebo for small gardens for you. Your personal preference will be the judge and the juror in this case. Read through the review and by the end of it, we are sure you will be able to identify the best model from the rest of the pop up gazebos in the market.
Our favourite gazebo just has to be the All Seasons 3 x 3m Heavy Duty Gazebo, its fully waterproof, not just water resistant, very high quality and best of all it's still what we would consider to be affordable. It's probably the best choice for most people but it's worth considering that his model does not have sides, apart from that, you will struggle to find a better pop up gazebo.
BEST PICK
All seasons 3 x 3m Heavy Duty Pop Up Gazebo
The 3 x 3m gazebo is fully waterproof making it convenient for people to host events whether it's raining or sunny. A lot of gazebos are rated as water resistant and there is a big difference. Because of its affordable price and great features such as the 1-minute setup, the gazebo has won a lot of people over and a quick look on Amazon will reveal over 300 reviews. You can additionally get this gazebo in various colours to match your colour scheme. All in all, it is a structurally sound model that comes with its own carriage bag for convenience. Overall this has got to be one of the best gazebos currently available.
---
Mini Buyers Guide
Factors to consider before making a purchase
Unlike the permanent gazebo structures, these temporary structures are simple to deal with. Pop up gazebos are easy to set up taking less time than building a permanent gazebo. Being that they are simple structures, they don't have much to put into consideration.
However, it is important that you consider the size of the gazebo and the amount of space it will take up. You don't want a gazebo that blocks all major access areas of your property. Furthermore, a gazebo that is structurally sound will have a durable steel frame, high-density canopy material and enough anchoring tools. basically it has to be sturdy, there are many models that simply would not stand up to something more than a little wind.
Some of the best gazebos in the market even come with their own carry bags for easy manoeuvrability, ideally look for bags that have wheels attached as they can be heavy. There are more factors to be considered therefore make sure to peruse the buying guide.
To sum it up, a good gazebo must be easy to erect and only take a few minutes, be made of durable but quality materials including the frame and fabric which ideally should be waterproof even in a heavy downpour.
RUNNER-UP
Airwave 2.5 x 2.5m Pop up Waterproof Gazebo
For those of us looking for small gazebo, this one would be a great fit. The Airwave 2.5 x 2.5m comes with its own carrying bag and adequate anchoring facilities from sandbags to pegs which is useful. Admittedly, this pop up gazebo certainly is not suitable for using on anything other than carm days which means it cannot be left up overnight as it does need taking down if the wind picks up, luckily this takes around 1 minute. However it is equipped with full waterproof abilities, this small inexpensive gazebo performs optimally for the price and it even has sides. It's a great choice for those who just need to erect a gazebo for the odd party or to provide a little shade on hot sunny days.
---
Top 6 Gazebo Reviews
OUR BEST PICK
1. All Seasons 3 x 3m Heavy Duty Gazebo – Fully Waterproof Pop up Gazebo
View the latest price on Amazon.co.uk
Pros
Has a pop up design that takes less than a minute to set up.
The heavy-duty steel frame is powder coated to facilitate rust resistance.
The roof is made of 260g PVC coated polyester to provide sun protection and 100% waterproof abilities.
Comes with built-in support struts which remove the need for wind bars and provide stability.
The roof features reinforced pressure point to prevent the steel frame from tearing through the corners.
Offers good value for money.
All accessories and fixtures are provided including pegs and leg weight bags.
The roof can be left on even once the structure is collapsed.
Comes with a carriying bag with wheels to facilitate manoeuvrability and easy storage.
Accompanied by a 1-year warranty which also covers the frame and an all important care guide.
The All Seasons Gazebos is a brand known all over the UK because of their high-quality gazebos at an affordable price. For most people we think the All Seasons 3 x 3m Gazebos which is fully waterproof, not just shower proof and will stand up to moderate wind.
Created from heavy duty steel, the push button matt frame is rust resistant and durable, therefore, providing a structurally sound unit. The powder-coated steel frame features support struts, propping up the roof effectively and eliminating the need for wind bars which is the important design of a gazebo cheaper models miss out, opting for wind bars instead which most of the time are just not adequate enough.
Because it is a pop up gazebo, there are no poles to be aligned which is something that anyone who has tried to erect a non popup model will really appreciate as it can be some what stressful. One just needs to prop up the gazebo legs up and install the roof. Once you do this, you can leave the roof on when you collapse the structure for easy set up next time, overall this is a brilliant design that has been well though out. The fabric covering the frame is quality 260g polyester that has been given a PVC coating. The PVC coating protects the fabric from harmful UV rays and makes the fabric 100% waterproof, the important part here is waterproof. Many gazebos are rated as water resistant or shower proof, what this basically means is that the odd light shower they will probably not leak, but get a heavy downpour and the most certainly will. This model however is waterproof thats to the 260g polyester, this ensures it will not leak even if you have a heavy downpour.
To make matters easier for you, the gazebo features 3 height settings that you can adjust to suit your needs. Additionally, you are supplied with 8 pegs and four ropes to secure the gazebo to the ground. In case of strong winds, there are 4 weight bags supplied so as to stabilise the gazebo some more.
When the party ends and it's time to pack up, you can cal-asp the gazebo just as easy and store it in the supplied a carry bag that has wheels, again the wheels are a simple but very useful feature. This facilitates easy storage and movement from one location to the next. Finally its available in 10+ colours, there is no way you can miss a gazebo that satisfies your decorative needs. Furthermore, this gazebo is backed by a 1-year warranty that also covers the frame and not just he fabric, this is important as the frame is usually the first thing to brake on cheaper gazebos. Nearly forgot it also includes a care guide to help you maintain the gazebo. What more do you need?
Overall if your looking for a good quality gazebo that can stand up to the wind (not gales though) that is fully waterproof and offers excellent value for money, we would recommend this model every-time. The only time this model might not be a good choice is if you need a gazebo with sides.
Read next: Best sun loungers
---
2. Horwood 3.6m X 3m Pop up Hexagonal Gazebo
View the latest price on Amazon.co.uk
Pros
Features a steal frame given a dark copper powder coating to prevent rusting.
Comes with a beige 180g/m2 polyester canopy designed to keep water pooling at bay.
Possesses net curtains that can be zipped up to keep the occupants comfortable.
Pop up design allows for set up and collapsing of the gazebo fairly easy but does take a little more time than most models.
The gazebo legs feature holes for anchoring purposes.
Adds a decorative edge to your save thanks to the hexagonal shape of the gazebo.
Sold at an affordable price making it within most peoples budgets.
Features height adjustable settings to suit the user's height requirement.
The Horwood Garden Pop up gazebo looks like it belongs in a luxurious hotel where guests can lay under and enjoy the beach. The hexagonal gazebo has a durable steel frame that has been powder-coated to protect the metal from rust and corrosion. The copper colour of the powder coat complements the beige colour of the fabric which we really like.
Measuring 3.6m X 3m, the six-sided gazebo possesses an overall height of 2.77m leaving enough headspace for manoeuvrability and means it feels spacious inside. Setting up this gazebo requires more than one pair of hands because the model is a bit large and a little more involved to get it fully erected, you need minimum 2 people but 3 would be better at its takes around 20 minutes compare that to just one minute for our 'Best pick' and you can see why we say its more involved.
The legs of the gazebo have holes that are used to secure the gazebo to the ground especially when stronger winds are involved which is a nice feature.
The canopy is created of 180g/m2 polyester coated in polyamide (PA) to give it a form of water resistance. This is not a 100% waterproof model like those by All Seasons and thus it can only shade you from the sun and light rain showers so this may need to be taken into consideration. It also comes with net curtains with zippers that you can close to keep insects away which is nice. The good thing is that the nets are see-through and therefore, you are still able to see your surroundings. Overall the whole setup just looks amazing, much more character than most other models.
We wouldn't recommend leaving the gazebo outdoors unattended for long periods of time but its certainly much better build than most of the cheaper gazebos available. The manufacture also advise that you don't the gazebo up i winds faster than 25mph.
Overall this is a stunning gazebo, would be nice to see a more heavy duty water proof fabric used but its more than adequate for home use and garden parties, just remember is not 100% waterproof and that its takes around 20 minutes to erect despite it having a pop up design.
Read next: Best gas BBQ's
---
3. VonHaus 2.5 x 2.5m Pop up Gazebo
View the latest price on Amazon.co.uk
Pros
Consists of a strong steel frame and 420D Oxford material canopy- both materials are durable providing long years of service.
Comes with two side walls that possess sizeable windows to let light into the gazebo.
The walls can be removed to create a free and airy canopy.
Canopy material is water resistant and thick enough to keep the sun from penetrating through.
Easy to set up or store away thanks to the pop up design. It takes less than 5 minutes to set up.
Sold at an affordable price and still offers years of service.
Comes with its own storage bag and anchoring accessories like sandbags.
2 year warranty for full peace of mind.
The VonHaus 2.5 x 2.5m Pop up Gazebo set would be great for parties and other outdoor events and we love that you have the choice to use the side and have it enclosed or have it totally open with no sides attached. This gazebo comprises of a heavy-duty steel frame that supports the canopy above. The canopy itself is made of 420D Oxford material. This material is strong and therefore will not tear easily. Additionally, the material is water resistant so it certainly not water proof but its very close to it, you would probably have to gave persistent heavy rain for it to. start leaking through.
To make matters more interesting, this model comes with two side walls that possess windows which are a nice feature to have. These windows are intended to allow more light into the gazebo and give it an airy feel. When hot summer days come, the side walls can be removed to allow free movement of air which means you don't have to have it permanently inclosed. When the side walls are removed, the gazebo turns into a luxurious canopy that can easily be packed up.
You have a choice between two colours, ivory and grey. Depending on which colour you are attracted to, the price might slightly differ. The 2.5 x 2.5m gazebo offers a maximum height of 2.5m. This is adequate space for people to manoeuvre without having to stoop low or bump against the metal frame. It is easy to set it up and take it down in a matter of minutes, this permits the user to spend time on more important things.
The gazebo comes with self-fill sandbags that are used as weights to stabilise the gazebo, we highly recommend you use these as it just give it a little stability if you get an odd gust of wind, there are also 7 pegs supplied to help you secure the gazebo to the ground but it not always necessary. Because it is a pop up gazebo, the gazebo can be collapsed and stored with the roof still on. Make use of the carriage bag provided to make transportation and compact storage possible.
Overall, this is an excellent gazebo for smaller gardens and it even comes with a 2-year warranty, when you consider most models only come with 12 months, this says something about the quality and that Vonhaus has trust in the product they have designed.
---
4. All Seasons Gazebos 3 x 6m Waterproof Pop up Gazebo
View the latest price on Amazon.co.uk
Pros
Measures 3 x 6m offering twice the coverage compared to the 3x3m gazebo.
Made of matt black powder-coated steel and 260g polyester fabric, therefore, it is a durable model designed to last.
Weather-proof construction for maximum protection.
Easy to set up taking no more than a couple of minute.
The gazebo can be stored without the need of removing the roof.
Features 3 height adjustment settings to find the right fit
Comes with all accessories for assembly, including pegs, ropes, a carry bag with wheels.
Features reinforced corners to protect the roof's material from tearing.
The All Seasons Gazebos 3 x 6m Waterproof Pop up Gazebo is more or less a longer version of our 'Best Pick' we looked at earlier so we were sure this model was going to be enough more impressive. Boasting of heavy duty steel construction, the metallic frame is fitted with support struts to stabilise the roof even in strong winds. Equipped with push button connectors, this gazebo takes less time to build than getting a steak medium rare.
Of course, to survive the outdoors, the gazebo construction materials need some form of protection. The matt steel frame which is heavy duty in pop up gazebo terms, is powder-coated to prevent the elements from weakening the frame through rusting. Additionally as well, the 260g polyester roof is coated with polyvinyl chloride (PVC) to make it 100% waterproof. Even if the rain starts pouring you can be assured that you will remain dry under the gazebo which means it can be used in all weathers except for very windy days. The thick fabric also does an excellent job keeping the hot sun from penetrating the roof too.
Considering that this is a pop up model, it will not take you more than a minute to set up. Once the legs are folded out and the roof is secure, you are good to go. The good thing about these gazebos is that once you are done, you can collapse them with the roof on for storage.
Another nifty feature is the 3 height settings that can be tweaked to suit your event needs whether for kids or adults. The gazebo's general height is 3.2m and the maximum headroom you can get is 2.06m. The corners of the gazebo have been reinforced by extra fabric to prevent the metallic ends from tearing the fabric which is a common problem with cheaper gazebos.
Being an efficient company that they are, just read the reviews on Amazon and you will see what i mean, the All Seasons Gazebo provides all the reinforcements you need to make the gazebo secure. In the delivery box, you will find 8 pegs, 4 ropes and 4 bags that when filled weigh 15kgs. You use the Velcro straps to secure them to the gazebo and voila! Stability. This, along with the heavy duty frame and good thick fabric just means it's very secure.
This 3x6m gazebo comes with a care guide and a 1 year warranty which hopefully you shouldn't need. Overall if you need a large gazebo for entertaining or have a large garden garden and need a high quality gazebo which erects in minutes, this is well worth considering.
---
5. Airwave 3.5 Meter Pop Up Hexagonal Gazebo 
View the latest price on Amazon.co.uk
Pros
Adds beauty and elegance wherever it is set up.
Made of a durable steel frame and 170g polyurethane coated polyester canopy which is fully waterproof.
Features 6 sidewalls and 4 window panels that can be tied in different styles using zippers and tie backs.
It comes with the necessary pegs and pieces of rope for proper anchorage.
East to set up and collapse thanks to the push button design.
Comes with its own carrying bag to facilitate simple storage and manoeuvrability.
Offers excellent value for money thanks to the gazebo's affordable price.
Accompanied by a 1 year warranty for full peace of mind.
Available in an array of four colours, the Airwave 3.5 meter Pop up Gazebo is hexagonal in shape, therefore, offering more room to work with and is a great alternative to the Horwood Garden Pop up gazebo for those looking for a fully waterproof alternative. With six wide legs anchored to the ground, this gazebo is stable and will not be easily moved by the wind once it all fastened down correctly and is more than capable of being lift up for longer periods of time.
Having won the 'Best Buy Award' in The Amateur Magazine back in 2017, the brand has established itself as a dependable supplier of quality products, this model is certainly better than the smaller 2.5 meter square gazebo by Airwave that we also review below.
The 170g polyester canopy is coated with polyurethane which works to keep water from seeping into the gazebo. The 100% waterproof material will keep you protected whether it rains or on hot days when you need a little shade. The frame of the gazebo is made entirely of steel which is known for its durability and you will find its surprisingly well made. The steel is given protective coatings to allow the metal to survive the outdoors without rusting which is always a concern.
Beautiful and elegant, this hexagonal gazebo features six side walls and four window panels. It is an easy to set up or collapse the gazebo thanks to the push button design. You can choose to play with the six side walls and tie them in however style you want. The four window panels allow light into the gazebo therefore, brightening the space. There are two zipped panels and tie backs for you to create different looks as needed.
This 3.5 x 2.75m gazebo comes with all the pegs and rope required to secure the gazebo to the ground. Additionally, you will find a carriage bag provided to facilitate easy transportation and storage.
Perfect for different outdoor activities, this gazebo is accompanied by a 1 year warranty which is nice. It's worth noting that the manufacturer advices not to leave the gazebo unattended overnight or in heavy rain or stronger winds. However this gazebo is well made and should easily withstand heavy rain and medium winds (not gales). I think what we are trying to say is if this gazebo can't last heavy rain and some what windy days if secured correctly, then no popup gazebo will. It really is that good.
This gazebo would be an ideal canopy to use for inflatable hot tubs with its sides and fully waterproof material.
---
6. Airwave 2.5 x 2.5m Pop Up Waterproof Gazebo
View the latest price on Amazon.co.uk
Pros
At only 2.5m x 2.5m its perfect for small gardens and just large enough for inflatable hot tubs.
A pop up gazebo, therefore, easy to set up and take down.
Made of powder-coated steel and 190g polyurethane coated polyester canopy for durability purposes.
Features 4 wall panels  -two of the walls are 'church styled' while the other two have zippers.
The fully waterproof canopy features eyelets that prevent water pooling on the canopy.
Comes with a heavy-duty nylon carry bag for easy storage.
Supplied with pegs, ropes and sandbags to as to stabilise the gazebo properly.
Multiple colours to choose from.
Last but not least, we have the Airwave 2.5 x 2.5 meter Pop up Waterproof Gazebo that shows up with two wind bars for stability against strong winds, first thing first, it can not handle anything more than light wind, however its till a good choice for sheltered gardens as we explain. In line with the features that you may find in the best pop up gazebo, this model features a fairly strong weather-protected steel frame. The powder-coated frame supports the 190g polyurethane coated polyester canopy.
It is good to note that the canopy is fully waterproof and not just water resistant. In the case of a surprise heavy rain, you can sit under the gazebo with no worries, it will do its job and keep you dry. Furthermore, the canopy has anti-puddling eyelets. These eyelets allow water to drain without compromising the stability of the canopy which is a good design.
This gazebo unlike our slightly large best pick, comes with four walls. Two of the walls are 'church style' and the other two walls have zippers you can tweak to create openings. The two window panels featured let in light into the gazebo so that even when it is cloudy, you can still see your environment clearly.
Appropriate for a wide range of activities like parties or other special occasions, this gazebo is delivered with all the accessories to make your life easier. First and foremost are the ropes and pegs that will be needed to secure the gazebo to the ground. Then, we have the sandbags that are filled and placed on the base of the legs to give out more structural support. Last is the nylon carriage bag whose function is to facilitate easy storage and movement of the gazebo from location to location.
A 1 year warranty is offered for this product. To elongate the service life of the gazebo, it is recommended that the gazebo is not left in the outdoors unattended, specially on windy days.
Our only gripe with this model is down to the strength of the frame, its better than some of the cheaper gazebos and will handle light wind, however i wouldn't be confident leaving it overnight as there have been instances where the frame has been broken on windy days. That being said, it's still an excellent choice and as long as you don't erect it when wind is forecasted its a brilliant gazebo.
---
Pop Up Gazebo Buyers Guide
The best gazebo for small garden activities needs to be large enough to house all the people you have invited. There are several factors to consider before you settle on a gazebo that suits you. Let us look at why you need a gazebo first and then tackle the factors later.
Why do you need one?
They allow you to enjoy the great outdoors in comfort.
They are diverse in terms of shape, colour and sizes. This allows people with different personal preferences to get what they want.
They are easy to set up and store thanks to the push-button mechanisms they have.
They allow you to experience outdoor living since many of them are waterproof and offer shade from the sun.
They are a great way to hold outdoor events in your property and have guests comfortable.
Instead of building an expensive permanent gazebo, these types of gazebos offer a temporary but credible solution.
They make excellent canopy for inflatable hot tubs.
Choosing the best gazebo for your needs
Size and space considerations
Before you make any move, it is important to understand the space you have to set up the gazebo. If you have limited space it means that the size of the gazebo will be smaller. People will adequate space has no restrictions as to the size of pop up gazebos to get.
One also needs to consider the amount of internal space they need from the gazebo. In the case that you have a party, you want your gazebo to house all your guests comfortably. Consider how many people you need housed under the gazebo and select the appropriate size. 
Shape, colour and decor 
This is where your personality and personal preference play a big part. As we stated before, there is no limit to the shape, colour or size of pop up gazebo you want to buy. There are some like the All Seasons Gazebos 3 x 3m Heavy Duty Gazebo that comes in more than 10 colours. Why limit yourself? Depending on your décor colour scheme, you can select a model that complements your décor and style preferences.
Ease of assembly
For many people, the best thing about pop up gazebos is how easily you can set them up and take them down. All that is required is for the gazebo's legs to be pulled out, propped up and the canopy installed. Once this is done, most pop up gazebos do not require you to take the roof off for storage. Collapse the gazebo with its roof on and store it for another day. You will find it much easier to set up the gazebo next time. Our best Pick takes less than a minute to set up. Impromptu parties can be held whenever you want.
Frame and cover material 
There is no point of spending money on a weak structure that will need replacement soon. There are plenty of reliable pop up gazebos in the market. What you need to keep in mind is the quality of the materials.
Frame  
First, you have to look at the frame as it is the primary structure. The frame needs to be strong to support the weight of the canopy and still survive the outdoors, at least a little wind and rain. In many cases, you find that steel and aluminium metal are used to create a frame. However, steel is preferred as it is it maintains its appearance over time compared to aluminium that tends to discolour. Regardless of the metal used, protective coatings are needed to protect the metal from rusting. These protective coatings can differ in colour to complement the colour of the fabric. The Horwood Garden Metal Frame Pop up gazebo is a good example of this.
Canopy
Next is the canopy fabric used and its quality. Manufacturers make it a point to provide all the information you need about a certain product. When it comes to the canopy of the gazebo, polyester fabric has proven to be a favourite. The material is water resistant, durable and if given protective coatings like polyurethane, the polyester fabric becomes 100% waterproof.
Another factor to keep in mind is the density of the fabric that is usually measured in g/m². The denser the fabric the more it lasts and the more it is able to keep its waterproof abilities. Fabrics with smaller densities tend to wear out quickly thanks to exposure to the hot sun and rain.
Look for gazebos whose canopy has reinforced edges. This prevents the metal poles from tearing through the fabric.
Price factor
Before purchasing even a pair of socks, the first question to ask is, how much am I willing to spend? When you have a rough figure of how much you are willing to spend, you can start looking at gazebos within that price range. If you want a simple gazebo that can be used occasionally then there is no need to break the bank. However, if you hold frequent parties or other events in your property then you need to invest in a high-quality model. High-quality models cost more but they offer long years of service and there usually a noticeable difference in the quality of the materials used.
Accessories
In regards to pop up gazebos, there are a few required accessories like pegs and ropes for anchoring. These anchoring features and accessories are required for the gazebo to remain stable even in windy conditions. Most manufacturers have the sense to provide these important accessories. If you find none in your delivery box, you will have to spend more so make sure they are supplied before you purchase the gazebo.
Then there are the extra accessories like sandbags, net curtains and carrier bags. The carriage bag is especially crucial for proper storage and transportation of the unit. Heavy-duty bags like the one supplied with the Airwave 2.5×2.5mtr Pop up Waterproof Gazebo are always welcome.
Sandbags can be filled with water or sand depending on the brand that you select. Many gazebos come with their own sandbags but if you find none, time to get creative.
Net curtains are synonymous with the hexagonal gazebos. These net curtains usually feature zippers that allow the gazebo to be an enclosed system. If you purchase any hexagonal unit, make sure the net curtains are supplied to save you the trouble of purchasing others.
Warranty
Warranties are there to assure you that the product you have bought is of quality. If any faults or issues develop with the product, the warranty holds the manufacture liable. Many pop up gazebos offer warranties for 1-year+. If you are lucky to find a brand that offers more than a 5-year warranty, consider yourself lucky. Remember that most of these gazebos are not created for commercial purposes. If found being used commercially, there is a high chance the warranty will be null and void so just bare this in mind.
Gazebo care and maintenance tips
Pitch your gazebo on level ground to avoid putting uneven pressure on the corners of the gazebo. This leads to the fabric stretching awkwardly and possibly tearing.
Try not to store the pop up gazebo while it is still wet.  Allow the moisture to dissipate so as to avoid odours and mould.
If you have a large gazebo, please get help when setting up to ensure that the structure is stable. Unstable structures cause unwanted accidents.
Use safety bars to keep pets and kids within the gazebo if you don't want them running around.
Wipe the frame once in a while to ward of decolouration thanks to dust and moisture.
If you notice a crack on your powder-coated frame, repair the damage immediately. The protective coating coming off means that the metal is susceptible to rust.
Double stitched hems and seams are required to prevent tears in the fabric that may occur over time.
---
Our Final Conclusion
Pop up gazebos are not permanent structures and therefore they require more care. If you are able to maintain your gazebo, believe that it will serve you for longer. These simple structures require organised storage, therefore, a carry bag is required. They are not to be left outside 366 days of the year because they will get ruined and sooner or later they will get damaged by wind. With those few words, get yourself the best pop up gazebo you can find and have some fun!
BEST PICK
All seasons 3 x 3m Heavy Duty Pop Up Gazebo
The 3 x 3m gazebo is fully waterproof making it convenient for people to host events whether it's raining or sunny. A lot of gazebos are rated as water resistant and there is a big difference. Because of its affordable price and great features such as the 1-minute setup, the gazebo has won a lot of people over and a quick look on Amazon will reveal over 300 reviews. You can additionally get this gazebo in various colours to match your colour scheme. All in all, it is a structurally sound model that comes with its own carriage bag for convenience. Overall this has got to be one of the best gazebos currently available.
---