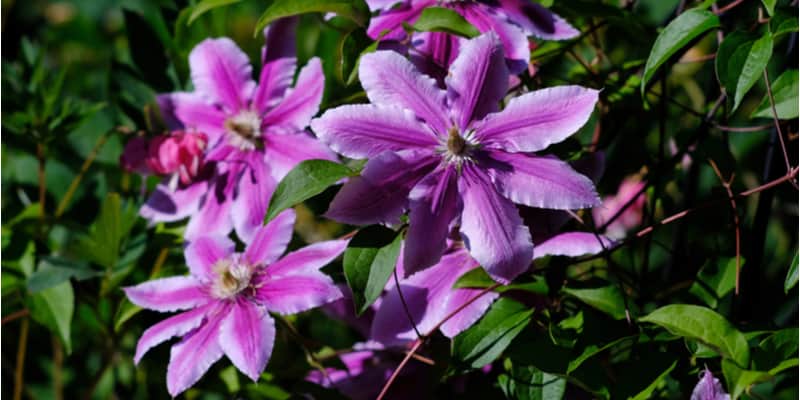 10 Best Clematis for Shade
10 Best Clematis for Shade
Clematis are one of my favourite climbers and with so much choice in terms of colours, growing habits, eventual heights and when they flower, there are a lot of varieties to choose from.
Clematis does best when planted in fertile soil with plenty of sun. However, do you know some varieties do just as well in more shady areas of the garden?
In this guide, I have made a list of what I think are some of the best clematis for shade which will do well when planted against a south facing wall or fence, under trees and generally just in more shady positions where not all clematis will thrive.
Below, I start with one of my favourite varieties, clematis 'Nelly Moser' with its distinctive white petals with pink bars.
1. Clematis 'Nelly Moser'
This is a vibrant clematis variety displaying large striking blooms often 20cm across with white petals with pink bars. Clematis 'Nelly Moser' grows to around 2.5 metres tall by around 0.5m to 1m wide, and blooms in early or late summer.
Be careful not to expose the plant to too much sun because the colour of the blooms will fade which is one of the reasons they make such a good clematis for a partially shaded spot in the garden to retain those stunning blooms. They prefer moist but well drained fertile soil but will grow well in both a sheltered position or exposed as they are very hardy.
The deciduous variety needs pruning occasionally, usually around late winter or early spring to maintain a framework of old stems. Sometimes if you prune them lightly after the first flush of flowers you can get a second flush of flowers in mid summer. This variety belongs to pruning group 2.
---
2. Clematis montana
Clematis Montana is also known as Himalayan clematis is available in many sub varieties including Grandiflora (next on my list), Maylene, Marjorie and Elizabeth. However, clematis Montana is the first one people often think about or usually come across as its very common and for good reason.
Displaying smaller pink star-shaped blooms and plenty of foliage, often bronze the show it gives is amazing and maintenance is very low with no pruning needed except for deadheading or controlling the overall size of the plant. This clematis belongs to pruning group 1.
It's one of the taller growing varieties and grows to a maximum height of around 12 metres. This variety does well with full or partial sunlight as long as it is planted on moist but fertile soil.
---
3. Clematis montana 'Grandiflora'
Clematis Montana 'Grandiflora' is one of the more popular varieties producing masses of sweetly scented small white flowers that smoother the plant. They grow well in full sun but they will also grow very well in a more semi shaded position which makes them perfect for a more shady spot in the garden.
They are easy to grow in most soil types as long as it is fertile and well-drained. It's worth noting they belong to pruning group 1 which means they don't need regular pruning and can just be pruned lightly after flowering to control the overall size. In terms of the eventual size, if left unpruned, they will grow to around 8 to 12 meters tall by around 2 meters wide.
Read next: Best plants for containers in shade
---
4. Clematis macropetala 'Markhams pink'
Another favourite clematis of mine with stunning double bell-shaped flowers to 5cm in length that bloom around mid spring so one of the earlier flowering varieties. It only grows to a maximum height of around 4 metres with a 1.5 metre spread so it's also a good choice for growing in larger containers, ideally 45cm (18in) deep and wide. I also recommend using soil based compost like John Innes Potting compost as it retains moisture better.
The plant's rose pink flowers are not large, probably around five centimetres in length, and they bloom around mid spring. This variety is also a group 1 clematis for pruning so requires very little maintenance except for some light pruning after flowering.
Read next: Learn more about fast growing climbers here and my recommended varieties
5. Clematis 'Rouge Cardinal'
As the name suggests, this variety comes with deep red crimson flowers that bloom in summer and continue in early autumn. The crimson flowers are large with a spread of 15 cm creating a spectacular display in the garden.
The plant does not have a large spread, but it grows to a height of about 4 metres tall if you let it. These are part of group 3 clematis which means they need pruning back to ground level after flowering so nice a simple.
6. Clematis 'Piilu'
Another one of my favourites, Clematis 'Piilu' has very unique purple pink blooms that stand out from the green foliage. They provide such a good show as you can get two flushes of flowers within one season.
The first flowers are stunning double flowers or semi-double with the second in late summer being single flowers sometimes just a tad lighter in colour. You'll find that this variety does not grow too tall with a maximum height of 2.5 metres and a 1 to 1.5m metre spread. When it comes to pruning there is a little more involved as you need to prune them twice, one after the first flush of flowers and again after the second flush of flowers or in early spring. These are the large hybrid flowers and are part of group 2 pruning
---
7. Clematis viticella
Blooming in summer and autumn, clematis viticella maintains the foliage until autumn ends but it's those bell shaped purple flowers that I really like. This variety offers small bell shaped flowers that range between purple and violet hues.
This cultivar grows to a maximum height of 5 metres with a spread of about 1.5 metres. New growth is a favourite of slugs and snails and greenflies too so be on the watch out.
Check out my guide on the best climbers for shade
8. Clematis 'The President'
Clematis 'The President' produces beautiful large deep purple/violet star shaped flowers of a medium-sized nature. The large flowers get to around 18cm (7 inches) with dark green leaves that makes the plant visually attractive.
The flowers emerge in late spring and continue blooming until the end of autumn. This deciduous variety has a narrow spread of about a metre and it grows to a maximum height of 2.5 metres. May suffer from clematis wilt so plant them with a few inches of soil above the stem and watch out for clematis slime flux.
9. Clematis 'Jackmanii'
No products found.
Another favourite with its purple blooms is the clematis 'Jackmanii' that has been around for a long time, since the 1860s. The climbing plant displays medium-sized blooms in late summer and maintains foliage until autumn ends. This cultivar grows fast but is susceptible to clematis wilt, therefore, you need to undertake protective measures which usually starts by planting them a little deep so the soil goes a few inches above the main stem. With a maxim height of 4 metres, these plants do well on garden trellises for support.
---
10. Clematis 'Gypsy Queen'
This cultivar was also introduced in the 19th century and has continued to be popular with gardeners. The cultivar is a vigorous variety and grows up to 4 metres tall, displaying large pinnate purple blooms in summer into the beginning of autumn.
You can propagate this cultivar easily through softwood cuttings replanted immediately for better chances of root establishment. Pruning is under group 3 so prune hard after flowering to avoid getting leggy bare stems.
---
If you need to know about how to plant a clematis against a wall or fence, read my guide here, you can also learn more about clematis pests and diseases in my guide here
Last update on 2023-09-22 / Affiliate links / Images from Amazon Product Advertising API