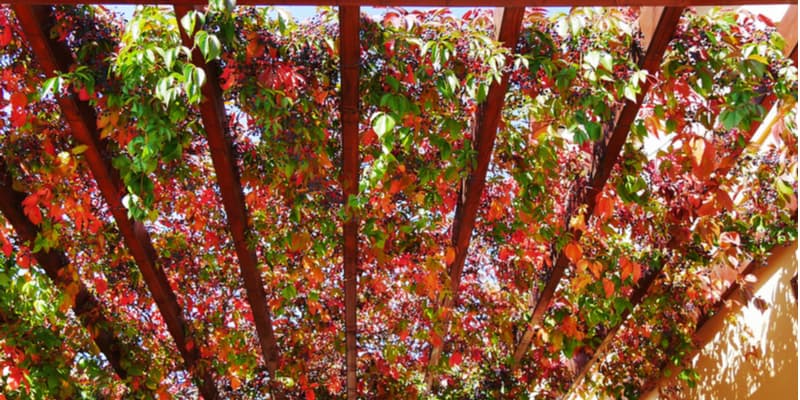 Top 10 Fast Growing Climbers – When you need to cover an area fast!
Top 10 Fast Growing Climbers – When you need to cover an area fast!
Climbing plants or rather fast growing climbers as we know them tend to catch on anything as they grow towards the sunlight. They cover walls, fences and structures, and in so doing, they can help hide unsightly features in your garden as well as become points of interest themselves. Moreover, climbing plants require a small portion of soil space, allowing you to add more plants to your garden.
With hundreds of climbing plants to choose from, it's easy to get overwhelmed about which variety is suitable for a certain purpose and which are in fact actually what you might describe as fast growing.
Today I show you 10 most vigorous, fast growing climbers:
1. Fallopia (Mile-a-minute)
The Fallopia, also known as Mile-a-minute, is quite easy to find and easy to grow. In fact, this plant is so vigorous and fast-climbing that it may become so much in so little time without you even noticing. Winner of the Award of Garden Merit (AGM), this plant can reach up to 13 feet within a year. Therefore, it's best to grow it under a wide area to avoid facing pruning troubles later.
Fallopia is also a deciduous type, meaning it's not evergreen and drops leaves during autumn. The plant looks elegant trying to climb over fences and buildings and spots a somewhat vintage look from a distance. Mile-a-minute bears small green leaves with small cream coloured flowers which distinguishes the two.
When it comes to growing conditions, the Fallopia are good with any poor to fairly fertile, moist yet well-drained soil, and in partial or complete sunlight. They are fully hardy and flower in August and September. A great choice if you have an area to cover quickly.
---
2. Lonicera periclymenum (Honeysuckle)
This one comes in a number of varieties including 'Florida'and 'Serotina'. The Honeysuckle as it is commonly known as a fast growing plant and is perfect for climbing fences, pergolas and even walls. It climbs and attaches itself by twining around anything be it a fence or trellis work.
In addition, the plant is very vigorous and deciduous and produces oval dark green leaves and flowers, usually perfumed. It flowers in summer and early autumn and is followed by red berries.
Lonicera periclymenum does well in moist well-drained soil under full sun and partial shade. Therefore, plant it on a north facing wall where it won't receive too much sun or in sheltered sites. The Honeysuckle fits most situations though it can be affected by powdery mildew. You will want to spray fungicide as the first signs to keep it under control. The vigorous climber is rarely affected when planted in partial shade.
Another option for those looking for a fast growing climber is a climbing hydrangea – read more about them here
---
3. Clematis montana
One of my favourites, Clematis montana has made it to our list because it is a vigorous deciduous plant with little care required and doesn't even need pruning. This climber starts blooming at the bottom and proceeds to the top with a fairly growing cultivar at the centre which produces a pink rose flower that blooms usually during the spring.
What's more? Clematis montana tends to have a cluster of buds on the growing body which ooze elegance while being picturesque at the same time. The plant emits a vanilla-scented smell and it can be found in exposed or sheltered areas of the garden with partial shade or full sun.
The ideal soil for growing Clematis montana is fertile, neutral, and well-drained. It flowers in May and June. In terms of hardiness, this one is fully hardy.
Read next: Learn how to plant clematis against a fence or wall here
---
4. Virginia creeper
You would be forgiven for thinking ill of its name, but the Virginia creeper is a wonderful all-round deciduous climbing plant that can grow in any condition, including shade where some climbers would not. It bears green leaves which during the autumn display a beetroot finish that is simply beautiful to look at.
It can mostly be spotted in India on the building walls of Kashmir. The climber usually grows in sheltered and exposed places with plenty of sun. Also, it tends to thrive in fertile, well-drained soil, growing to around 12m tall with a span of 8m, making it perfect for fences. A fast-growing climber, it flowers in the months of June to August and it is fully hardy.
---
5. Solanum jasminoides Album
Some call it Potato Vine and this one is best grown on trellis or against a support and it even grows when intertwined with other climbers. The Solanum jasminoides Album also grows well in a sheltered position in partial shade or fun sun. The soil should be fertile but well-drained.
When it is fully established, the plant is drought resistant and reaches to around 4m in height spanning almost the same width. It bears star-shaped white and purple flowers which give out a mild perfume. Flowering happens during the summer and into the autumn. This plant is also an award-winning product, having picked up the Award of Garden Merit by Roya Horticultural Society.
Read next: Best climbers for shade, what I recommend
---
6. Clematis armandii
Clematis Armandii is a massive and vigorous evergreen climbing plant that bears dark green leaves with a leathery feel. The leaves are quite large as they can measure up to 15cm long. This climber blossoms in early spring and its flowers appear creamy white.
Clematis Armandii does well in a sheltered area in full sun and can grow to about 8m with a spread of about 3m. As of the soil, it likes it fertile but well-drained. This climber is well suited to go up walls and ceilings as well as growing in containers. Just remember to position the foot of Armandii in the shade and the head will naturally grow towards the sun. You can also get other varieties if armandii including apple blossom which has pink flowers.
No products found.
Read next: Best climbers for containers
---
7. Trachelospermum Jasminoides (Star Jasmine)
The Star Jasmine has its roots in Japan and the far east. A vigorous evergreen plant, it bears dark green oval leaves and produces fragrant white flowers during the summer. The climber is called 'Star Jasmine' because its flowers look much like it. However, in the winter season, the leaves spot a reddish colour and the plant can grow to around 8m in height.
Fertile, well-drained soil is ideal for growing Star Jasmine and it needs partial shade in a sheltered area or even complete sun. The climber belongs to a vigorous and medium-sized shrub family and it's mostly used suited to fences, concrete walls, and arbours. Keep in mind that the Trachelospermum Jasminoides needs winter protection which means mulching around the base in winter to protect the roots.
---
8. Passiflora (Passion Flower)
The Passiflora is a genus of around 550 species of passion flowers. They are fast-growing plants that prefer a sheltered location where they thrive in light shade or complete sun. They bear large lobed evergreen leaves and uses their twining stems to climb up a fence.
The most common blue passion flowers grow to a height of 12m with a spread of 4m. Grow them in fertile but moist soil for good results. You can also grow them in large pots, especially in extremely cold areas, and winter protection is necessary. The hardest of all the varieties is passiflora caerulea as pictured above which is suitable for most of the UK.
---
9. Hedera helix (Ivy)
Ivys come in a myriad of varieties, including a plethora of colours ranging from variegated yellow and cream leaves to dark green leaves. The Hedera Helix uses aerial roots to cling onto walls and climb on virtually anything including fences, trees, and walls.
The climber is very hardy and does well in various situations including shade, partial shade or full sun. There are many varieties available and varying sizes, so you may want to check the actual sizes before buying.
---
10. Perennial sweet pea
Just like the name suggests, this climber is perennial and can be used to cover a fence, wall or other structure. It blooms in the summer and bears beautiful non-fragrant bright flowers. The Perennial sweet pea is a vigorous climber and climbs by tendrils or can be trellised. The plant can also be used to cover a bank since it makes a cute mounded ground cover.
Key characteristic include stems with leafy wings and compound leaves, both giving it an ornamental look. Leafcutter bees love the flowers of this climber. As for growing conditions, the Perennial sweet pea prefers fertile, well-drained soil and full sun. Plant it in early spring so it can serve the purpose through summer and autumn before dying completely in the winter. Keep in mind that it doesn't like being transplanted.
---
Final Words
So those are the top 10 known fast growing climbers and vigorous for that matter. Now it's up to you to decide which one would do the job in your garden, given that we've even mentioned the ideal growing conditions for each. Now feel free to offer any kind of suggestions or ask any questions regarding growing climbers.
---
Last update on 2023-09-07 / Affiliate links / Images from Amazon Product Advertising API