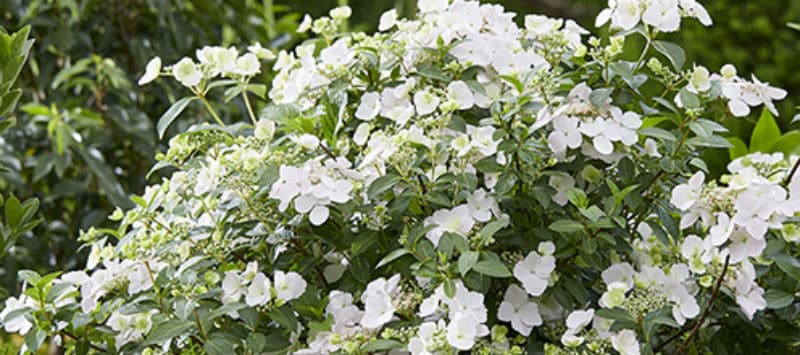 Hydrangea Runaway Bride – growing & care guide
Hydrangea Runaway Bride – growing & care guide
Our site is reader supported, this means we may earn a small commission from Amazon and other affiliates when you buy through links on our site.
The hydrangea Runaway Bride has received accolades as the plant of the year for 2018 at the RHS Flower Show. It is a very strong hydrangea and has quickly become one of the favoured shrubs among UK gardeners. The hydrangea Runaway Bride has beautiful stems, blooms, and leaves which can be grown in hanging baskets or even grown over a wall. No not many hydrangeas can be grown in this way!

How did The Runaway Bride come to be?
A Japanese breeder, known for the trailing petunias, decided to introduce a special variety into the world of hydrangeas and as a result, he created the Runaway Bride which produces beautiful flowers and lots of them. You can get up to 20 flower heads for each stem. You get lacecap blossoms that are a rich white color and as the flowers age, the edges are tinged with pink. With this particular breed, you get six times as many flowers as you would with a traditional hydrangea. More importantly, you get flowers from May all the way through September. Given that the flowers are white, you won't be able to change the color but that means that regardless of the soil PH you have in your home you can still enjoy beautiful white flowers.

Where to plant the hydrangea Runaway Bride
This is a floriferous bush that will tumble over any container which makes it a rather special hydrangea. As such you can use modern containers that are stylish, window boxes, recycled containers, hanging baskets, patio containers, or even train the plants to go up a trellis.

These are problem-free plants that are very simple to maintain much the same as standard hydrangeas. You can grow them in partial shade or sun. No matter the type of container you choose make sure that the hydrangea is well watered. If you are going to hang the hydrangea be cognizant of the hanging plant with metal frames that comes standard with coconut hair as a base because those will simply allow all water to fall out the bottom. If you decide that you're willing to water your hydrangea every day, this is perfectly fine but just try to place a saucer or some type of reservoir underneath to make sure that any used water remains available for the hydrangea when it so chooses.

This type of hydrangea will produce oversized plants that can get up to four feet in width and height. To prune them you can wait until the flowers have appeared and then simply snip away the flowers in a process called deadheading. This will encourage new flowers to grow throughout the course of the blooming season. Moreover you can gently prune some of the shoots to encourage a secondary display of growth.

Best time to plant: February through November
When your plant will flower: May through October
| | |
| --- | --- |
| Flowering time | May through September |
| Growing locations | Borders, hanging baskets, patio pots |
| Soil | Well-drained, moist soil |
| Sun | Mild sun or very light shade |
| Ccare | Prune this shrub after its initial flowering to encourage a second round of flowers |
| Size | 4 feet in height and width; 1.2 meters if planted in the grounder, can be keep smaller if grown in pots |
So what makes this particular hydrangea so unique?

Well, it is one of the newest and we think it will become one of the most popular hydrangeas, one that has been specifically bred to offer features that other hydrangeas simply don't have. It has been awarded the plant of the year from the RHS Chelsea Flower Show for 2018 and for good reason. It has a very unique blooming habit, producing the flowers that have a pure white color to them and run the length of the branches. Most hydrangeas only flower at the very end of the shoots so this one is unique because the flowers go all the way down the branch. It takes on a garland feature which makes it perfect for centrepieces in pots, hanging baskets, or any other patio based container, hence its common name Garland Hydrangea. It is one of the most stunningly white flowers you will find and has a much longer blooming cycle compared to most other hydrangeas as well.
Tip:
This hydrangea is just like others in that it doesn't like to dry out. If the roots dry out, it could spell disaster for the beautiful flowers that you no doubt are longing to see. To that end, if you have your plant hanging or in some form of pot just make sure that you keep it regularly watered especially when you first transplant it so that the roots can fully establish themselves.
Care
This is a very low-maintenance plant. Just make sure you water it and add fertilizer once a year and it will give you beautiful flowers all summer long. It does best in compost-enriched, moist soil so long as you keep the soil well drained. Frost will damage the younger buds and reduce the flowers you get the following season so make sure you protect it if you live in an area where the weather drops severely. Bring into a greenhouse if possible or wrap with fleece and some lagging around the pot to protect it from frost. You can read more about frost protection here.
Pruning
When pruning this plant leave any faded flower heads in place so that they can protect the new flower buds underneath throughout the winter. This will help to protect the new shoots from any frost especially if your plants stays outside over the winter.

In the early spring you can cut back your flowered stems to the next strong pair of buds so that the new gross can thrive. If you see any damaged or dead branches, remove them immediately.

After you have pruned the plant, apply some mulch or compost at the base to help give it energy to heal and restore.

Once your plant has established itself, especially if you are growing it in the ground in your garden, you can remove one third of the shoots down to the base every year in order to encourage new flowers the following spring.

Last update on 2023-11-19 / Affiliate links / Images from Amazon Product Advertising API