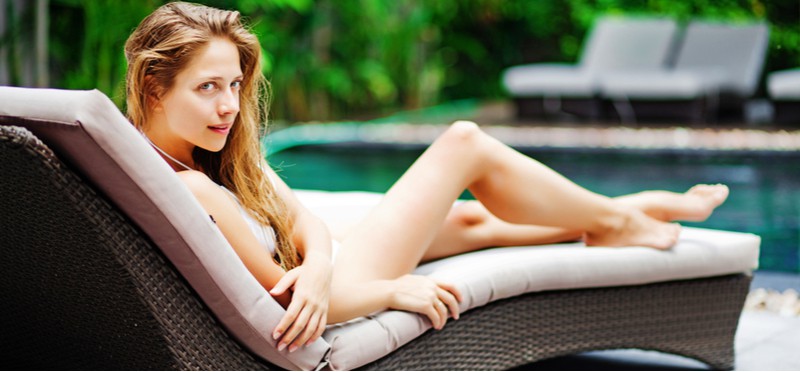 Top 5 Best Sun Loungers – we compared build quality, comfort and style
Top 5 Best Sun Loungers – we compared build quality, comfort and style
We bet there is not better place to soak up the sun than on a sun lounger in your garden, patio, balcony or even poolside if your lucky enough ton have one. But there's more to it than just lazing outside; some models make very good relaxing chairs in the living room or bedroom, offering a great place to sit with a glass of Pimm's in one hand and HUH. magazine in the other.
Now, there are different styles of sun loungers, but our research found that these are some of the most straightforward products that it shouldn't be hard to choose the best sun lounger for you. To help you decide, we pulled together a list 20 products and compared comfort, adjustable mechanisms, ease of assembly and storage, as well as durability and narrowed down to the top 6 sun loungers that are worth considering.
The ultimate best garden lounger turned out to be the Garden Market Padded Sun Lounger. It arrives as a set of 2 anti gravity style loungers, making it a great deal for a couple or if you don't want to share your chair. With 20mm polyester padding on the seat, these are super comfy plus they have adjustable backrests and head rests. Their steel frame combined with textiline/poylester fabric means they will suffer no ill effects if left outside in the summer rain. These are really good and seem a bargain for the price of two.
We have in-depth reviews of our select products and you will also find a buyers guide further down which includes all the essentials you need before buying a sun lounger. Without further ado, let's dive into the meat.
BEST PICK
These adjustable loungers are perfect for a lazy afternoon and come at such as good price for such a good quality product. Simply push down the backrest from an upright to a relaxed back position and lock it in place. They are made from powder-coated steel with textiline and polyester combination on the seat, making them hard wearing and weather-resistant. Overall the build quality is excellent and most will find them very comfortable which is what really matters. Something we did notice is they seem to have rebranded from Olive Grove to Garden Market but he product seems the same.
Mini Buyers Guide
Choosing the best sun lounger in a snapshot
When summer comes around, we always want to make the most of it, especially with the unpredictable summer weather in the UK. A comfortable sun lounger is a great investment that will help you enjoy the warm weather, whether you want to relax on the patio, lawn or anywhere in your garden.
The best garden lounger is one that's hardwearing and durable, and should look great in your garden too. Most importantly, it must be comfortable to relax in. Look for textiline cushions or fabric as these can be left out through the summer rain without suffering damage.
An adjustable backrest is a bonus as you will be able to set the height as you like, while some can lie flat totally which some people prefer some don't lie totally flat. The frame can be made from coated steel or aluminium, wood or rattan. Simply choose your style and go with it, remember wood loungers often need treating at some point.
Weight is another thing to consider because you will want the lounger to be easily movable when following the sun or seeking shade. Also, some sun loungers fold up nicely for compact storage while other don't which means they take it up more storage and it's worth considering such if space is an issue.
RUNNER-UP
This Daytona sunbed is manufactured by Keter which is well known brand in the gardening space and most of there products have proved excellent and this sung lounger is no different. Its frame is made of rattan that is weather-resistant, low maintenance and durable, while the top features a splendid taupe cushion. This can make a semi-permanent sun lounger in any garden, especially for those worried about moving a lounger in and out on a frequent basis. The backrest adjusts in four positions, including flat, meaning you can comfortably lie on your stomach. Add a 3-year warranty and you have one of the best lie flat sun lounger, thought it costs a lot more than many other models. Something to note is that the cushion covers are not removable so you can only clean them by wiping them down.
---
Top 5 Sun Lounger Reviews
---
OUR BEST PICK
Garden Market Place Padded Garden Sun Lounger - set of2
Pros
Our best pick the Garden Market Place Padded Sun Lounger are some of the most comfortable recliners on the market. That is largely due to the 20mm polyester padding that is deemed thicker than standard textiline garden chairs. The product actually features a textiline construction, which is weatherproof and hard wearing, meaning the sun longer to be left outdoors in the summer. They are also quick to fold away for winter storage which is always a concern with sun loungers.
This set arrives as a pair, which is a good thing for couples looking to soak up the rays together while sipping a cold drink or reading a book. In addition, they have a reliable adjustment mechanism for raising or lowering the backrest as you please. And once you've found a sweet spot, there is a knob that lets you lock the recliner in position for worry-free relaxation.
The frame itself is built from powder-coated steel that is durable as well as stylish in its bronze colour effect. However, the arms and fittings are made of plastic but it does seem good quality as a whole. These recliners carry a maximum of weight of 90kg and they are not prone to sagging that usually happens over time due to heavy use.
Overall, these chairs are well made, comfortable and offer good value for two quality sun loungers. If your looking for quality sun loungers then these are well worth considering, something we did notice is that they have recently rebranded from Olive Grove to Garden Market which is a little strange but it would be the first time a brand has renamed it products but the product itself seems to be the same sun lounger still which is what really matters.
Compare the best prices from available sellers below
---
RUNNER-UP
Keter Daytona Sunlounger
Pros
The Keter Daytona Sun lounger looks elegant and will surely enhance your outdoor space while providing a comfortable surface to lie on. It features a rattan style weaving around the walls and this not only looks beautiful but the weaving protects the sun lounger from dust and moisture - two things that can cause fading or peeling. Furthermore, this material is really easy to clean by just wiping off dirt and lasts long as a result due to low maintenance needs.
This Daytona is undoubtedly built for total relaxation, thanks to an adjustable backrest with four sitting positions. The sleeping surface features a soft cushion that feels nice to laze on and it is wide enough to hold almost any body size. The lounger is additionally strong and stable enough to support the weight of even the largest user.
To ensure a clean piece of garden furniture, Keter wrapped the cushions with water resistant covers for easy cleaning. They also provide a 3-year warranty for this UV and weather-resistant recliner, so you can be sure of many years of service. The body itself is lightweight and should be easy to install upon arrival using simple household tools.
All things considered, this is a wonderfully made sun lounger that is perfect for anyone looking for something a little different from the conventional-style sun lounger. The only downside is that the cushion covers don't seem to be removable so you can only wipe them down. Overall these are an excellent sun lounger for someone looking for a rattan style lounger, not forgetting they also include 3 years warranty.
Compare the best prices from available sellers below
---
Lichfield Deluxe Sun Lounger
Pros
The Lichfield Deluxe Camp Sun Lounger is a versatile product that is perfect for various applications including lazing in the garden, camping trips and weekend getaways. The construction features a strong aluminium frame plus a durable, weather-resistant ripstop polyester fabric, making a perfect combination for a garden product that will be out there for many days to come.
A great feature of this sun lounger is that it can be adjusted to five different positions or used flat as a campbed. It actually arrives ready to use with no assembly required which most sun loungers don't which will be good news for some people. The frame can support up to 100kg and can be folded down for easy storage or transportation as shown above. This product also happens to be one of the lightest sun loungers at just under 5kg which is amazingly light.
If you are looking for something that you can carry along on summer getaways and short trips, as well as relax on it in your garden, this Lichfield is worth the money. The only downside is that the fabric could be better, it will easily last a year or two but we don't think it would last many years, overall though for the price it's brilliant. Storing away over winter in a dry place will help increase the life span.
Compare the best prices from available sellers below
---
Suntime Havana Sun Lounger
Pros
The Suntime Havana Sun Lounger boasts a fabulous design that brings some class of elegance to your garden. Most importantly, it offers comfort to anyone looking for a chair to rest on in their garden.
You can select from different colour options including black, blue, charcoal and pink so there plenty of choices. It has a pillow that is built into the design which you will really love, and a textiline swing that's perfect for swinging back and forth with your arms placed on the armrests, which can be adjusted to provide more sitting angles. The base frame is not adjustable but the entire structure folds up into a nice compact thing for when you need to take it indoors for storage over winter or for transporting.
The seating surface is made of patented Textiline that is incredibly strong and hard wearing. Moreover, this fabric is not afraid of UV rays, meaning it won't fade or break for as it it treated, something many cheaper models don't do.
The only thing is that those who are taller than 178cm will have their feet hanging off the end as this lounger measures 178 x 63 cm. Add that to its 10kg net weight and it is fairly heavy but with a strong sun lounger comes extra weight unfortunately.
Overall, this Havana sun lounger is a good option for people with average height who want a simple and comfortable sun lounger that is designed to last. This is a good choice for anyone looking for a sun lounger without cushions, the only real downside for some people is that it doesn't lay totally flat, it folds to around 40 degrees so still very comfortable.
Compare the best prices from available sellers below
---
GardenKraft Louis Moon Rocker Lounger
Pros
This GardenKraft Louis Moon Rocker Lounger boasts a unique, modern design featuring two interlocking hoops with zero gravity. Now this one is not only suitable for lazing in the garden but also indoors when reading a book. It may be little fiddly to assemble and there's obviously a knack to lying flat in it, but the moment you're in, you'll be set for some long-haul relaxation.
At around 8kg, the lounger is relatively easy to move around and you can fold the legs in for storage, however, it does not fold down compact so you will need some decent space to keep it in if you need to bring it indoors over winter which is advised. The steel frame is incredibly strong and supports a load of up to 100kg so there will be no issues there. The lying surface features woven textolene material, which is very comfortable as well as weatherproof and highly resilient. This fabric is also breathable and quick drying as well as very easy to clean and wipe down.
This Louis Moon is designed to gently rock back and forth, creating a weightlessness sensation that is perfect for unwinding after a long day. If you are looking for a chair that works in all aspects of lazing around whether in the garden, conservatory, or living room, then this one is a sure bet. Be sure to cover it during the winter or store indoors for it to last long. Something we did question was whether it could be used on gravel and the answer is a positive yes. The only downside is that it does not fold down very compact so you will need ample space to store such as in a garage or shed.
Compare the best prices from available sellers below
---
Buyers Guide
Sun loungers come in different designs but it shouldn't be hard to select one that suits your needs, available space and budget. A bit of research can help you narrow down your options and below we have compiled the factors to consider before spending your money.
How to buy the best sun lounger
Materials
We are talking about the frame material as well as that of the lying surface. A steel tubing frame is easy to lift, move to and from the shade and fold away. However, it can be a little flimsy sometimes so this is something too look out for.
Wooden loungers are sometimes non-folding but provide a more solid base and greater back support. If you find one made from hard wood such as teak or eucalyptus, it should be weather-resistant too but they usually still need treating to keep them in good shape.
Then there's rattan, which looks cute and complements any piece of garden furniture, its also easy to clean, requires no maintenance and is very weather resistant. However they can be expensive and usually don't fold down for storage so you need plenty of space to store them over winter.
Comfort
Now this is a priority and something we took seriously when we were selecting the products above. The fabric should be breathable to keep you cool when the weather becomes too hot. For enhanced comfort, look for adjustable back rest or even loungers that can fully adjust to a flat lying position. Others include extendable foot support, which also does magic to provide extra limb support especially for taller persons. If it comes with cushions the better because most of them are usually thick and comfortable but choose loungers with cushions that are easy to clean by simply wiping down.
Design
Choosing the design depends on what and where you plan to use the sun lounger. If you like it at home and prefer to stick somewhere in the garden, poolside or patio, you may benefit from a more permanent structure that you will only need to put away in the winter. For those that want something to carry along on a weekend getaway or a camping trip, go for a foldable sunbed.
Cleaning and maintenance
Choose a fabric that is easy to clean and one that is not easily stained by spilled liquids. If it comes with cushions, make sure that the covers can be removed for cleaning or at the very least are weather proof and can be wiped down.
Weight
A heavy sun lounger is considered robust and durable although it can be a real pain moving it to the shade. But if you want an agile, versatile product, go for one made from light materials such as aluminium or plastic.
Colour
No matter the style of sun lounger, you will want it to look the part in your garden or at least complement the aesthetics in your garden. Rattan-style loungers go with just about any other piece of garden furniture.
Value
You can select a budget folding sun lounger for occasional lazing in your garden for around £50. Heavy-duty models made from solid wood or high-quality rattan will cost a lot more, but are worth it if you want a sun lounger that will stay outside for the most part.
FAQs
How should I clean my sun lounger?
It depends on the material used in its construction. Metal frames simply need to be wiped down with a damp cloth. For polyester or rattan seats, you may need a cleaning solution or soapy water to remove tough stains.
Do sun loungers have a weight capacity?
At least every model says how much it can handle and you must check with it to know if it's the right fit for you. We found that the lowest capacity starts at around 90 kg and most loungers support a maximum weight of 100 kg, with a few others capable of doing more than that. Weight obviously won't be a concern for most people.
Can I adjust my sun lounger so as to lie on my stomach?
Well, the sun lounger must be able to go flat for you to do so, but not every model is adjustable in that manner. Some can only go down to about a 25-degree angle and that won't be the most comfortable position for stomach laying. So it's a matter of picking a model that suits your needs.
---
Our Final Conclusion
It's clear that sun loungers come in a variety of designs and so the choice comes down to personal preference. If you can answer a few questions such as whether you want to be able move it outside your home or not, if the lounger can be left outside or not, or how adjustable is the sun lounger is, then no doubt you can select one that perfectly matches your needs.
And the best garden lounger doesn't have to be the most expensive model on the market. There are many budget models that are comfortable and long-lasting. We hope this guide has been useful to your search.
BEST PICK
These adjustable loungers are perfect for a lazy afternoon and come at such as good price for such a good quality product. Simply push down the backrest from an upright to a relaxed back position and lock it in place. They are made from powder-coated steel with textiline and polyester combination on the seat, making them hard wearing and weather-resistant. Overall the build quality is excellent and most will find them very comfortable which is what really matters. Something we did notice is they seem to have rebranded from Olive Grove to Garden Market but he product seems the same.
---
Other reviews you may find useful:
---
Our site is reader supported, this means we may earn a small commission from Amazon and other affiliates when you buy through links on our site.