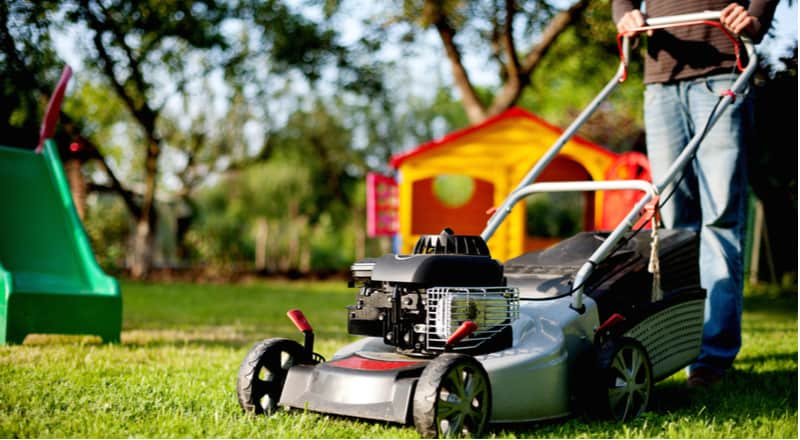 Top 6 Best Petrol Lawnmowers for Large Gardens
Top 6 Best Petrol Lawnmowers for Large Gardens
Nothing beats petrol lawnmowers when it comes to mowing large gardens. These mowers are very powerful and can be out there for as long as you as you need, unlike cordless mowers that run out of battery power at some point or corded models that are limited by there power cord. Another thing, petrol mowers feature wide cutting widths, allowing you to cover distances in almost half the time of other types of mowers. And as the name suggests, petrol mowers use fuel to operate and that's something you can easily get from any petrol station. Dealing with petrol also means regular engine maintenance is a must so as to keep it in top condition but this is fairly straight forward and is much easier than most people think.
However, the big question is, which are the best petrol lawnmowers for large gardens? Truth is, there is a lot to think about before making any conclusion as to which model stands out of the crowd. You have to look at the start - whether electric or recoil start, engine type - 2 stoke or 4 stroke, constant or variable speed, cutting width, grass collection box size, and many more factors.
We did our homework on the same and picked six petrol lawnmowers. We put a lot of research into them all and concluded that the top lawnmower for large gardens for most people is the Hyundai HYM510SPE 173cc Self Propelled Petrol Lawn Mower.
Launched in 2018 as Hyundai's flagship petrol mower, it houses a 173cc 4-stroke engine with a lower than average fuel consumption. It then combines a recoil start with an electric start for ease of use, while it has a rear wheel drive for effortless mowing. The model is fully adjustable when it comes to mowing speed and cutting heights, as well as being versatile in cutting. We don't think you can get anything better at its price point which helped it win our 'Best Pick' spot.
BEST PICK
There is so much to love about this model. Its 51cm cutting width is the first indicator the mower is intended for large lawns. You get an easy electric start for instant starting as well as the standard recoil start back up. The 70 litre grass collector is the biggest compared to other models, while you'll love the cutting options in the form of cut and collect, side discharge, rear discharge, and mulch. Quick release folding handles make it easy to store and transport, and the machine has a 3-year warranty for peace of mind. This truly is a beast of a machine with all the fancy features while still be affordable in mower terms.
Mini Buyers Guide
As mentioned earlier, there are factors to consider when comparing different options.
The first thing should be the size of your garden. Ideally, the larger it is, the more work the machine has to do to complete the work. Since you don't want to spend all day mowing, look for one with a decent amount of power to finish the job much quicker matched with a good wide cutting width and large collection box.
Self-propulsion is another thing. You see with a small patch, there is no big deal pushing a heavy mower around. But that's not welcomed when you have acres of ground to cover, so consider a self-propelled mower and all you'll have to do is guide it, even better look for multiple speed setting so that it cuts at your walking pace.
Keep in mind that a machine with a wider cutting width will help complete the job quicker than that with a narrower cutting width, obvious but something many people overlook.
The size of the grass box will determine how often you'll need to empty it out, while the larger it is, the heavier the mower will get. Also look for mulching options and the type of discharge if you don't need to collect.
Fuel consumption has to be in your mind as you don't want a guzzler in your garden. A rear roller will leave neat striped finishes on the lawn and the handlebar has to feel comfortable specially when mowing for longer periods of time. Folding handles are highly appreciated when it comes to storage in the garden shed or transporting the mover in the back of a van but this is now pretty standard in nearly all mowers but some are more compact than others.
How about you take time reading the in-depth buyers guide after the product reviews below?
RUNNER-UP
Now this one suits every homeowner with a relatively large garden. Not only because of the affordable price point but also because it's powered by a reliable engine from Briggs & Stratton. It has a 2-in-1 system that allows either rear discharge or collect the clippings which keeps it simple, while users can greatly benefit from 6 height of cut settings. Its ergonomic handle bar is adjustable in three height settings and it can fold back in for compact storage. These kind of features suit anyone that's looking for an easy to use petrol lawn mower with all the essential features, yet powerful enough to handle big and small tasks alike.
---
Top 6 Petrol Lawnmowers for Large Gardens Reviews
---
BEST PICK
Hyundai 20" 51cm HYM510SPE 173cc Self Propelled Petrol Lawn Mower
Pros
Our best pick the Hyundai HYM510SPE 173cc Self Propelled Lawn Mower is big and powerful, making it a great pick for anyone with a large lawn to cut. This model came out in 2018 so is relatively new and is not only the flagship of Hyundai's range of self-propelled lawnmowers, it's also a favourite for many commercial gardeners and our favourite pick, a good match of performance, features and affordability. Something else that stands out about this mower is that it has multiple speeds when self propelled so you can match your own walking pace while most other self propelled mowers have just one single speed so this is a nice feature to have as we have found some self propelled models to be a little slower than we might prefer so its good to have a choice of speeds.
To begin with, this petrol lawnmower has an electric push button start for quick starting, this is usually only found on the most expensive mowers. And if this option ever fails, there is a backup recoil start to ensure you'll never get stuck. This combination is a major selling point, unlike many other models that feature a recoil start only some of which can take a few pulls before the engine fires up.
When it comes to discarding the grass clippings, you have four options which is another reason this was chosen as our best pick; Collect, Side Discharge, Rear Discharge and Mulch. It's totally up to you to decide how to want to deal with the grass clippings but we recommend collecting and mulching every now and again to help feed the lawn and add essential nutrients back into the lawn. Should you wish to collect, the mowers extra-large 70 litre collection bag will ensure that you don't have to spend to much time emptying the collection box but rather spend more time cutting grass.
What's more? There's a handy lever that allows you choose a desired cutting height which is easy to use, with the shortest being 25mm for a really close cut and the tallest 75mm which can be handy for mowing longer grass in stages.
In terms of construction, this one is well-built and includes durable parts for total reliability. The OHV 4-stroke engine has low emissions, meaning your garden will not be surrounded with harmful or unpleasant fumes plus the engine is also low maintenance and economical in operation. Something else we really like about 4 stroke engines as apposed to 2 stroke is there is not petrol and oil to mix as they are put in separate meaning you mainly just need to refuel with petrol when needed.
Another plus about this Hyundai mower is you won't need any tools at all to assemble this machine, meaning you can get to work as soon as possible, simply add oil (you need need to purchase separately) and fill with petrol. It's also built with soft grip handles that are comfortable in hand, while they are designed to fold down for space-saving storage and easy transportation. There's even a bottle holder to carry a drink on the go which is yet another simple but great feature that some will find useful. Safety is another thing that has been looked into, with a clever operator presence control (OPC) lever available to prevent the engine from running when the handle is released.
Another thing you'll notice is the rear wheels being larger than the front ones. This enhances smooth manoeuvring as well as traction, which is something you want especially when cutting around obstacles such as trees.
While cleaning the exterior of a lawnmower is pretty straightforward, the underside has always been something been a manual thing to do. However, this Hyundai model is different and has also though about this. It has a wash port hose connector that allows you to attach a garden hose using a and run the mower for self-cleaning.
Overall, the Hyundai HYM510SPE 173cc Self Propelled Lawn Mower is perfect for those looking for a high quality mower with all the fancy features of more expensive mowers from brands such as Hayter but at a more realistic price. Don't forget this model comes with a 3-year warranty for full peace of mind and confidence on the lawn. Hands down our top pick.
Compare the best prices from available sellers below
---
RUNNER-UP
Murray 16"/41cm EQ300 Self-propelled Petrol Lawn Mower
Pros
This Murray EQ300 Self-propelled Petrol Lawn Mower is our second best recommendation and its more of a basic but high quality mower, the first thing to notice is that it is powered by Briggs & Stratton 300E SERIES engine. Briggs & Stratton's engines have set the benchmark in terms of performance for self-propelled lawnmowers all around the world and any mower that has fitted such an engine will prove reliable.
It's 16 inch strong steel deck combined with a large 60 litre collection bag makes this mower perfectly suited for medium to larger sized lawns. Moreover, you can decide to collect the grass clippings in the bag as most will probably do or discharge them from the rear, however it does not mulch and does not has side discharge like our Best Pick.
The deck has six height of cut adjustments between 28mm and 92mm that can be set by two levers which is fairly easy to do. Even the handle bar is adjustable in 3 heights for comfortable mowing depending on the height of the user which is a nice feature to have, especially for both smaller and taller gardeners. It also folds down to reduce precious space in the shed as do most mowers.
Both its front and rear wheels measure 18cm in diameter, making them a good size for smooth mowing over thick grass. The forward self propelled speed of 3.6km/h is also pretty decent for someone walking behind the mower but this is probably more of personal consideration but the point is here is that it is self propelled making mowing much easier.
Murray have a quick set up video on their website to help you get started with this machine which is handy but its pretty straight forward but may help if you have never had a petrol mower before. Now this model comes with a 2-year warranty should you find something wrong with the product but hopefully this will never be needed.
Overall, this a powerful and versatile lawnmower that has all the basic features with a few nice added features such as self propulsion and adjustable height handles. Finally they have chosen to use a quality Briggs & Stratton engine rather than the cheaper Chinese imports they could have opted for. A great affordable mower for those with a large garden and don't need all the fancy features of our Best Pick.
Compare the best prices from available sellers below
---
Webb 18in/46cm Petrol Lawnmower
Pros
This Webb 18in/46cm Push Petrol Lawnmower is another model you can get at a decent price but its not self propelled but it does mulch and has a good wide cutting width. Its 46cm cutting width is a great offering for quicker results on large lawns, while you get to choose from seven height of cuts from 25mm to 75mm using a single lever, all nice a simple with plenty of ranges for cutting short or longer grass.
This model features a 3-in-1 cutting system, which includes collect which most people will probably use, rear discharge and more importantly mulch which you can use to return the tiny clipping back to the lawn which in turn puts essential nutrients back into the lawn, giving you options on how you want to deal with the grass clippings.
The mower comes with a fairly large 50 litre grass collection box that is pretty decent for large jobs where you want to dispose of the clippings. And thanks to the Easi-View feature on the bag, you won't need to guess when it is full which is another nice feature.
Another thing we like is the ergonomic soft grip handle. Not only is it comfortable in hand, it can be nicely folded back for compact storage or transportation. The construction also includes a durable steel deck and ball bearing wheels that move smoothly on any lawn. The cutting deck is actually wider than the wheelbase by a few inches, meaning you can cut along the edges of your lawn without scalping them which is worth baring in mind.
Powered by a Briggs & Stratton 450 Series engine, you can expect plenty of power from this mower. This is especially essential when cutting wet or thick grass, which less powerful models will need to make several passes to get a clean cut or worst become blocked. Last but certainly not least, there is a 2 year warranty on this petrol lawnmower, though the engine is only covered for one year. Overall its an excellent mower for the price but remember its not self propelled.
Compare the best prices from available sellers below
---
BEST FOR A STRIPED LAWN
Cobra RM40SPC 135cc 40cm Self Propelled Petrol Roller Mower
Pros
The Cobra RM40SPC 135cc 40cm Self Propelled Petrol Lawnmower provides exceptional performance and style that many landscapers will love and more importantly the finish is a striped lawn which for some people is a must and can only be created with a lawnmower with a roller. This model comes with COBRA's DG450 engine that is powerful, quiet and lightweight, making it perfect for a variety of applications. It additionally integrates cutting-edge design technologies ensuring maximum torque and efficiency, with the ability to power the mower for gardens up to 600m².
This mower cuts grass down to 17mm and it can be adjusted up to 75mm cutting height for cutting longer grass so theres plenty of flexibility. There are precisely six cutting heights to choose from and all that can be done using a single adjustment lever, which is conveniently located to the rear roller.
The rear roller itself is something you will love greatly as it helps in creating that traditional striped finish which is probably its main standout feature. Furthermore, this self-propelled lawnmower allows you to cut right up to the edge of borders and flowerbeds but you will probably still need to do a little tidying up will a strimmer now and gain. The rear roller also supports the mower when the front wheels are aligned with the edge.
With its large 50 litre grass collection bag, you can spend more time mowing and less emptying although it doesn't have the largest grass collection box on our list. The grass bag on offer is made from a durable, high-quality fabric that allows strong air-flow for more compact storage.
All things considered, this Cobra RM40SPC petrol mower is packed with innovative features to help you create the perfect lawn with no pain. Moreover, it has been carefully engineered here in the UK to cater for the ever-changing conditions of the British garden. This model is our top recommendation if you're looking for a quality mower for making stripes.
Compare the best prices from available sellers below
---
Frisky Fox PLUS 20" QUAD-CUT Self Propelled Petrol Lawn Mower
Pros
The Frisky Fox PLUS 20" QUAD-CUT Self Propelled Petrol Lawn Mower is a great example of a powerful and practical mower that has been designed to tackle heavy duty jobs. This largely owes to its Wolf "Dynamic" OHV 4 stroke petrol engine that delivers a great deal of power for both small and big applications. The 5.5HP engine makes the machine to operate smoothly over long periods of time. Better still, the lawnwomer has been cleverly built with a new deck and drive system that further adds to its ability to handle large jobs.
With a 20-inch cutting width, there's no doubt that this mower is specially made for large gardens as it covers a wider area in each pass. This also makes for quicker completion of jobs. In addition, its Quad Cut technology delivers twice the cutting performance as well as the number of cuts of a conventional blade mower. The beauty of this lawnmower is further enhanced by a single lever height adjuster tht lets you choose from 7 settings from 25mm to 75mm.
Just like our best pick by Hyundai, This machine incorporates a 4-in-1 cutting system, allowing you cut, cut and collect, side discharge or mulch grass clippings. Another great feature that you won't easily find in other self-propelled mowers is the speed controller. It lets you adjust the machine to a speed that suits you when mowing from a slow to brisk walk to suit your walking speed.
What's more? It comes with a large 55 litre grass bag, which carries quite a lot before it needs emptying. Additionally, the fast rotating blades cut very fine clippings, resulting to better suction and improved compaction process in the grass catcher. The blades benefit from flail technology that helps them to pivot away if they hit a foreign object whilst cutting. That means less damage compared to a traditional mower and is yet another innovative feature.
Overall, the Frisky Fox PLUS 20" QUAD-CUT has some amazing features that make it a standout among petrol lawnmowers and is probably as good as our 'Best Pick' making it a good alturnative to consider and it does come with a 2-year warranty.
Compare the best prices from available sellers below
---
BEST FOR PROFESSIONALS
Hayter Harrier 41 Autodrive Variable-Speed Rear-Roller Lawnmower 375A
Pros
On the higher price end, we have this Hayter Harrier 41 Autodrive Variable-Speed Rear-Roller Lawnmower which is the only model we really recommend for professional daily use. It powered by a 190cc Briggs & Stratton 625E Series OHV engine, which delivers sufficient amounts of power no matter how thick or long the grass in your lawn is. This engine has a recoil that is painless to get you working with just two pulls, while it delivers plenty of cutting power at variable speeds to suit your own pace, which is essential for large-scale mowing. It also runs quietly in petrol mower terms and with low emissions.
In addition, it has an autodrive that takes the effort out of mowing because the engine drives the mower so you don't need to push it. Then there's the added advantage as we have already mentioned that the speed is variable from 1.5mph to 3mph, giving you more control over the speed of the mower.
The mower cuts 41cm width of grass so its not the widest but still wide enough for most lawns and it offers seven cutting heights to choose from between 13mm and 60mm. These are controlled through a single counter-balanced lever for effortless adjustment. Special enhancement fins on the front deck combined with a liner on the inner deck help comb and grasp the grass in the upright position before it's cut. This results to an improved quality of cut and a more efficient grass collection. It also helps reduce the risk of foreign objects.
One thing about petrol lawnmowers for large gardens is that they equally come with large grass bags. The one attached to this model 53 litres of grass, and is made from robust, lightweight fabric for better airflow. Additionally, the bag features two handles for easy emptying by simply lifting it from the main body. And when the grass bag is not attached, the mower can discharge the grass clippings through the back.
What we really like about this model is its ribbed rear roller, this mower not only leaves those typically British stripes on the lawn but also benefits from improved traction when cutting along the edges and around flower beds. The wheels feature ball bearings and rubber tyres for smooth movement and long life.
The full width handlebar with operator presence control (OPC) ensure safe and comfortable operation. OPC stops the engine and the blade immediately when you let go of the handle. Moreover, the handlebars fold nicely for more compact storage as well as easy transport which is important for professional gardeners going from lawn to lawn.
In conclusion, this Hayter Harrier 41 is ideally suitable for medium and large size lawns about the half a tennis court to large lawns. The variable speed petrol lawnmower is a please to use and leaves fine, striped finishes each and every time. A great offering from a leading British brand, this gives you absolute peace of mind thanks a five-year warranty. If you have the budget, this has to be on your list of considerations and is probably the best mower on this round-up
Compare the best prices from available sellers below
---
Petrol Lawnmower Buyers Guide
A petrol lawnmower is a good investment if you have a large garden. A decent one will last for many years to come if well maintained. Below we expound on the key things to consider before making a purchase.
How to choose the best lawnmower for large gardens
Engine type and capacity
The most basic type of engine is the side-valve with valves on the side of the block, and it also happens to be the cheapest. Then there is the engine with overhead valves, located at the top of the cylinder like the one you see in a car engine.
The third type is the direct overhead-valve, which is common with Briggs & Stratton engines. This engine is quite expensive and so is any model that has it. However, it has the benefits of economical fuel consumption, very little to no emissions, quieter operation and low vibration.
When it comes to capacity, petrol engines for lawnmowers range from 100cc to 200cc. A larger capacity is good for when dealing with long, thick, or wet grass.
Then there's a choice to make between a 2-stroke and 4-stroke engine. Go for a 2-stroke engine if you want a lightweight and cheaper option. If you have a sloped lawn, also look no further than a 2-stroke engine because they cope well with such terrain.
On the other hand, a 4-stroke engine is a great option if you want more power, easy starting and something that's low maintenance. Because of its power, this engine is the best for mowing through long, thick, wet grass. While a 2-stroke engine can be stubborn to start in the cold, a 4-stroke starts first time no matter the weather and is our top recommended choice when it comes to engines.
Regarding maintenance, a 2-stroke engine runs on a mixture of oil and petrol, meaning you will need to mix correctly. Its counterpart, however, is filled with petrol and oil separately, thus minimal chances of error and makes refueling much easier.
Cutting width
Generally, the larger the cutting width, the wider the area you will cut with every pass. For instance, a cutting width of 50cm is about 25% larger than a cutting width of 40cm. This means if both are put to work, the mower with 50cm cutting width will take 25% less time to mow a given area compared to the smaller width assuming there mowing at the same speed.
Cutting height adjustment
The best lawnmowers offer multiple cutting heights. Many a times you will hear people saying that the mower didn't cut low or high enough. But as you have seen from the products in our list, you can get up to seven height cuttings from as low as 20mm to 90mm. Just pick one that you think will give the cut you like. Also, chose a machine that cuts a bit higher if your lawn is bumpy.
Self-propulsion
This a must-have feature for lawnmowers that cut large gardens, in fact only one model in our list was not self-propelled. The wheels draw power from the engine for them to propel, meaning you don't need to push the mower but just guide it. However, you'll need to check the speed of the machine and whether it can be adjusted or not. The Hayter Harrier 41 Autodrive lawnmower is a good examples of models with variable speed settings.
Swivel wheels
Obviously, your lawn is not as straight and flat as a football pitch. There are probably trees and flower beds that you'll need to carefully manoeuvre around. Some self-propelled mowers are designed to steer straight, meaning you'll need to lift the up in a way so as to make turns. Others have swivel front wheels that simply turn to any direction without having you having to break sweat. None of the model we recommend have swivel wheels but its still worth considering.
Handle comfort
The word here is ergonomic. Such a handle is designed to put your arms in a natural position, thus less tiring to use. A soft grip also implies no blisters when guiding the mower by holding the handles for long periods of time. Some handles such as the one on the Murray EQ300 are height adjustable too, allowing users to select their most comfortable working height.
Storage
You will want to pick a more compact mower if there is not plenty of storage. Go for one that allows the handles to fold down so that it can sneak nicely into a garden shed and still allow other things to be kept above it.
Recoil vs electric start
Recoil starts require you to manually pull a cord in order to start the engine, though many such modern mechanisms are easier and more dependable than they used to be.
If you don't want to use any effort at all in starting the machine, go for an electric start. All you have to do is push a button to get rolling but they often have a rechargeable battery which needs charging so its extra work in this respect.
Safety features
Some models integrate an OPC (Operator Presence Control) feature, which shuts the engine every time you let go of the handle. Perhaps you want to stop and get an unwanted object out of the way, the machine turns off until you get back in control.
Others have blade override systems, which won't power off the engine but rather stop the blade from spinning while the engine runs safely. This one is a good feature for a recoil start engine as it saves the hassle of having to manually start it again and again.
Cutting and disposal system
Consider how you want to deal with grass clippings. Some models have up to four options including cut, collect, side or rear discharge and mulch. Other have two of these functions while some offer three options. A 3-in-1 lawnmower will offer optimal versatility in this case.
Warranty
At least every petrol mower we found had a warranty, whether just 1 year or 5 years. It's good to say no matter the machine you buy, it will be well covered. The Hayter Harrier 41 model stands out in this department with an impressive 5 years but our Best Pick comes with 3 years although it doesn't cover trade use.
Other nice additions
Every mower is blessed differently and that's where you may want to evaluate those bonus features and choose the ones you like.
One of them is a rear roller, which is something to think about if you want those elegant and neat stripes on your lawn.
Consider the noise level of the machine if you don't want to annoy your neighbours every time you mow.
You also have to make sure that the grass bag is of a decent size, at least 50 litres capacity is recommended for larger lawns. Our best pick the Hyundai HYM510SPE boasts a massive 70 litre grass box - a great pick if a large capacity is important to you.
Well, that wraps this buyers guide and hopefully you have learnt something new.
---
Our Final Conclusion
After hours of research and product comparisons, we only included the models we believe to be the 6 best petrol lawnmowers for large gardens available in the market today. They are all capable in their own right, although they vary greatly in price. We believe the buyers guide above has also shed light on the features and benefits that suit your specific situation. Use it carefully to select a decent petrol mower for your garden. That said, over to you!
BEST PICK
There is so much to love about this model. Its 51cm cutting width is the first indicator the mower is intended for large lawns. You get an easy electric start for instant starting as well as the standard recoil start back up. The 70 litre grass collector is the biggest compared to other models, while you'll love the cutting options in the form of cut and collect, side discharge, rear discharge, and mulch. Quick release folding handles make it easy to store and transport, and the machine has a 3-year warranty for peace of mind. This truly is a beast of a machine with all the fancy features while still be affordable in mower terms.
---
Other reviews you may find useful:
---
Our site is reader supported, this means we may earn a small commission from Amazon and other affiliates when you buy through links on our site.