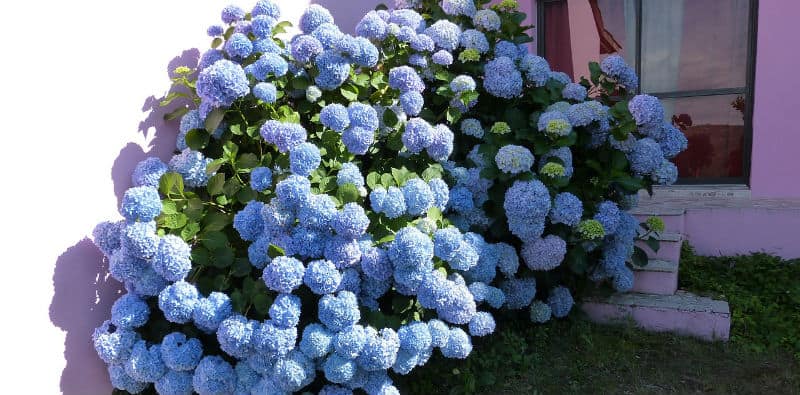 How tall and wide do hydrangeas grow
How tall and wide do hydrangeas grow
Our site is reader supported, this means we may earn a small commission from Amazon and other affiliates when you buy through links on our site.
Hydrangeas are easily recognizable for the large clusters of brightly colored flowers. There are many different species all of which have the same beautiful foliage and flowers.
How fast do hydrangeas grow
The rate at which hydrangeas grow is contingent upon the type and how well they are cared for. If you care for your hydrangeas as you should, and you don't prune them unnecessarily they will grow regularly. Most varieties will produce blooms year after year without you having to do anything.
Hydrangea size guide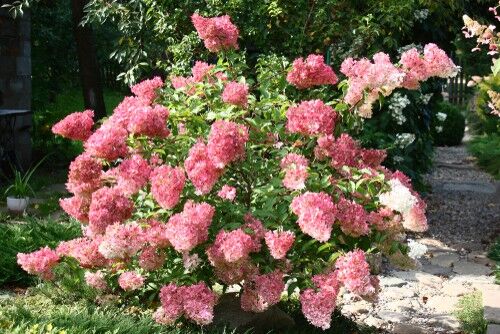 | | |
| --- | --- |
| Type | Growing size |
| Bigleaf hydrangeas | Maximum average height and width of 10 ft |
| Oak Leaf hydrangeas | Maximum average height and width of 8 feet |
| Smooth hydrangeas | Maximum average of 5 ft |
| Panicle hydrangeas | Average of 12 to 15 ft though some can reach up to 25 ft. The panicles reach up to 18 inches in length. |
| Climbing Hydrangea | Up to six feet wide and up to 50 feet tall |
Each type of hydrangea has slightly different growing conditions and size differentiation between height and width.
Bigleaf hydrangea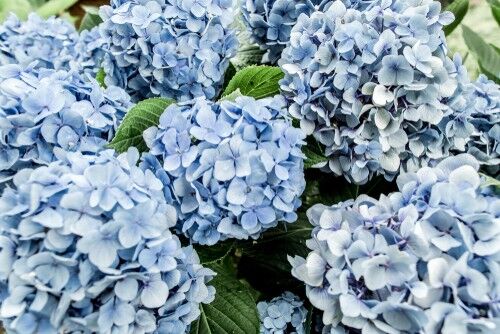 The big leaf hydrangea is known for the large leaves and is one of the most commonly cultivated varieties. It grows on average to no more than 10 feet wide and 10 feet tall. This deciduous shrub drops its leaves off when things get cold and then blooms in late spring. These are typically sold in pots which is why many people seen in gardening stores, nurseries, and florists shops.
Hydrangea Garden Plants Colour Changing Flowers with Large Bright Blooms for Patio & Borders, 1 x Macrophylla Glam Rock Plant in a 9cm Pot by Thompson and Morgan
A Magnificent Hydrangea Plant called Glam Rock that has blooms that actually Change Colour as the flower matures throughout the summer. Also known as 'Horwack' it won the best new plant variety at the 2014 grower of the year awards.
This Colourful Hydrangea Flower is an eye catching addition to your flower beds or as a border plant, the Blooms constantly change colour and often mixed on a single bloom, giving you fantastic display; it is also suitable as a Hydrangea in a Pot on your patio.
As with all Hydrangeas, the flower colour will vary depending on soil conditions and can be altered using hydrangea colourant. Alkaline or neutral pH soild will provide colours of pink / red / green while more acidic soil will display flowers that are more purple / blue / green in colour, so make sure your soil is ready for the colourway you want!
Potted outdoor plant; this plant is supplied to customers in a 9cm nursery pot; with a height of approximately 15cm. Supplied with T&M's very own cultural instructions on how to care for your plants.
Your satisfaction guaranteed; we want you to be 100% satisfied with any product you buy from us. If you're not 100% happy then neither are we, so let us know and we'll replace your product or give you your money back
Oakleaf hydrangea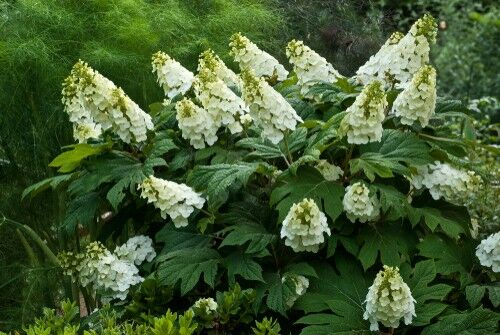 The Oakleaf hydrangea has beautiful leaves in the shape of oak leaves and it will turn a deep red in the fall. This is the only species of a hydrangea whose foliage changes colors in the fall. Other variety simply lose their leaves. This particular variety is not tolerant of heat and it is slightly smaller than the big leaf with maximum height and width around 8 feet. The flowers are produced in longer clusters called panicles which is different from the rounded globular flowers of the bigleaf hydrangeas. The leaves are typically a creamy white color and they gradually turned pink.
Smooth hydrangea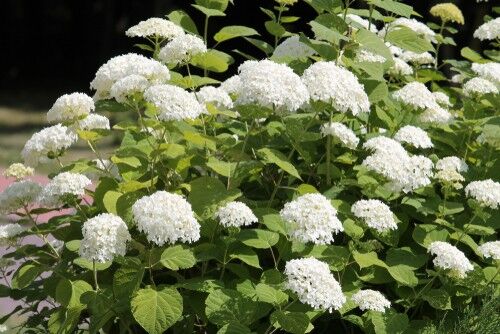 Smooth hydrangeas are much smaller than the other species and typically reach a height and width around five feet. This is a deciduous plant that has smooth green leaves and rounded white clusters of flowers. It is a very fast grower and it can, in fact, reach 5ft wide and tall in just one season especially if you cut it back.
Hydrangea Arborescens 'Annabelle' in 2L Pot, Stunning White Hydrangea 3fatpigs®
Hydrangea Arborescens 'Annabelle' In 2L Pot, Stunning White Hydrangea 3fatpigs
The basics species of this large bushy North American shrub has flowers that are a mixture of tiny fertile florets and the larger more showy sterile ones, which in fact have coloured bracts in place of petals.
Common Name: Hydrangea Genus: Hydrangea Species: arborescens Cultivar: 'Annabelle' Skill Level: Experienced Exposure: Full sun, Partial shade Hardiness: Hardy Soil type: Well-drained/light, Clay/heavy Height: 300cm Spread: 300cm
The variety 'Annabelle' has only sterile florets, which makes the flower heads much larger, like spectacular white balls up to 30cm (12in) across. Plants are nominally very hardy but late frosts can damage the buds, so grow them in a sheltered corner or against a warm wall in cold gardens. Regular pruning keeps the naturally open plants dense and compact.
Please note, due to soft leaves, the Annabelles can become shabby during transit. Do not be alarmed, once they become established they will soon perk up again. From October to May, the plant has been pruned to 15-20cm to stimulate growth for the coming season.
Panicle hydrangea
The panicle hydrangea has long panicles of densely-packed flowers that are white in color. This is the biggest shrub species and it can reach upwards of 15 feet in height and 12 ft wide although some species can reach up to 25 ft tall. The panicles themselves are quite large as well and typically reach lengths around 18 in. This is a very tough plant, one which can tolerate colder temperatures and offers blooms at the end of summer. Given the size of the flowers, it can sometimes droop toward the ground because of the weight.
Sale
Hydrangea paniculata 'Vanille Fraise' 15cm Pot Size
HARDY
DECIDUOUS
Grown with care by the Amazon Plant Specialist
Please unpack as soon as possible after delivery
Plant size varies according to the time of year. We always dispatch the largest plant available on the nursery.
Climbing Hydrangea
The Climbing Hydrangea is a shrub that climbs. It has very large leaves that are shaped like hearts and spiky white flowers. It is the biggest of all the hydrangeas out there and it can climb up to 50 feet and spread as wide a 6 ft. If you leave it on the ground and don't let it climb it will cover a space of 200 square feet or more. It's very drought tolerant and will grow very quickly.
Image by FRANCES VALERIA COSTA SILVA from Pixabay
Image credits – Shutterstock.com

Last update on 2023-09-23 / Affiliate links / Images from Amazon Product Advertising API