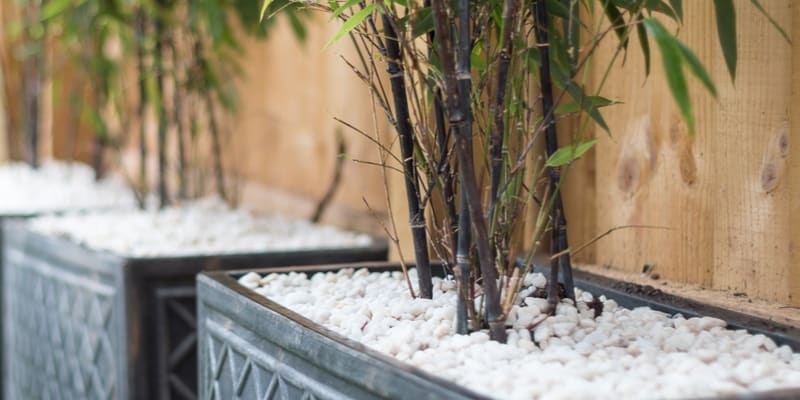 5 Best Bamboos for Containers
5 Best Bamboos for Containers
Our site is reader supported, this means we may earn a small commission from Amazon and other affiliates when you buy through links on our site.
Bamboo is a fascinating plant and they are a great choice for growing in containers if you choose the right varieties. Among the advantages of bamboo apart from practical applications is that they offer aesthetic appeal. Personally, I love the black bamboo canes as they give a striking effect against the green foliage. If you plant bamboo, the stems together with the foliage create an appreciated compact aesthetic that can be used as a screen or even as hedging.
Considered as one of the planet's most invasive plants, planting bamboo in containers can help limit their vigorous growth. By choosing varieties that don't spread too much you can even create tall low maintenance screens in pots.
Growing them in pots requires pruning of the rhizomes to prevent root-bound issues or the roots bursting through the container. A couple of tips, find strong pots at the roots can become very compact and be very strong, metal planters are a good choice but heavy duty wooden planters are also suitable
1. Phyllostachys nigra (Black bamboo)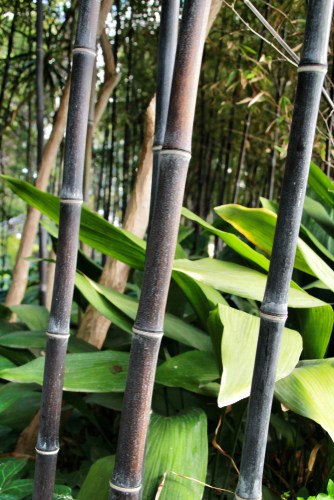 Starting us off is the black bamboo otherwise known as Phyllostachys nigra that grows all over the world and is a personal favourite of mine, I just love those black stems. The evergreen plants feature a colourful bark and green Lancelot-shaped foliage that looks elegant, growing up to 8 metres if left to grow wild but easy to contain and control when grown in containers or large pots.
The bark of this bamboo variety starts out green before darkening as the stems mature to that desistict black colour. It doesn't take much to grow the evergreen species as it can tolerate full sunlight or partial shade.
As with all bamboo grown in containers, growing these plants in containers requires fertile loam soil that is moist to avoid root clumping. During the growth season, using well-rotted manure or general fertiliser will assist the plant to grow healthily. When I pot them into new troughs or pots I like to use a mix of 50% John Innes potting compost as it's heavy and retains moisture well. Mix this with 50% farm manure to add plenty of goodness to the compost.
Because these plants can grow overly tall, you may want to prune them to maintain a certain height. Pruning bamboo in spring is ideal and all you need is a sharp pair of pruners. Sever the top of the bamboo above a node/fork to prevent stem damage. You can also thin out the branches above a node to expose the visually attractive stems.
---
2. Fargesia nitida (Chinese fountain bamboo)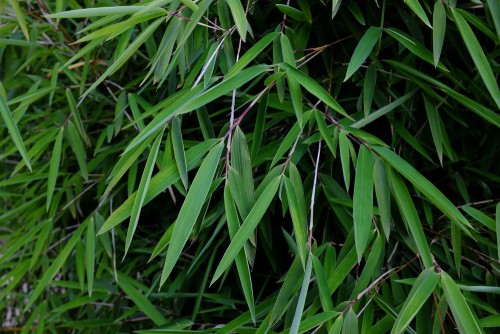 Possessing thin stems and abundant foliage, this robust bamboo is perfect for containers due to its compact nature. Growing to a height of about 4 metres in teh ground with a 1.5-metre spread, this variety of bamboo is easy to grow in containers and help contain the roots and control the overall size. Preferring clay or loam soils, the hardy plants can survive in acidic, alkaline or neutral pH soils so as with most bamboos, 50% John innes potting compost with 50% farm manure will give them a good start.
If your space only receives partial sunlight, worry not because this won't affect the plants. They do well with full sunlight as well as partial sunlight, but if you don't have a position in your garden with full sun they will still do well in a more semi-shades position.
Just like the rest of the bamboo varieties, propagation is possible through dividing the rhizomes in spring. Pruning is also advised at this time to remove dead/diseased stems and unwanted flowering shoots. If you want non-invasive bamboo with small stems, then this variety is suitable.
Read next: Best plants for pots all year round
---
3. Fargesia murieliae 'Rufa' (Umbrella bamboo)
Another non-invasive and fast-growing type of bamboo you can grow in pots successfully is the Umbrella bamboo. This bamboo's height varies between 2.5 metres to 4 metres with a width of 1.5 metres, which makes it suitable for hedging. The olive-coloured stems are not very thick, however, the evergreen plants are drought tolerant which makes they a good choice for pots where they may occasionally be dry.
It will grow well in both clay and loam soils, this type also does well with partial and full sunlight. These low maintenance plants are hardy and even if you plant them in poorly drained soils, they will not be affected. The non-running bamboo rarely flowers, but the abundance of foliage and thin stems make a good architectural display.
---
4. Phyllostachys vivax Aureocaulis (Golden Chinese timber bamboo)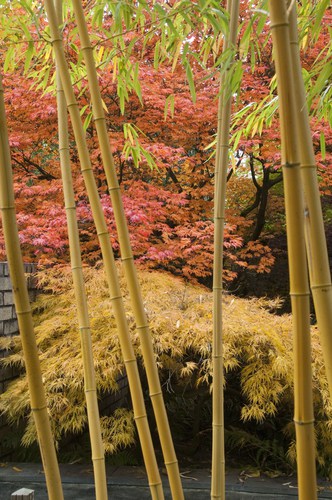 When you look at the Phyllostachys vivax Aureocaulis, you can see why they call it the golden Chinese timber bamboo. The stems are golden yellow, which sometimes features green stripes perfectly placed to give an artistic appearance. These yellow stems and dense green foliage make the plants stand out from other vegetation.
When the plants are starting, the streams are more yellow, without the golden hue. As the stems continue to mature, they display the saturated golden yellow colour they are known for. This is a tall variety reaching over 12 metres if left to grow freely; thus, use sizable containers to grow this variety in.
The evergreen bamboo doesn't adapt to different soils like the rest, this one needs well-drained loam soil to flourish. Being drought resistant and cold hardy, this variety is classified as invasive, but growing them in pots should not be a problem if you divide them every couple of years.
---
5. Semiarundinaria fastuosa (Narihira bamboo)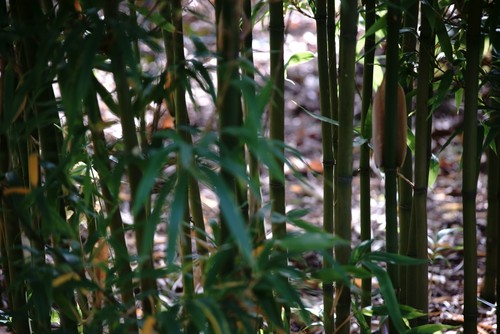 Lastly, is another evergreen variety that also thrives in loam soil with varied pH. The tall bamboo grows to around 8 metres with a 2.5-metre spread but can be pruned to meet your height requirements and growing them in pots helps keep them contained.
They feature dense foliage that is appealing paired together with the dark green, medium-sized stems. When you look at the stems under sunlight, you can pick up orange or burgundy hues that make the plants more visually interesting. Suitable for screens and growing in pots, this variety doesn't need much to thrive.
---
In Conclusion
Bamboos are rarely disease-ridden, however, some pests such as spider mites, slugs, or aphids can take a liking for them. I recommend treating with a general pesticide if you have an issue with pests.
Other than that, mulch to retain moisture content in the soil and help regulate soil temperatures in low temperatures.
---
Last update on 2023-09-28 / Affiliate links / Images from Amazon Product Advertising API