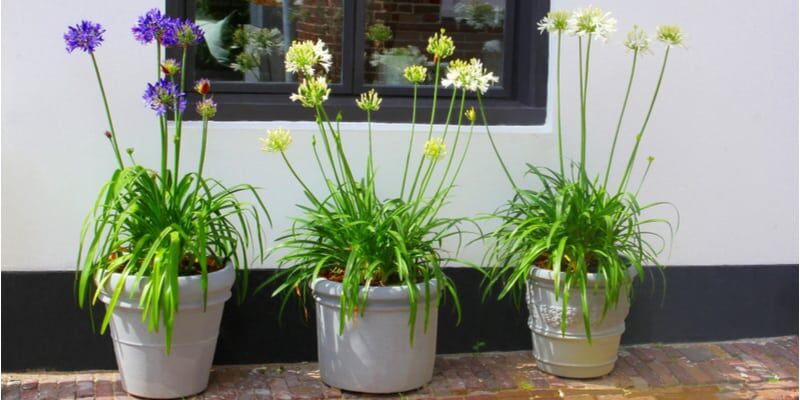 10 Best plants for pots all year round – my favourite picks
10 Best plants for pots all year round – my favourite picks
Our site is reader supported, this means we may earn a small commission from Amazon and other affiliates when you buy through links on our site.
In this guide, I'm going to look at some of my favourite plants for pots that provide all ready colour whether that be the sunning flowers followed by evergreen foliage or attractive foliage that changes throughout the seasons.
I will start with one of my favourites for growing in pots and these are Azaleas, often the first to provide some colour in spring after a long winter.
1. Azalea japonica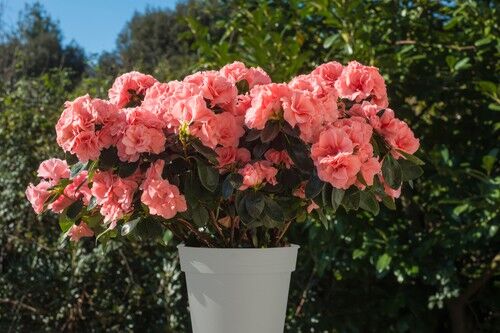 Those looking for potted plants with vibrant colours should consider the Azalea japonica. These evergreen plants produce beautiful blooms as early as spring and into summer that varies in colour depending on the variety. Growing up to 3ft in height, these popular shrubs need acidic well-drained fertile soil and adequate sun but will grow in a shady position too. When growing in pots remember to use ericaceous compost which is acidic.
Azalea's generally are low maintenance and do not require pruning, but you can carry out pruning after May when they are done flowering to keep them from getting too large or maintaining a certain shape. When growing in pots water regularly to avoid wilting and it can help to add mulch around the top of teh pot to help retain moisture.
---
2. Pieris Forest Flame (Lilly of the valley bush)
This compact evergreen shrub has foliage that changes colour and thus, the forest flame moniker. Together with the bright red new foliage in spring that matures to green, the plants also produce clusters of small white blooms in spring that creates a spectacular display.
These bushes are ideal for pots because they grow to a maximum height of 4 metres with a maximum width of about 2.5 metres but in pots, they are restricted and so don't get too large. As long as they get plenty of sun and are planted in fertile acidic soil (or ericaceous compost), they will thrive with little maintenance.
Pieris forest flame requires group 8 pruning, which involves pruning before new growth emerges in mid-spring and after flowering is complete. Removal of dead, diseased, or unwanted branches assists with ventilation and encourages new growth. Pruning is usually minimal.
---
3. Skimmia Japonica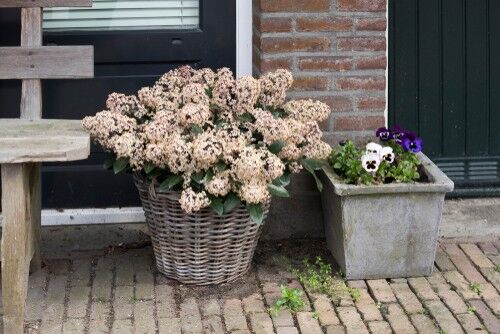 Native to Southeast Asia and countries such as Japan, Skimmia japonica has a lot to offer and is often a popular choice in winter. From the leathery aromatic foliage to beautiful flowers in spring and appealing berries that can last through the winter, this plant's display is something to look forward to.
Skimmia Japonica can either be female or male; therefore, you may have to plant both types to facilitate pollination.
These evergreen plants grow in loam, clay, or sandy soils as long as there are enough nutrients. Apart from fertile neutral/acidic soils, these plants thrive receiving partial sun. Too much sun will be detrimental to the leaves, causing them to discolour.
Depending on the Skimmia japonica variety you get, the plants can grow to a height of 4ft or more. These plants don't require pruning but if you choose to do it, prune them after flowering has finished.
Read next: Best bamboo for containers
---
4. Callistemon citrinus (Bottlebrush)
This evergreen shrub known as the bottle brush originates from eastern Australia and grows in most types of soils. The plants prefer mildly acidic and neutral soils with plenty of sunshine to grow well but they are very forgiving. From the fragrant leaves to the bright red spiked blooms, this evergreen plant is a sight to behold from mid-spring and throughout summer with some of the most stunning of flowers found on any shrub.
Generally, they do not grow very tall, and that is why they are suitable for growing in pots. These tropical plants can be lightly pruned once they have finished flowering. This light pruning helps maintain the shape and improve ventilation as well as give you chance to remove any dead, diseased or damaged stems.
You can also prune severely in early spring before the flowers start developing if you want to cut back an overgrown plant. This can sometimes be necessary for taller varieties of the bottlebrush to prevent outgrowing the pot.
Read next: Best evergreen grasses for containers
---
5. Euonymus fortunei 'Emerald 'n' Gold'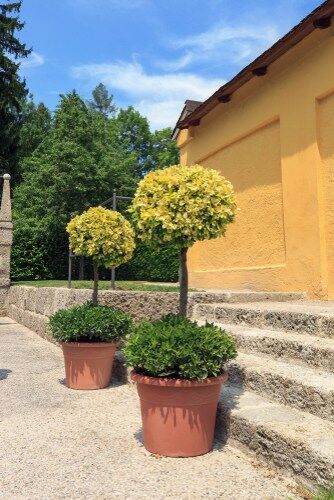 Euonymus fortunei is another evergreen shrub on this list that doesn't take much to flourish. It is easy to identify this plant due to its foliage with yellow margins and green centres. The dwarf variety does not grow any taller than around 100cm by around 150cm wide and I've even seen it being grown as a wall shrub.
If you want to grow these plants successfully, ensure the soil is well-drained fertilse soil. The plants bring forth green flowers in summer, but they are small, so it is easy to miss them.
Euonymus fortunei falls under the group 8 pruning category, which means you should prune them after flowering but generally as they are not grown for their flowers, you can just prune them in spring. You can easily propagate them through semi-hardwood cuttings taken at the end of summer and mid-autumn.
Read next: Best plants for containers that grow well in shade
---
6. Dwarf Buddleia 'Buzz' (Butterfly Bush)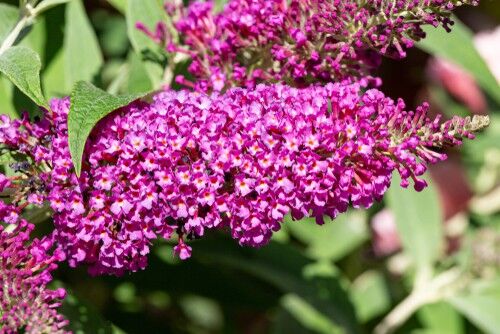 Butterfly bushes have a good reputation in the gardening world due to their beauty and ability to attract pollinators such as butterflies. You can grow butterfly bushes in pots because there are dwarf varieties like the buddleia Buzz that are much more compact. This specific cultivar bears different hues of purple blooms and the foliage is not as bushy.
The cultivar grows to a maximum height of four feet and needs pruning in spring like all buddleia before the flowers appear. It is crucial to deadhead the blooms throughout the summer to prevent the formation of seeds and promote continual flowering before the first frost emerges.
When growing this variety, all they need is well-drained fertile soil and full access to sunlight. Propagating them is also straightforward, requiring semi-hardwood or softwood cuttings harvested in spring/summer.
You can read my guide on dwarf buddleia here which has many different compct dwarf varieties of buddleia which I recommend
Read next: Growing buddleia in pots
7. Lavatera 'Barnsley Baby' (Tree Mallow)
If you want to brighten up your patio or balcony, lavatera Baby Barnsley's blooms are a lovely option and a good alternative to the popular large varieties. The pink saucer-shaped blooms paired with palmately lobed foliage make a lovely display in summer. You don't have to slave over these plants because they are low maintenance, requiring full sunlight and fertile soils.
This is a dwarf cultivar, thus, you can expect it to grow to a height of 1.5 metres with a spread of 1-1.5 meters within three years. Categorised as a level-4 hardy plant, this cultivar should be pruned according to zone-6 directives. This means that the pruning takes place in mid-spring when frost damage is not a risk.
It is good to note that the plant is typically disease-free as long as the plant has proper ventilation to discourage fungal infections.
8. Buxus Topiary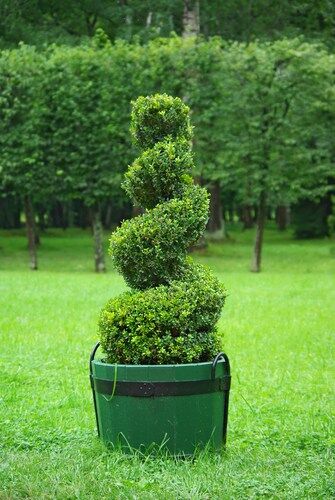 Add some architectural spice to your garden, using Buxus which has been popular since the Roman days. This evergreen plant makes an excellent low hedging solution and also does well in pots due to its compact size. Buxus plants are hardy and therefore can grow in different soils with good drainage and enough nutrients.
Regardless of whether you place them under the sun or a shaded area, you can be sure that the plant will thrive. That is why you can find them indoors in pots with little issues but need trimming as they can reach over 15ft in length.
In the overall maintenance of these evergreen plants, pruning is essential in maintaining shape and eradicating dead weight. The ideal time to prune these plants is as spring ends for older plants and around August for maturing Buxus.
Be on the lookout for box blight and root rot, as these are the common diseases that affect these plants. Avoid overwatering and promote proper ventilation to avoid these issues.
9. Agapanthus
Agapanthus offers exotic beauty and depending on the variety, blooms of different colours from blues, whites, and hues of purple. Given the name of African lily, agapanthus can grow up to a height of 8ft; however, dwarf varieties such as 'Peter Pan' stay under 3ft. Blooming from mid-summer to mid-autumn, these perennial plants love their time under the sun.
Most varieties of agapanthus are not picky in terms of soil and pH balance, but if you choose to grow Agapanthus africanus, acidic soil is preferred. Dividing the rhizomes as a means of propagation is vital after a few years, especially for potted plants to reduce competition for nutrients.
Deadheading is essential in facilitating new growth, but pruning is only advisable for deciduous varieties, as evergreen cultivars do not need it. Remember to feed the plants when spring emerges to support the incoming growth.
10. Hebe 'Red Edge'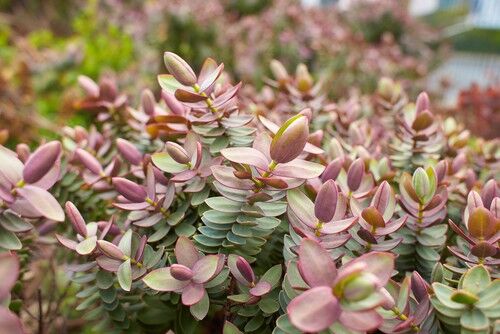 Finishing off our list is the Hebe 'Red Edge' affectionately monikered shrubby veronica. The compact evergreen shrub features tiny pale flowers that start with a mauve colour before turning white. One of the more notable features of these plants is the foliage that spots a blue-grey colour encompassed by outer red margins; especially in winter.
The dense foliage and noticeable blooms create a beautiful display in summer. These plants are compact and grow to around 50cm tall; therefore, making them ideal for pots. While they prefer neutral and alkaline soils, they thrive in different soils, whether loam or clay and require partial shade/full sun. The plants can be propagated through semi-hardwood cuttings and should be pruned according to group-9 stipulations.
You could also consider growing dwarf conifers in pots which I cover in my guide here