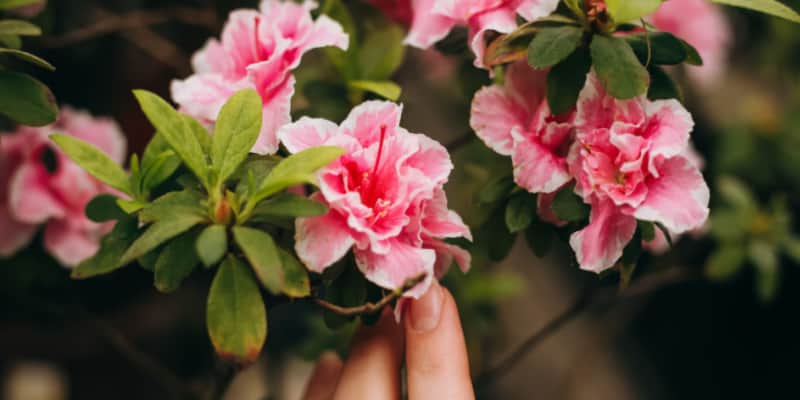 Why are my azalea leaves turning yellow and falling off?
Why are my azalea leaves turning yellow and falling off?
Our site is reader supported, this means we may earn a small commission from Amazon and other affiliates when you buy through links on our site.
The main reason your azalea leaves are turning yellow is probably an iron deficiency caused by poor soils or not enough nutrients in the soil. This is usually linked to the soil not being acidic enough. Azaleas like Rhododendrons and Pieris need an acidic soil with a ph rating of pH 4-6 with pH 5.5 being perfect. Any above 7.0 is too high and considered alkaline and the leaves will turn yellow. Two other causes are a lack of water, you often see this with pot grown azaleas or too much water which leads to root rot which causes yellowing leaves. To learn more about these issues as well as some other causes keep reading below.
Chlorosis which causes yellowing leaves with dark green veins
Chlorosis in azaleas is a condition in which the leaves turn yellow while still retaining dark green veins. It occurs when the soil is alkaline (high pH) and this causes an iron deficiency in the plants. To test for this, buy a soil testing kit and measure the pH of the soil. You need a more acidic soil so a ph rating of between 4-6 but as previously mentioned, Ph 5.5 is usually the sweet spot.
This condition can also be caused by not enough magnesium. If this is the case, purplish-red blotches next appear on the leaves, and the edges of the leaves turn brown.
What to do
First of all, stop watering your plants with tap water. In hard water areas, tap water contains significant chlorine which increases the alkalinity of the soil. Collect rainwater in barrels and use this to water your azaleas and all your other plants that prefer acidic soil. If you run out of rainwater in the summer, it's alright to go back to using tap water for a couple of months in the warmer weather. I have personally connected a few of water barrels (water butts) to my house down pipes from my gutters and greenhouse roof.
Increase the acidity of your soil by adding an ericaceous (acidic) compost. This is only a temporary measure, though. The acidity is used up, and the soil reverts to being alkaline and needs to be adjusted again.
For magnesium deficiency, add some Epsom salts to the soil which you can get from local garden centres or even online.
If your azalea leaves are drooping, this guide will be worth a read.
If you think it's dying then don't forget to check out this guide on possible causes and how to help your plant recover.
Root rot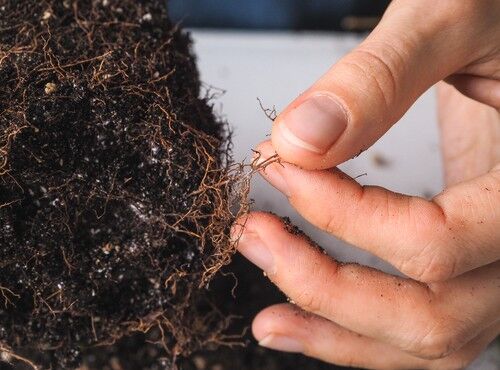 Root rot is a serious fungal disease that can kill your plants. It's a fungus that hangs out in the root ball, preventing the uptake of water and nutrients but it's usually an issue in wet poor draining soil. One of its symptoms is the yellowing of leaves after they first turn a light green. The leaves first appear wilted and then they roll towards the middle rib and turn brown. They eventually fall off.
What to do
Root rot occurs when the soil in which the azalea is planted becomes water-logged all the time. Adjust the soil – make it drier and more fine grained – so it drains properly. Use compost and plenty of grit to do this. Remove the rotted roots in an attempt to save the rest of the plant. Try to catch this as soon as possible, as root rot leads to other stresses which continue to weaken the plant. Ideally, you need good draining soil from the start before planting anything although some plants are better suited to wet soils such as astilbes. If you do have poor draining soil and are not able to improve it, you can also try growing azalea in pots and containers but remember to use ericaceous compost
Azalea Bark Scales
These are soft, minuscule insects that are best seen through their secretion of a clear, sticky and sweet substance called honeydew. While not harmful in its own right, honeydew encourages black fungus to grow upon it and is a favourite treat of ants. Look for white egg sacs in the joining of branches in late spring and, of course, azalea leaves turning yellow and stems dying back.
What to do
Make up a 2% solution of horticultural oil in the summer and spray the plant. Don't spray while the flowers are in bloom as the solution harms bees and all the other pollinators our environment needs.
Spider Mites
If your leaves are flecked with yellow, it could be because of spider mites. These are tiny insects that also cause stippling on the leaves.
What to do
Use insecticide and spray underneath the leaves. You may need to repeat this after seven days to get all the spider mite eggs.
Nematodes
Nematodes, aka roundworms, are one of the insect problems you can't do anything about. These miniscule worms live in the soil and travel slowly through it. They stop the roots from taking in water and nutrients which affects the health of the whole plant, resulting in the leaves becoming yellow.
What to do
Check the plant's roots and look closely to see if it has galls, boil-like blobs on it. Wash the soil off the roots and remove as much from around the plant as you can. Replace the soil and hope that you got all the nematodes. Remove the infected parts of the azalea.
If the situation continues, you need to dig up the plant and burn it to stop any further infestations.
I also have a guide here on pests and diseases that attack azaleas here.