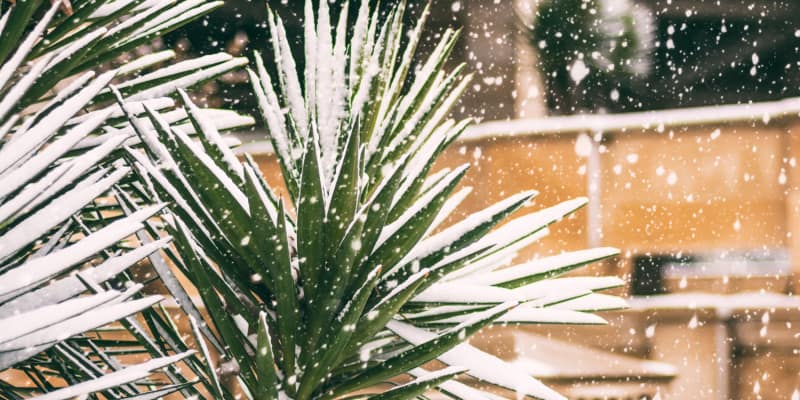 Can palm trees survive winter? – Winter care
Can palm trees survive winter? – Winter care
Our site is reader supported, this means we may earn a small commission from Amazon and other affiliates when you buy through links on our site.
Palm trees can survive winter. But whether you have the hardy type of palm or not, or whether you grow your palm tree outdoors or indoors as a house plant, you need to take certain steps for it to survive the cold months.
Something worth noting is that palm trees sold as hardy such as Trachycarpus palm trees, they can usually tolerate cold temperatures and even snow. The key is to make sure the soil is free-draining and not water-logged, thats usually what kills palm trees. Usually, all they need is a little winter protection, including some bubble wrap or lagging around the pot to protect the roots or much around the base and some fleece around the plant; you can also tie the leaves up with string to protect the crown.
To learn more about palm trees in winter, carry on reading:
Hardy palm trees grown in your garden
Hardy palm trees are bred to tolerate lower temperatures. Some varieties such as McCurtain Dwarf Palmetto are known to survive cold and snow down to -31˚C. While this is extreme, other hardy types such as Trachycarpus, can easily handle 0˚C. Be especially mindful of the palms growing in exposed locations or in wet soil. They're more liable to winter damage. Ideally, they need well-drained soil.
Here are a few palm trees that can tolerate colder temperatures:
Windmill Palm (Trachycarpus fortunei) – This palm is one of the hardiest and can tolerate temperatures as low as 5°F (-15°C).
Needle Palm (Rhapidophyllum hystrix) – This slow-growing palm is native to the southeastern United States and can tolerate temperatures as low as 0°F (-18°C).
Dwarf Palmetto (Sabal minor) – This palm is native to the southeastern United States and is highly frost hardy, tolerating temperatures as low as 0°F (-18°C).
European Fan Palm – (Chamaerops humilis) This palm is native to the Mediterranean and can tolerate temperatures as low as 5°F (-15°C).
Chinese Windmill Palm (Trachycarpus fortune – 'Wagnerianus') This palm is a smaller, more compact form of the Windmill Palm and can tolerate temperatures as low as 0°F (-18°C).
But you do need to take some precautions when the first winter frost threatens.
Gently tie the branches and leaves at the top of the tree around the central core. Use hessian or another soft fabric to avoid digging into the tender foliage. This helps to keep warmth in the top of the crown of the tree, this is the most vulnerable part of the tree.
Wrap hessian or horticultural fleece around the tree in layers to help keep the cold out. You can start with one layer at the beginning of winter and add another one if the temperature drops right down to well below 0˚C. You can even but fleece jackets for this.
Non-hardy palm trees in your garden
This is where the answer to 'Can palm trees survive winter?' is a strong No. You shouldn't have these palm trees in this location as they probably are not going to survive the winter. Dig up the trees and put them in pots or simply grow them in pots all year round. (See How to grow palm trees in pots for instructions.)
Any palm trees in pots
If you're growing hardy palm trees in pots, they may survive outdoors, but non-hardy ones won't. Why not just take any potted palm indoors during the cold months and keep it warm? Find a spot that suits the needs of the palm tree and leave it there for the winter. My guide, How to grow palm trees in pots, has all the details.
If you do need to leave the palm pot outdoors, find a sheltered space for it. Perhaps in the corner of two walls or underneath an overhanging tree. Make sure to cover the pot with horticultural fleece, bubble-wrap or hessian to keep the roots warm.
Remember to keep watering your palm tree through the winter months, though with a reduced watering schedule. Wait until the top 3cm of the soil is dry and then water. And make sure that the plant gets enough sunlight.
---