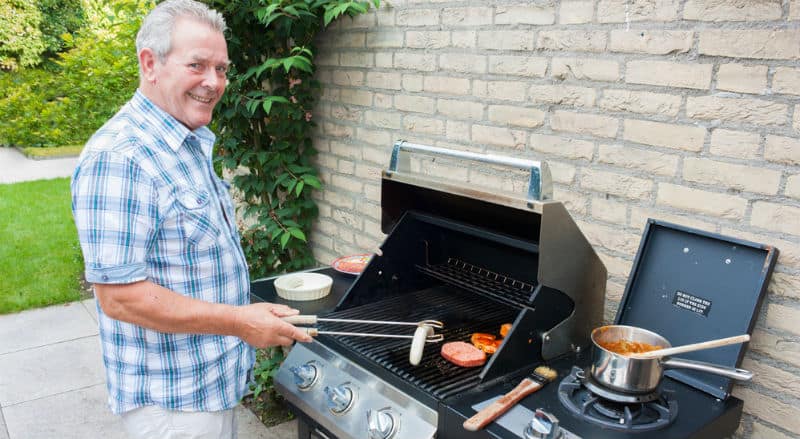 The Best Gas BBQs – In-Depth Reviews and Buyers Guide
The Best Gas BBQs – In-Depth Reviews and Buyers Guide
Gas BBQs have been around for a long while now. They are extremely resourceful equipment in our homes and BBQ lovers really cherish them. These type of grills have seen massive technological improvements over time and today we present the 6 best impressive gas BBQs in the UK market. They come with a wide range of features that are designed to make your cooking and grilling a breeze and your meals incredible. Having the best gas BBQ will make your family and friends happy and your barbecues the talk of town.
Gas BBQs come in many sizes and styles, with varying levels of performances and prices too. When you shell out a few hundreds of pounds, you need nothing short of the best product. But it starts with knowing what to look for in a gas BBQ as well as considering your budget. To get you started, we reviewed some of the best gas BBQs available and which fit a variety of needs.
The best of them all for most people has probably got to be the Fire Mountain Everest 4 Burner Gas Barbecue. It boasts 4 premium cast iron burners producing a total of 48,000 BTUs along with a vast cooking area including a grill and griddle. It easily caters for 6 or more people. Features such as two side shelves, warming rack, removable grease tray and two wheels on one side add to the convenience of it, while the unit maintains a decent price point. It definitely offers some of the best value compared to other models we have seen.
Our best gas BBQ overall, this grill will get you going the minute you hit the garden. Start by firing it up instantly through piezo ignition then let the four burners and the party size 77 x 42cm cooking surface do the rest. After your food is cooked, let it rest on the side warming rack before you dig in. Meanwhile, a removable drip tray collected all excess juices to make cleaning a doodle later. Not to mention what you can do with its utensil hooks, wheels and the included hose and gas regulator, this gas grill looks an absolute bargain for its price and al you need to buy is the propane gas which is the green bottled patio gas available as most garden centres and DIY stores such as B&Q.
Mini Buyers Guide
Factors to influence your buying decision
You can agree with us that there is nothing better than stepping outside to the delicious scent of burgers sizzling on the grill. But when the smell is coming from your neighbour, that is when you wish you had your own grill (if you don't own one) for spontaneous BBQing.
A gas BBQ is a really great idea for those who don't want to waste time around waiting for a grill to heat up, like is the case with a charcoal BBQ. Depending on the number of people that you like to entertain, you will need to consider the size of the unit both in terms of the number of burners and cooking area. Features such as side tables, underneath storage space and warming racks will also add to the convenience of using your gas BBQ. You will also need to clean the BBQ after the party is over and so it's important to check the ease of cleaning the BBQ.
Now, these are by no means the only factors to influence your your decision as we covered more in the buyers guide section. The bottom line is that a gas BBQ is the obvious choice for quick starting and ease of use. That said, allow us to present the top models in the gas BBQ reviews below.
Benefiting from the latest TRU-Infrared technology, this BBQ is more efficient than conventional versions as far as cooking results and gas consumption are concerned. It's additionally a good choice for family gatherings and garden parties thanks to a large cooking area that can cater for over 10 persons at a time. Independent temperature control knobs, side shelves, and warming rack are handy additions and unit is really sturdy when assembled. However, this gas barbecue requires some serious investment but you will one the cost of gas by as much as 30% in the long term which also needs to be taken into account.
---
Top 6 Gas BBQ Reviews
---
BEST PICK
Fire Mountain Everest 4 Burner Gas Barbecue with Gas Regulator and Hose included

Pros
Our best pick the Fire Mountain Everest 4 Burner Gas Barbecue is a decently priced gas bbq that is known for superior performance, build quality and affordability. You will surely love it starting from assembly which takes around 1-2 hours to the actual cooking. It is quite a large bbq, which arrives flat packed. You will need to set aside an hour or so to put it together and a few tools such as an adjustable wrench and head screwdriver will come in handy. The task is not that daunting, albeit several parts to fit together and any skilled DIY person should find it easy enough and even the less experienced shouldn't find it too difficult.
The bbq looks stunning and feels sturdy in its assembled state, giving you the confidence that it will last for many years to come. As the name hints, this Fire Mountain comes with 4 premium cast iron burners, each with an output of 12,000 BTU. They are very powerful and will make cooking a doodle. In addition, they all use piezo ignition for safe and quick lighting, much easier than use a lighter.
What's more? The gas BBQ offers a generous cooking area of 77cm x 42cm (L x D) which includes a grill and griddle area for specialised recipes. From steaks to hamburgers and sandwiches, the grill can do it all, not to mention the lovely grill marks it leaves on your food. The griddle, on other hand, is pretty much an upgraded version of a frying pan that is perfect for cooking eggs, pancakes, sausages, bacon, French toast and the likes.
There is a shelf on either side of the cooking area to provide more space for preparation as well as keeping plates within reach, while small bars to the front can hold your knives and serving spoons. Elsewhere, your gas bottle will have more than enough storage space underneath the burners. Supplied with this unit is a hose for connecting to your gas bottle at a safe distance plus a gas regulator for a propane bottle which most models don't include.
When it comes to cleaning, the included drip tray reduces the work to be done by collecting excess fat and falling bits. It can then be removed for emptying and cleaning. The design also includes a dome-shaped stainless steel roasting hood featuring a built-in thermometer for monitoring heat. Part of it has wire warming rack for keeping food warm after it has been cooked.
Last but not least, the bbq has two wheels on one side, which make it easy to tilt and push into a barbecuing spot and store away when not in use as it is fairly heavy.
All things considered, this gas BBQ from Fire Mountain provides a good balance of quality and price, which explains why it is a popular choice for many consumers as well as why we chose it as our 'best pick'. If you still need a cheaper option, the next product makes a good choice.
Compare the best prices from available retailers below
---
RUNNER-UP
Char-Broil Performance Series T47G - 4 Burner Gas Barbecue Grill with TRU-Infrared™ technology
Pros
Char-Broil is the real American BBQ since 1948 and the Performance Series T47G model is really big in size, entertainment and taste. This gas BBQ is currently sold in the UK market though at an exorbitant price. The product is still worth considering largely because of its cutting-edge Infrared technology, which is said to cook food more evenly with less flare-ups, resulting up to 50% juicier food. Char-Broil also claims this cooking technique consumes up to 30% less gas compared with many other models so in the long term you should save money on gas compared to similar models.
Ideally in a traditional gas BBQ, a flame heats the grills directly, which further transfers the heat to the food. However, this infrared BBQ has an infrared heating element between the flame and the grills. The flame heats this element which then radiates intense heat to all areas of the food for perfect results.
Char-Boil also says the T47G BBQ has the largest cooking area of all their range of BBQs so its perfect for larger families. This can cook for more than 10 persons at a time, making it the perfect choice for entertaining guests. It features 4 primary burners and one side burner intended for warming up sauces. Two side shelves provide space for holding additional grilling tools, while a large warming rack keeps food warm away from the main grilling area. Each burner features an electronic igniter, which gives a perfect start with a single push, and an individual temperature control gauge for accurate cooking through the four burners.
Elsewhere, this model has stainless steel burners and cast iron grates that have been built to stand the heat and last. The grates are corrosion-resistant and a breeze to clean. Thanks to its four wheels, with two of them equipped with locking casters for enhanced stability, the gas BBQ is really easy to move. To ensure the BBQ lasts long, Char-Broil recommends covering it with the separately sold Char-broil 140 565 cover but any good cover with be fine.
This gas BBQ also enjoys an exceptional lifetime warranty though the cooking grates and the cookbox have a one-year and 2-year warranty, respectively. If you fancy a large and modern gas BBQ that is both efficient and long-lasting, the Char-Broil Performance Series T47G is a good choice.
Overall this is by far the best bbq with unmatched build quality, all with the extended warranty and lifetime warranty on the cooking crates and box, however all this comes at an extra cost.
Compare the best prices from available retailers below
---
CosmoGrill 4+1 Gas Burner Garden Grill BBQ Barbecue w/ Side Burner & Storage
Pros
If you are looking for a top budget-friendly gas BBQ, the CosmoGrill 4+1 Gas Burner is the one worth considering. It comes with 4 primary burners and the good thing about it is that you can adjust the amount of heat produced by each burner through piezo ignition, which is actually the best form of gas ignition today. Then theirs is the 'plus one' burner located on its right and which you can use for frying or boiling food. It also doubles up as an extra preparation area when its fold down cover is put in place.
The BBQ has a stunningly built body that looks beautiful and pretty lightweight for easy moving between spots. In addition, it has plenty of storage underneath the burners, providing enough space for your gas bottle but it will need to be the smaller 5kg bottle, a 13kg will have to be placed by the side of the bbq, utensils, and food preparation. Featured on its double-walled aluminium hood is a temperature gauge for showing the conditions your food is cooking at without having to open the hood.
Obviously, your sizzling meat will be dripping fats but the last thing you want is the fluid landing on neat ground. To deal with this potential problem, the barbecue comes with a removable grease tray to catch excess juices, making it easy to clean after the party. The unit is also fitted with two caster wheels which make it easy to move to the desired cooking area and roll it back to storage.
However, the gas grill does not come with a hose, neither does it include a gas regulator. That's a major downside given other top-rated models are supplied with those two essential accessories but perhaps that's the reason for its cheaper price point. A few other customers reported difficulty in assembly online but it should be relatively easy to put it together.
In regards to the regulator and hose, they can be purchased on Amazon for the price of a few bears. Overall its an excellent BBQ, the quality is not on par with our best pick but still, its a great bbq with an even greater price point. Well worth considering for anyone on a lower budget.
Compare the best prices from available retailers below
---
Charles Bentley 7 Burner Premium Gas Barbecue (6 x Burner + 1 x Side Burner)
Pros
With more than enough cooking area to prepare a feast, the Charles Bentley 7 Burner Premium BBQ is a top quality gas grill that is worth considering. It has a total of seven burners including 6 stainless steel 14.5kW burners and another side burner with a fold down lid. This means you will have plenty of space for cooking, with a total area of 77 x 42cm.
Every burner has its own individual igniter and accurate heat control settings, allowing you to have total control over temperatures to get the best results. A hood thermometer also helps in this respect, whilst a full-length chrome warming rack will keep any food that is ready t be set aside as others cook.
The black paintwork contrasts really well with the steel and titanium present throughout the bbq, resulting in a sleek, modern design that you will be proud of showing off to friends. A double-layered hood provides extra insulation, something that allows food to stay warm for long after the grill is turned off.
Add some nice extra touches such as hose and propane regulator, storage cabinet, side table, condiment rack and bottle opener, and it's clear just how much this 7 burner BBQ has to give. All in all, this gas BBQ is perfect for those that need a massive grill for a more affordable price.
Compare the best prices from available retailers below
---
Campingaz Gas BBQ 3 Series Classic LS, 3+1 Burner Stainless Steel Gas Barbecue
Pros
Another premium model, the Campingaz Gas BBQ 3 Series Classic LS is perfect for preparing family feasts thanks to its large cooking area supported by 4 burners in total. The many burners make it easy to cook a selection of meat, fish and vegetables at the same time. An included rotisserie option is perfect for preparing roast chicken and for extra cooking versatility.
Moreover, each burner can be independently adjusted for an ideal heat output given that different foods require different temperatures to cook well. Ideally, temperatures of around and above 250°C are recommended for direct grilling and searing and this grill goes above and beyond on at least 90% of the cooking surface, allowing food to cook more evenly. The heat control knobs allow you to decide where you want to have really hot areas and where to have less heat.
The burners are made of hard-wearing and durable stainless steel for prolonged lifetime which you expect from a premium product. They are also specially designed to distribute heat evenly across the cooking surface while emitting powerful heat for direct grilling and searing. Moving on, the cooking surface material is enamelled cast iron while the lid is made from a combination of steel and die cast aluminium. The trolley itself is made from stainless steel. With such high-quality construction, you can expect this grill to last for years. An extra side burner is perfect for preparing accompaniments and sauces, while a folding side table and hooks are good for holding plates, forks, spoons, and the likes.
When it comes to cleaning, Campingaz InstaClean System maintains a sparkling appearance each time you clean the barbecue. Some of the components can be removed to be washed inside a dishwasher which is a big plus if you have a dishwasher. That allows you more time having fun with family rather than spending hours cleaning the grill after an enjoyable BBQ party.
This gas BBQ can be operated from a standard 5 or 13kg gas cylinder and it consumes 698+167g/h. You will also need to roll the barbecue to the shed or somewhere in the house for storage. Campingaz thought of it and fitted the grill with 4 caster wheels to assist in movement. Considering the bbq weighs 53kg, the wheels are something to appreciate.
Overall if you are looking for a premium bbq but something that is perhaps a little smaller then this is well worth considering.
Compare the best prices from available retailers below
---
Char-Broil Performance Series™ T22G - 2 Burner Gas Barbecue Grill with TRU-Infrared™ technology
Pros
The Char-Broil Performance Series™ T22G is a compact barbecue that has all the features of a full gas grill and like all high-performance models across the Char-Broil range, it uses TRU-Infrared technology which sets it apart from traditional grills. As mentioned earlier, this style of grilling cooks food evenly with no flare-ups and gives 50% more juicier results while consuming 30% less fuel.
This gas grill has two stainless steel burners and cooks for up to 4 people at a time. These burners are built to withstand the heat and last. Each burner has its own electronic igniter allowing you to light them up with a single push of a button. A grate-level temperature gauge is also available to monitor the heat of the individual cooking zones.
There is a separate warming shelf that does more than keeping foods warm away from the primary cooking area. It can also be used as an indirect cooking area or to roast bread. A folding side shelf on either side of the grill provides handy place for cooking accessories and tools as well as offering extra space for food preparation.
The cast iron cooking grates are strong, rust-resistant and easy to clean while wheels are a practical addition for you to effortlessly cart the grill into position. Char-Broil also makes a cover for this model, which you can buy to protect the grill when it's not in use. Bear in mind that the gas BBQ does not come with a gas regulator, so you will need to buy one to safely connect your gas cylinder.
All things considered, the Performance Series T22G is ideal for occasional grilling in the garden particularly when there are few people involved. The price may be expensive but the quality is not even comparable to cheaper models. This is probably one of the best 2 burners bbq's currently available with will last for many years.
Compare the best prices from available retailers below
---
Buyers Guide
Choosing a Gas BBQ for your individual needs
If you are thinking of buying a gas grill, there is a lot to think about before you decide which model you want to bring home. The first thing you need to consider is the number of people you will be cooking for, which then determines the size of grill you need.
Do you want the ability to simultaneously grill meat, cook vegetables and make sauces on the side? Or you just want a simple grill? If the former is what you want, then there are many gas grills that offer a high level of versatility. Then extra features such as side shelves, temperature gauge, and the technology used for cooking will have an impact on the overall cost of the grill. Ideally, gas grill prices range from £100 to over £500, with brands such as Char-Broil having the most expensive models but we found you can get a good 4 burner bbq for between £200-£300.
That said, let us break down the key factors to consider when choosing a gas BBQ.
Burner and grill size
Some gas BBQs build a massive grill but do not back it up with a suitable sized burner as well. This can cause plenty of cold or hot spots which is the problem with many cheaper models that try and make larger bbq's for budget prices. The truth of the matter is that your grill's cooking performance depends on more than the number of burners or BTU's. There needs to be even distribution of heat across the entire cooking surface for great results.
BBQ size
What you need to pay attention to is the size of the cooking area as it determines the amount of food the grill can serve in one go. A large grill such as the Charles Bentley 7 Burner Premium Gas BBQ will be able to cook enough food for a big party, while something such as the Char-Broil Performance Series™ T22G will only cook enough for a maximum of 4 people. A closer look at every gas grill will tell you how much food you can prepare.
Build quality and construction materials
The body of the grill can be made from stainless steel or cast aluminium. The former is remarkably rust-resistant and usually eye-catching due to its shiny finish. Some of the best expensive gas grills are made from stainless steel, including stainless steel burners and handles. However, this material can yellow overtime if the grill is not well looked after. Cast aluminium is also durable and highly rust-resistant.
When it comes to the grates, porcelain-coated cast iron grates are the best at retaining and transferring heat, making them perfect for meat searing. Porcelain-coated stainless steel grates are also good heat retainers but not as effective as cast iron grates.
Now many cheap gas BBQs are usually so because of the low-quality materials used in their build. After all, it's not easy to tell of a unit when shopping online and any product can be made to look elegant on pictures. But we arrived at our select models after digging dip into gas BBQ reviews from verified customers online and finding more about a grill's durability.
Temperature gauge
Gas grills have the potential to reach temperatures as high as 250 degrees Celsius, which is good for cooking meat. However, delicate foods such as vegetables and fruits cook well at lower temperatures. The only way to tell is if your gas grill has an integrated thermometer and most of them have this feature built into the hood or lid.
Hose and gas regulator
Some models come with both these accessories, others include the regulator and others the hose already attached. When not supplied, it should seem like a deal breaker as these accessories are readily available online or at most DIY stores for as little as £12.
Ignition
The choice is between piezo and electronic ignition. Both are fast and safe with no need for matches. In piezo system, you need to push a button to fire up the grill. Electronic ignition uses a battery to light up the gas grill.
Ease of assembly
Most gas grills are fairly easy to build. A large model will take about 2 hours to put together while many smaller grills have few parts to assemble. Find out if there is an instruction manual to guide you through the process. For online orders, don't forget to check what are saying about the actual assembly.
Storage and transportation
At least all the models we have listed here are equipped with wheels to with moving into the shed after use. Better versions have locking wheels so that the grill can be secured in position.
---
Our Final Conclusion
---
Other reviews you may find useful:
---
Our site is reader supported, this means we may earn a small commission from Amazon and other affiliates when you buy through links on our site.